Dangerous driver who was filmed swerving into cyclist is jailed
Essex man admits to purposefully hitting a cyclist in Colcheste in May 2016 after a "momentary loss of temper"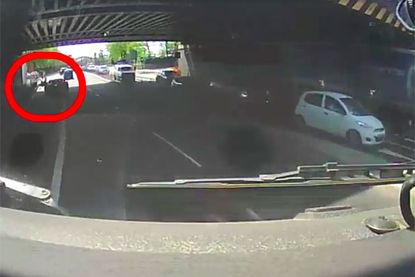 https://www.facebook.com/EssexPoliceUK/videos/1565635366853691/
An Essex driver who pleaded guilty of dangerous driving, actual bodily harm, and common assault has been jailed for 16 months.
Ashley Wallace Merrett drove his Ford Mondeo car into cyclist Lee O'Neill on Friday, May 13 2016 on the North Station Road near Colchester station roundabout.
Wallace Merrett, of West Bergholt, reportedly "lost his temper" after he saw O'Neill gesturing towards him, says the East Anglian Daily Times.
O'Neill's cycling partner Stewart Nichols feared that Wallace Merrett would also try and hit him, and jumped out of the way of Merrett's vehicle.
O'Neill sustained a range of injuries after the incident. Essex Police said that O'Neill "was taken to hospital for treatment but was not seriously injured".
>>> 'He had his fist clenched, I thought he was going to hit me': Cyclist tells of assault by van driver
Wallace Merrett left the scene but a local police officer had managed to obtain his numberplate, and he was later arrested.
Wallace Merrett had originally said that O'Neill had swerved in front of him, and he could not avoid hitting him. However, a video of the incident captured by a dashcam on a lorry provided evidence of how the incident occurred.
The video was subsequently made available to the public by Essex Police and was widely shared on social media.
Ipswich Crown Court heard from Wallace Merrett's defence that the driver had suffered a "momentary loss of temper" and that he was "glad the man wasn't badly hurt".
In addition to Wallace Merrett's 16-month jail sentence, he has been banned from driving for two years and eight months.
Thank you for reading 20 articles this month* Join now for unlimited access
Enjoy your first month for just £1 / $1 / €1
*Read 5 free articles per month without a subscription
Join now for unlimited access
Try first month for just £1 / $1 / €1