Dr Hutch: I hope my old bike has a better life as a food can
No matter how bad a bike is, you're still sad to see it go, says Dr Hutch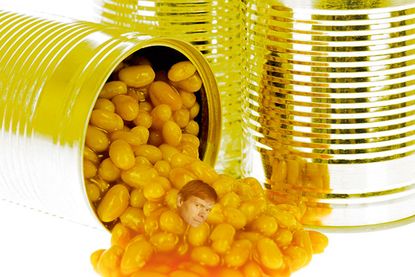 I said goodbye to an old friend recently. It was the first time trial bike I ever owned, and which I bought 20 years ago second hand in Ely.
It was a pretty poor bike, but I'd only been cycling for a few months so I was at the peak of the thinking-you-know-everything stage, and convinced myself it was a great buy. I was lucky the shop owner didn't take advantage of me to unload all his other dusty junk.
I rode it back to Cambridge through a foggy Fenland afternoon. It had a single chainring and every time I rode over a rough bit of road the chain fell off. On the other hand, about halfway home I dramatically improved the comfort of the bike by getting out a multi-tool, removing the saddle and hurling it into a flooded ditch.
>>> Dr Hutch: Long time trials are more like an awkward eating competition
It was a nasty yellow, as if a mid-Nineties pro had colour-matched it to his most audacious dope-control sample. It was steel, and the seat tube curved rather dramatically around the circumference of the back wheel as if it had been draped over it to dry. One of the things I would come to learn about bicycles was the important difference between 'curved' and 'bent', but I hadn't worked that out yet.
I rode the bendy, chain-shedding horror for a year or two before I was able to convince a fellow student called Bernard that he should buy it as a training bike. I managed to sell him quite a lot of other rubbish at the same time.
I saw quite a lot of it underneath Bernard over the seven or eight years. It had been a terrible race bike, but it made a reasonable training machine. Until, that is, one fateful day when we were riding together down a long, fast drag.
I was in front. From behind there was a cry, a horrible crunching noise, and a long skid.
We'd ridden over a rough bit of road. Bernard's chain had fallen off and been caught by the back wheel. The entire rear mech had been yanked into the spokes, which were now tangled round it like spaghetti. The wheel was locked solid, the gear hanger was at a crazy angle, the rim was buckled and Bernard was incandescent.
Hurtful accusations
"You knew that would happen when you sold it to me," he shouted. This was untrue. Certainly the high probability of it happening and the fact I definitely preferred to be on the front of our little two-up were not unrelated, but to say I 'knew' was overstating it.
"You can push me home," he ordered.
We untangled the rear mech, and took it off. We removed the brake, so the wheel would go round. And I began to push him 15 miles home. The wheel was so misshapen that with my hand on Bernard's back I could feel it wobbling and thumping. We ground to a halt at the first hill, and when I took my hand off Bernard he fell over.
>>> Dr Hutch: Cycling stats don't lie. Which is a shame
I offered to fetch my car. When I got him home, I went to take the bike out of the boot. He snapped: "Just keep the bloody thing."
Reality show
Just one of the reasons a bike is better than a dog is that it doesn't start to smell after it dies. So it was easy to keep the skeleton hooked over a garage rafter, and it hung there for a decade. But I need to move out of the house soon, and hoarding bent bikes is the sort of thing that gets you on Channel 4, and not in a good way.
Someday soon it will be recycled into baked bean tins, and I'm sure it will make a better job of that than ever it did of being a bike. But all the same, I am sorry to see it go.
Thank you for reading 20 articles this month* Join now for unlimited access
Enjoy your first month for just £1 / $1 / €1
*Read 5 free articles per month without a subscription
Join now for unlimited access
Try first month for just £1 / $1 / €1