Dr Hutch: The terrible and sometimes great teams kits of the 90s
Pro team jerseys were at their very best/worst in the late 20th century, says Dr Hutch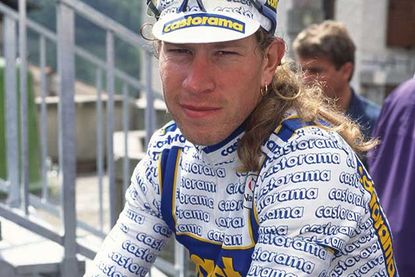 I remember pro team jerseys from the 1990s. They were brilliant, by which I mean they were terrible. The best, by which I mean the worst, were a random collage of sponsors' logos, apparently assembled by an especially ungifted four-year-old who was in a hurry.
The worst, by which I mean you honestly wouldn't have believed them if you'd seen them, were generally the same but with an attempt at humour. My favourite was the Castorama kit that was designed to look like a pair of dungarees, because Castorama was a DIY store. (Don't worry that you haven't got the joke, you have, or at least you've got all the joke there actually is.)
Kit has changed, though. Back then the idea was to get you to notice the names of the sponsors by ensuring that the underlying design was so non-existent you had to read the logos in order to see the rider at all. Now what teams are trying to do is design kit that people will share photos of on social media.
>>> Dr Hutch: Should you wear a helmet? It is entirely up to you
If anything this has made things worse, because the need is to keep changing things and then promoting the fact you've changed them. And the change is not often for the better.
Crimes against fashion
Take for instance the new Ag2r La Mondiale kit, launched last week with a picture of Romain Bardet, dressed in light blue and mid-brown stripes and looking like the national champion of an unsuccessful and long-forgotten African republic. It replaces the previous kit, which was based on a screen saver.
And before that the team was called Casino, and the kit was inspired by the scene of crime photos from a tragic paintballing incident.
Or there's the Movistar team, which for 2018 has abandoned what was perhaps the least offensive kit in modern cycling and adopted one that fades from turquoise to black from top to bottom, like a core sample from a radioactive bog.
But the strangest thing about cycling team kit is how obediently we share every new kit, and how seriously we all analyse it. People dressed as if they're hoping for an acquittal on the grounds of mental instability suddenly turn into Vogue fashion correspondents.
A friend once complained that the Garmin-Sharp team kit, "completely fails to have sympathy for the silhouette of the longline form, making a rider in full flight look like a flying ball of socks." He said this while wearing a jersey he'd made himself out of the remains of three separate jerseys that had been damaged in crashes. They weren't even the same design to begin with.
Everyone's a critic
He had one thing right, though, which is that you should always criticise. If you want a surefire way to produce nods of agreement in the world of cycling, you can always do it by slagging off kit. It doesn't matter whose. We don't really like any of it, and the best way to demonstrate our taste and discernment is to say so.
>>> Dr Hutch: Some bike bodges are more dangerous than others
The only kit it's safe to admit to a liking for has to be old, preferably very old. You will always be safe nostalgically harking back to the chequerboard kit that Peugeot wore in the 1960s. You will rise above your peers in matters of taste and discernment if you recall fondly the St. Raphael kit of the 1950s.
I even once expressed admiration for the old St Bornand kit of the 1940s, and everyone I was with concurred that that was perhaps the finest kit of all. That was despite the fact that there has never been any such team.
I made it up, because I couldn't think of a jersey that hadn't already been name-checked by someone else in the conversation.
Of course, everyone hated the St. Bornand kit at the time. That's just the way cycling is.
Thank you for reading 5 articles this month* Join now for unlimited access
Enjoy your first month for just £1 / $1 / €1
*Read 5 free articles per month without a subscription
Join now for unlimited access
Try first month for just £1 / $1 / €1
Michael Hutchinson is a writer, journalist and former professional cyclist. As a rider he won multiple national titles in both Britain and Ireland and competed at the World Championships and the Commonwealth Games. He was a three-time Brompton folding-bike World Champion, and once hit 73 mph riding down a hill in Wales. His Dr Hutch columns appears in every issue of Cycling Weekly magazine
As a writer, he wrote the award winning The Hour about his attempt on the sport's most famous and sought-after record. He followed that up with Faster, about the training, the science the genetics and the luck behind the world's fastest riders, and Re:Cyclists, a history of cyclists from 1816 to the present day.
He's written for outlets ranging from Cycling Weekly to the New York Times, and has presented and and commentated for the BBC, Eurosport, Channel 4, and Sky Sports.
Before he did any of that he was a legal academic at Cambridge and Sussex universities. He now lives with far too many bicycles in London and Cambridgeshire.