Drawing pins thrown on road during Willesden CC road race
Widespread punctures after drawing pins appear to have been deliberately thrown on A40 in Tetsworth during Dulcie Walker Cup road race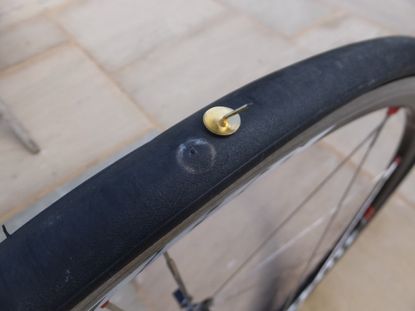 (Image credit: Benjamin Chuilon)
Drawing pins appear to have been deliberately thrown on the road during an amateur road race last Sunday, causing a number of punctures and potentially contributing to a crash.
Riders in the Dulcie Walker Cup road race in Oxfordshire on September 7, a Regional B event promoted by Willesden CC which attracted a full field of around 80 riders, reported punctures after passing through the pins scattered on the A40 in the village of Tetsworth.
Punctures were a contributing factor to a crash further down the road, according to race organiser Jayne Paine, in which two riders suffered broken collarbones and a 999 call was made.
"There were between 12 and 15 people who punctured," Paine added. "There was a crash, and we think a puncture was a contributory factor, but we can't say whether it was caused by the pins or not."
One National Escort Group (NEG) motorbike rider also punctured due to riding over a number of drawing pins.
Police are investigating.
"The incident occurred while we were on the penultimate lap and coming through the start of the small village of Tetsworth on the A40 I noticed lots of small shiny objects on the road," said participant Jamie Franklin (Velo Club Venta).
"Unfortunately, halfway through the final lap, my front tyre started to feel increasingly soggy and that was the end of my race, the offending drawing pin the culprit.
"[It was] A real shame: it's a 6:00am start, 2.5 hour round trip, money, training and anticipation spoilt by some malicious people."
The pins were cleared ahead of the John Walker Trophy National B race the same afternoon and a replacement NEG rider was called in.
The course is popular with race promoters, having previously hosted editions of the Spring Chicken and Roy Thame road races.
The incident follows a similar act of sabotage at a race in Surrey promoted by Redhill CC. Sportives have also fallen foul of tack attacks, including the Etape Calendonia and the Wiggle New Forest Spring Sportive.
Thank you for reading 20 articles this month* Join now for unlimited access
Enjoy your first month for just £1 / $1 / €1
*Read 5 free articles per month without a subscription
Join now for unlimited access
Try first month for just £1 / $1 / €1