Dutch cyclist comes within inches of being hit by train at level crossing
The Netherlands train authority has released CCTV footage as a warning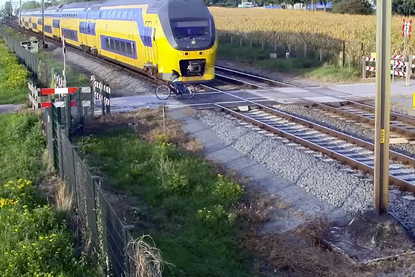 Shocking video footage has emerged of the moment a Dutch cyclist came within inches of being hit by a train at a level crossing.
CCTV footage of the incident has been released by the rail authority in the Netherlands to warn the public of the dangers presented by level crossings.
ProRail, the organisation responsible for railway maintenance, posted the video on social media with a warning that two people die at level crossings each year.
Geert Vlogman of ProRail said: "As well as deaths, there are more than a hundred near-misses annually.
"If only people knew how often this almost goes wrong and what the consequences are for train drivers, guards, first responders, aid workers and survivors if things do go wrong – it's hard to imagine people thinking that way."
>>> Cyclist says 'I'm going to die at this roundabout' after filming near misses
Vlogman's responsibility is to decide which measures need to be take to prevent deaths at level crossings in the Netherlands.
Footage of the near miss was released after the death of a 47-year-old man at an unguarded crossing in Santpoort, North Holland on Saturday, November 17.
The 50-second video clip of the near miss was posted on Facebook by ProRail on Friday.
https://www.facebook.com/ProRail/videos/266575980716675/
It shows the cyclist waiting at the level crossing while a train passes in one direction.
But as soon as the first train is gone, the cyclist rolls out into the middle of the tracks, apparently without looking in the opposite direction.
A double-decker train rapidly approaches the cyclist, who doesn't see it until the very last second.
Fortunately, they are able to push out of the way, the train narrowly missing the back wheel of the bike.
Thank you for reading 20 articles this month* Join now for unlimited access
Enjoy your first month for just £1 / $1 / €1
*Read 5 free articles per month without a subscription
Join now for unlimited access
Try first month for just £1 / $1 / €1