Eddy Merckx calls for lifetime bans for motorised dopers
Eddy Merckx has called for the UCI to issue lifetime bans to cyclists who are found to be guilty of 'motorised doping'.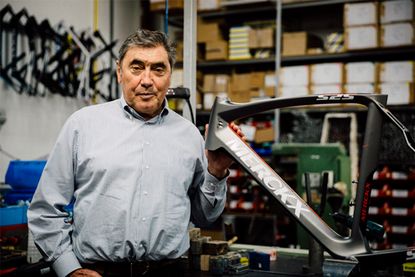 Eddy Merckx has hit out against those found to be guilty of 'motorised doping' following the UCI's confirmation that evidence of a device being concealed inside the bike of a competitor was found during last weekend's Cyclocross World Championships.
Femke van den Driessche is the rider found to have been in possession of the illegal bike during Saturday's Women's Under 23 race but Merckx isn't convinced it is a one-off incident.
>>> British riders voice opinion on motorised doping scandal
Speaking ahead of the Ladies Tour of Qatar, Merckx said: "They have to suspend for life, for me they have to suspend for life."
"From what I saw yesterday on the television, [it seemed] it was not the first time. They also showed a cyclo-cross on the Koppenberg and it was not normal. For me, it's the worst thing you can do. You might as well go by motorcycle."
The current UCI regulations surrounding 'technical doping', which came into effect in January 2015, stipulate that offenders should receive a minimum suspension of six months and a fine of between 20,000 and 200,000 swiss francs.
>>> Everything you need to know about the motorised doping scandal
This is not the first time allegations of this sort have surfaced with Fabian Cancellara raising suspicion as far back as 2010 before Ryder Hesjedal's self-moving bike created controversy four years later.
Nevertheless Merckx believes this is not common practice amongst the rest of the peloton and rejected claims that this incident could be just the tip of the iceberg.
"I don't think so; I don't think the other ones are so stupid to do something like that. That can only happen with riders who don't have experience. What has happened is very bad for cycling," added Merckx.
>>> Chris Froome: 'My bikes have been checked for hidden motors a dozen times'
But the five-time Tour de France winner believes this latest form of alleged cheating surpasses that of the chemical kind which has been rife in the sport for years, adding that it should therefore carry heavier sanctions.
"For me it's more than doping, it's more than doping. It gives you 50 watts more, or even 100, it depends," Merckx said. "That's nothing to do with cycling anymore. That's motorcycling. They have to go riding with [Valentino] Rossi."
Thank you for reading 20 articles this month* Join now for unlimited access
Enjoy your first month for just £1 / $1 / €1
*Read 5 free articles per month without a subscription
Join now for unlimited access
Try first month for just £1 / $1 / €1