Eight ways your cycling changes when you have kids
Having a family doesn't spell the end of your cycling days, far from it... but it might change the way you view your time on two wheels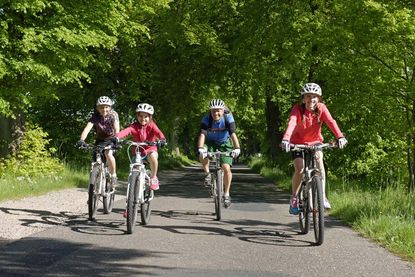 (Image credit: Bildverlag Bahnmuller/imageB/REX/Shutterstock)
You can find a new audience for your cycling knowledge
When your children are younger – before they hit the teenage years – what mum and dad says is usually taken as absolute fact. This means that you can sagely impart nuggets of your accumulated cycling wisdom to a captive audience that will hang on your every word, open-mouthed in awe of your extensive biking knowledge.
Well, that may not exactly be the case, but teaching your kids anything new can be a rewarding experience for you and your children. And what could be better than helping a small human to realise and enjoy the sense of freedom and fun that cycling can bring into your life. Learning to ride a bike is one of life's biggest moments, and seeing your child pedal alone for the first time is quite something.
And you never know, maybe your child could teach you something, too?
You have to make the most of the time you've got
Parents of small children will realise that their 'free time' is significantly reduced to tiny parcels of seconds in which everything that they want to do has to get crammed. In between the school run, mealtimes, nappy changing, your own work and inevitable exhaustion, there may be an hour or two to grab your bike and go for a solo ride.
With such constraints on your time, you develop a focussed mind and a great ability to organise. There's no longer time to faff about for an hour finding your favourite cycling socks. Just grab what every creased, assorted kit you can out of your cycling draw and hit the road. Ignoring the laughter at your mismatched clothing as you go.
>>> Nine ways cycling changes when you're over 40
Regular rides might go out of the window
Family commitments occasionally mean that you fall out of control of your calendar. There is a lot of pressure on weekend time. Naturally, you want to spend time with your family, but equally entire days can vanish is a fog of making food, clearing up food, clubs, parties, etc. That golden three-hour slot you used to have as 'yours' every Sunday morning can easily vanish.
Instead, you have to be flexible with your ride times. If all else fails, charge your lights up and go for a midnight bike ride.
>>> Six tips to find time for cycling in a busy life
You might not always feel like cycling
Amazing – and frightening - as it sounds, but sometimes the thought of going out on a bike just doesn't appeal. Of course, this isn't something solely restricted to those with children, but the added pressures of your time and the often deep feeling of tiredness can mean you give it a miss.
One missed ride follows another, and suddenly the weeks and months can pass without you going for a 'proper ride'. It's not unknown for people who were keen cyclists in their early 20s and subsequently have a family to completely give up cycling until the children are old enough to look after themselves (which might be when they are in their 20s, 30s or possibly never).
Your healthy diet might take a hit
Though you may have very serious family rules about rigidly sticking to consuming five portions of fruit and vegetables a day, there are the odd occasions when it's pizza or burger and chips for tea. As a highly-tuned athlete, you're probably not accustomed to eating such things – it's for the kids, after all.
This means you end up eating quantities of actually quite delicious food that you may never have thought you would eat. And then possibly 'helping out' the little ones with any leftovers that they may have, too. And then there's that delicious-looking if suspiciously-coloured ice cream in the freezer...
Everyone can get back to raw carrots tomorrow.
>>> Can fast food be a healthy option for cyclists?
You can go for fun family bike rides...
The shared enjoyment of a family bike ride is right up there with being one of the greatest things about having a family. Cycling can take you out into the countryside, and improve your health, and as a group can be a great way to strengthen those family bonds. At the end of the fantastic experience you can chat about the day's great events – that for once didn't involve an X-Box – over a cup of hot chocolate, a flapjack and grins all round.
... and not-so-fun family bike rides
But it doesn't always go to plan. Bike rides can easily turn into a moan fest as there are multiple complaints of going too far, being too cold, the saddle hurts, the gears don't work, now it's too hot, the hill's too steep, the shoes don't fit, the helmet strap is loose, it's raining. Quite often all within the space of a few hundred metres. What doesn't kill you makes you stronger, they say.
>>> Eight reasons why your friends should get into cycling
Your bike might have to fight for space in the garage
The onset of parenthood means that you are now sharing your living space with more people. And this will extend to the garage, shed, and any other space that has previously been kept as a sacred domain. In particular, the area that you have reserved for your collection of bikes very quickly deteriorates into a receptacle for everything that doesn't fit into the house.
This means that your bikes have to rub up against everyone else's bikes, scooters, muddy boots, pushchairs, the car roof box you had to buy because your car suddenly shrank when you had a family, more muddy boots, a huge cardboard thing that has something to do with a school project, and a whole load of other stuff that you have no idea about.
Thank you for reading 20 articles this month* Join now for unlimited access
Enjoy your first month for just £1 / $1 / €1
*Read 5 free articles per month without a subscription
Join now for unlimited access
Try first month for just £1 / $1 / €1