Can fast food be a healthy option for cyclists?
If you're striving to eat healthily, takeaways and restaurant meals can be a major pitfall, but there are some simple swaps you can make to win the calorie and fat battle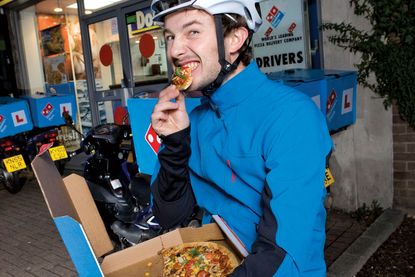 Get The Leadout Newsletter
The latest race content, interviews, features, reviews and expert buying guides, direct to your inbox!
Thank you for signing up to The Pick. You will receive a verification email shortly.
There was a problem. Please refresh the page and try again.
No one can be good all the time and neither should we be. A Friday night takeaway after a long week is an enjoyable treat and during the party season you might find yourself in the curry house a little bit more often than usual.
Takeaway food has a horrendously bad reputation: high in fat, high in salt, high in sugar and laced with monosodium glutamate, it's not really got a part to play in a cyclist's healthy balanced diet. However, that doesn't prevent the urge for the occasional dirty burger or post-pub Ruby Murray.
A meal at a Chinese or pizza restaurant is a social occasion to be enjoyed. Worrying about the menu or feeling guilt over calories isn't a very healthy way of approaching a fun night out.
Knowing in advance what foods make good choices and how to interpret the menu to avoid deep-fried pitfalls means that you can still have a relatively healthy balanced meal and enjoy your food.
Planning your naughty takeaway supper to coincide with a long ride or a race is a common strategy for justifying the indulgence. It's not a bad idea to do this but be aware that approaching a menu ravenously hungry doesn't help you to make the best decisions. When you get in from your ride, always have a small snack or recovery drink to refuel and keep you going.
If you get to the restaurant ready to gnaw your own arm off you will only consume needless calories working your way through the bread basket, poppadums or prawn crackers. It is often these starters that are the most calorie-laden — a bag of prawn crackers is 400 calories on its own — so far better to use your calorie budget on a tasty dish.
Does such a thing as a healthy takeaway exist? Some options are better than others. Though kebabs are normally associated with unhealthy boozy nights out, a grilled chicken shish kebab in toasted pitta with salad and no sauce is a pretty good choice. However, Indian and Chinese food are among the worst, depending on the dishes chosen.
A local government group study published in June 2011 reviewed 409 samples from Indian and Chinese takeaways of chicken tikka masala with pilau rice, and sweet and sour chicken with fried rice; the results were enough to put you off your dinner. Just one portion of these meals provided, on average, 70 per cent of the recommended daily energy intake for an adult woman and 56 per cent for a man.
Salt content was also an issue, with the Indian meals providing just under the recommended 6g per day and the Chinese providing 120 per cent of the maximum. Chinese food contains a lot of sugar — the sweet and sour meals contained up to 16 teaspoons of pure sugar — and contributes a whopping 75 per cent of the guideline daily amount.
The other area of concern that the report suggested requires further investigation was that many of the Indian tikka masalas contained above the maximum legal limit of some food colourings. And that's not all; there were chicken meals that turned out to be turkey and dishes that said they didn't contain nuts but did, an omission that could be potentially life threatening. The practical lesson from this has to be to choose your restaurant wisely.
Italian
There is of course a huge difference between sitting down to a meal in an Italian restaurant and the type of pizza that gets delivered by a teenager on a moped.
If you are going for a takeaway pizza, avoid the obvious pitfalls of stuffed crust and deep pan as these absorb much more fat than a thin crispy base, and reject the dipping sauces. Toppings can make a big difference to the total fat content. Any form of 'meat feast' or 'cheese feast' is going to be heavily laden with saturated fats so are best avoided. Veggie toppings, seafood or something lighter and more sophisticated such as Fiorentina with egg and spinach will be lighter in calories and a little bit more nutritious. Ask for extra peppers on the topping to increase the healthy veg content.
Pizza has a high carbohydrate content because of its base so, instead of adding extra carbs with garlic bread or dough-balls, have a side salad instead. This will help fill you up because of the extra healthy fibre and will prevent the bloated feeling of too much starchy bread.
If you are opting for pasta instead of pizza then go for a tomato or vegetable based sauce and avoid the creamy or cheesy options. The serving size in most pasta restaurants is excessive so consider ordering a half portion or starter size.
Beware of thinking salads are a healthy or lighter option. The Pizza Express Pollo Pancetta salad with goat's cheese contains more fat and calories than their cheese-laden Quattro Formaggi pizza or Lasagna Classica, but if you get rid of the dressing, dough sticks and cheese then a basic Pollo Pancetta comes in at a far more reasonable 307 calories, which would give you space for a starter and a pudding if you wanted to spread out your meal.
Make it healthier: Thin crust pepperoni pizza for thin crust margherita pizza to save a massive
72g of fat and 438 calories
Indian
Indian menus offer both extremes: very healthy options but also some pretty poor choices. Tandoori dishes are great. The marinade of herbs, spices and yogurt ensures a tasty choice but as the cooking method means the melted fat from the meat drips off in the oven and there's no fatty sauce, it remains low in fat and calories. If you went for tandoori chicken with boiled rice it would be a well-balanced meal coming in at under 500 calories.
If tandoori cooking is too dry for you, choose dishes that are tomato based such as bhuna or rogan josh, and steer away from creamy dishes like kormas and passandas.
Side dish choice is another area where it is easy to clean up your meal. Pilau rice adds 450 calories whereas boiled adds just 200. Fried breads such as paratha and puri will add a lot more calories, so if you want something to dip in your sauce go for a plain naan or chapatti.
These are all good carbs when not heavily laden with fat so, as long as you know your stomach doesn't get upset by Indian food, it can be a good choice for the night before a long ride. There are lots of healthy vegetable side dishes to choose from and lentil dishes such as dhal are high in fibre and contain a broad range of vitamins and minerals, particularly iron.
Make it healthier: Swap pilau rice for boiled rice and save 7.7g fat and 125 calories
Chinese
The first step to making good choices in a Chinese meal is deciphering the menu. Dishes with the words 'jum' (poached), 'chu' (broiled), and 'kow' (roasted) are likely to be the lowest in fat. Anything described as battered or crispy will be deep-fried. Avoid prawn crackers and be aware that many starters such as crispy seaweed or prawn toast are deep-fried.
Chinese meals tend to contain a lot of vegetables and anything steamed or stir-fried will help to preserve their nutrient value as well as keeping down the fat content. Chicken, prawns or tofu provide a good source of low-fat protein to accompany the veg. When it comes to choosing carbs, go for steamed or boiled rice.
Prawns with ginger and spring onions plus boiled rice is 498 calories with 12g of fat for a normal sized evening meal that won't bust your calorie bank.
If you are given the option try eating your meal with chopsticks. It will help slow down the speed you eat so you will enjoy your meal more and notice when you are full to prevent overeating.
Make it healthier: Swap egg fried rice for boiled rice to save 12.7g of fat and 221 calories
Fish and chips
The traditional dish of windswept British coastal resorts, the average portion of chip shop fish and chips will have more fibre and less saturated fat than two slices of wholemeal toast with butter so not as bad a choice as you might have expected. A good fish and chip shop will cook to order and this will help prevent extra fat being absorbed.
Though the choices are more limited in a chippy than in a restaurant, you can still improve your meal choices by going for a bigger portion of fish and a smaller serving of chips. If you go even further and throw away the soggier half of the batter you'll save even more calories without affecting your enjoyment.
Most shops offer a choice of fish; there are both environmental as well as nutritional reasons for making your choice. Where possible go for a sustainable white fish such as rock or pollock instead of Atlantic cod. If you are going to a fish and chip shop it seems wrong to opt for anything but fish, but if you do go for a chicken or meat choice then avoid the battered sausage.
There aren't many good vegetable side dishes on offer in a chippy, but mushy peas or baked beans are both a portion of your five-a-day and will add some extra fibre and nutrients to the meal.
Make it healthier: Swap battered cod for crumbed cod to save 14g of fat and 125 calories
Your say on fast foods
We asked our Facebook users: What are your favourite takeaway foods? Do you try to make healthy choices or throw caution to the wind and indulge?
Andy Edwards
There isn't enough healthy takeaway food. Tandoori dishes are my preferred choice, generally. However, within 24 hours of my last race of the season I'd consumed fish and chips, a full-on curry and a big tub of Ben & Jerry's (in that order) among other treats.
Matthew Burton
Isn't eating what you like one of the advantages of being a cyclist? If you pig out, get out on your bike and smash it! I indulge as most students like myself would!
David French
Fish and chips! Lots of salt and onion vinegar! The amount of cycling I do riding to and from work along with all the time I spend eating healthily, means when I do occasionally get a takeaway I might as well fully enjoy it!
Emma Watts
I love my Chinese too... although not the batter encrusted sweet and sour chicken/prawn balls (shudder!) I prefer what I perceive to be a healthier choice — chicken with cashew nuts or chicken with lemon sauce, although it's probably just as calorific in reality! I put down my successful completion of several century rides and sportive participation this year to dropping some weight. If I have a big ride I head down to my local pub and indulge in a suitably large steak meal complete with a disgustingly calorie-loaded pud the night before! I put my success at 40+ down to healthy living the other six nights of the week.
Colin Hathaway
Grilled chicken salad sandwich (chicken shish kebab) with all the salad, chilli peppers and chilli sauce. Big on protein, small on fat and totally delicious.
Jacqui McElhinney
Once a week I indulge in naughty food. Last week was salt and pepper ribs, satay chicken with a few (hiccup) alcoholic beverages — mmmmmm!
Colin Ewing
Lamb korma, keema rice and a garlic naan — job done!
Do you think fast food affects your cycling? Tell us in the comments box below
Food for cyclists
Are you eating and drinking the right things to fuel your cycling?
When it comes to weight loss, not all diets are created equal. We investigate the foods scientifically proven to streamline
Thank you for reading 20 articles this month* Join now for unlimited access
Enjoy your first month for just £1 / $1 / €1
*Read 5 free articles per month without a subscription
Join now for unlimited access
Try first month for just £1 / $1 / €1
Get The Leadout Newsletter
The latest race content, interviews, features, reviews and expert buying guides, direct to your inbox!