How do Tour de France teams use stage-specific fuelling strategies? Ineos Grenadiers shares its tactics
SiS and Team Ineos share their stage-specific fuelling strategies ahead of the toughest opening week in decades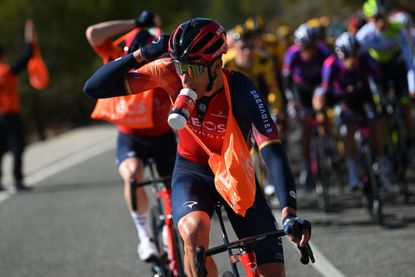 (Image credit: SiS)
The men's edition of the 2023 Tour de France is just about to start, with the toughest first week we've seen in about half a century! This means that we may well see some substantial GC gaps as early as Stage 6 and the first summit finish. And this means that teams will need to make sure everything is optimised from day one.
We spoke with Ineos Grenadiers rider Luke Rowe, Lead Performance Nutritionist at Ineos Grenadiers, Aitor Viribay Morales, and SiS's Commercial Director for Performance Solutions, Sam Driver, to understand how the World Tour team and its riders will prepare for each stage of the 2023 edition of the Tour de France.
Ineos Grenadiers has been working with its nutrition partner Science in Sport (SiS) since 2015, and have committed to three more years together after the 2023 Tour de France.
What's changed in the 2023 Tour de France?
Speaking with Luke Rowe, who has competed in all eight Tours in which SiS has worked together with Ineos Grenadiers (previously Team Sky), he explains how nutrition has changed dramatically since 2015 up to the 2023 season.
Higher carb intake
Previously, riders were following "old school myths" where low carb and protein diets were king. As Rowe put it "everyone was super lean but not as strong as nowadays".
Indeed, on Stage 20 of the 2015 Tour de France, Chris Froome very nearly lost the race when he blew up early on the summit finish up Alpe d'Huez. Back then, riders were consuming 60 grams of carbohydrates an hour and everyone just did the same thing.
Nowadays riders are smashing 80-120g carbs per hour (depending on the stage) and eating pretty much every 20 minutes. The higher speeds and power numbers that are being achieved in recent editions of the Tour de France is partly down to the change in cycling nutrition.
Stage specific
Another significant change in the nutritional approach is that it is a lot more tailored - not just to individual riders - but also each specific stage. This is one way in which Team Ineos is hoping to be a step ahead of the competition at this year's Tour de France.
With fewer sprint stages - and a lot of varied intermediate stages, which could be raced flat out depending on who is able to control the race - the way riders will need to fuel will vary significantly from stage to stage.
Previously, Tour de France stages were raced with a fast 30-60 minute start for the breakaway to establish, a cruise while smaller teams got TV coverage, and then a wild final 50km to chase them down for the stage win - or let them take it and chill out behind. Now, the start is often hectic for longer, the descents are raced hard, and no one wants to give up any opportunity to win a stage - even more so now that GC time bonuses will be awarded for the first riders to summit certain climbs.
Early stages fuelling strategy at the 2023 Tour de France
Looking at Stages 1 and 3 of the 2023 Tour de France route, the two courses have a lot of small punchy climbs, which could lead to some pretty stressful days in the peloton. To prepare for this possibility, Morales told us that the riders will always fuel for the worst case scenario, as it is better to have eaten too much than not enough and risk an energy deficit. On these punchy stages, the riders will be consuming ~100g/hour of carbs in the form of energy bars, drinks and gels.
On the flatter stages, such as Stage 2 and 4, this may be more like 60g/hour, but it depends on the rider. Rowe told us that, being a taller and therefore heavier rider, he would eat more than the smaller riders as he expended more energy at a given intensity. In fact, for the domestiques controlling the pace on 'easy' days, they will use significantly more energy than the GC leaders sitting in their wake, and so they have to fuel accordingly.
Something not often seen in the Tour de France is the first HC category climb coming in at Stage 5, with a climb up the Col de Soudet. Although potentially an easy ride for the bunch to get to the base of the climb, there could be explosions on the ascent itself. Then, as early as Stage 6, we get the first summit finish atop the Caurterets – Cambasque, with the Tourmalet beforehand for good measure. These stages are likely ones where the riders will be consuming ~120g/hour of carbs, as they spend lots of time riding at close to their threshold power.
Consuming this many carbs, though, requires having lots in your pockets - or getting food from the feed-zones and cars frequently. This is where domestique riders like Luke are absolutely vital for the GC riders. For protected riders to drop back to the car and get fuel would mean losing position and wasting valuable energy, so it is essential that domestiques can do that for them. This is the other benefit of the SiS range, as Luke tells us how useful it is having the Beta Gels and Beta Chews as they "pack a lot of bang for your buck" with 46g of carbs per energy chew - 15 per cent more than the 40g you get in a Beta Gel.
Fortunately, the next two stages are a bit tamer, with Stages 7 and 8 acting as transitional stages where the GC teams can perhaps relax and the sprinters have their time to shine. These stages will likely be ~60g/hour days, where riders can give their guts a break while still ensuring that energy levels are topped up.
That said, the riders will be in the south of France in summer, it will likely be hot - which has its own affect on the riders' fuelling. Morales tells us that when the temperature rises, so too does the rate at which the body uses carbohydrates. As well as assessing the maximum energy requirement for each rider - and where they will need to consume what across each stage - the temperature levels are also a key consideration.
Finally, Stage 9 sees another summit finish up the Puy de Dôme, so riders need to be fuelled and ready for that. Then, after a truly brutal first week, the rest day is a chance to rest up a bit, refuel, and recuperate. Though riders will still head out on the bike and be consuming plenty of carbs in preparation for the next stages.
Mid-tour fuelling strategy at the 2023 Tour de France
Going into Stage 10, the riders are greeted with a lumpy 167km, which will likely be a ~100-120g/hour carb day - if any team decides to test who has the best rest day legs. Stage 11 is a little simpler, but not without some spikey climbs, which will have the potential to zap that extra bit of energy from some tired legs.
The next four stages are brutal, with Stage 12 taking the riders into hilly terrain before Stage 13 finishes atop the Grand Colombier after a flattish start. Stage 14 is another tough mountain stage, with Stage 15 yet again a summit finish - but with more climbing early on. These four stages will likely be 100-120g/hour stages, although GC riders may be hoping some of those stages end up being days for the breakaway.
At this point the riders will have been consuming a literal kilo of carbohydrates on many of the stages, and food fatigue can seriously set in. When asked how the riders deal with this and whether they experience fuelling fatigue, Rowe said that the wide range of flavors in the SiS range is quite a help.
Fuelling and recovery is going to play a huge impact on this Tour de France as riders do their best to recover properly and ensure that fatigue is managed. The rider who wins the Tour isn't necessarily the strongest at the start, but the one who manages their fatigue the best. This is often why time trials which appear towards the end of grand tours often have the top positions populated by GC riders, rather than the out-and-out TT specialists.
Closing week fuelling strategy at the 2023 Tour de France
Stage 16 is the time trial where riders will be nailing their nutrition beforehand and using various ergogenic aids, such as caffeine, to maximise performance. I did ask if Ineos are using bicarb supplements and they confirmed that they are, but did not confirm in what form. It does sound like we may see an answer from SiS to Maurten's bicarb system in the next year or so, though.
Stage 17 then takes the Tour de France to the highest summit of the race atop the Col de la Loze at 2,304m elevation. Many carbs will be needed for the trifecta of high intensity, heat and high altitude.
Fortunately, Stage 18 and 19 are a bit more of a basic affair. At this point, the riders can consume more solid foods such as the Energy Bakes that SiS offers. It gives the riders' guts and minds a good rest from the energy gels and energy drinks that are consumed in bulk on the harder stages. Rice cakes are also another staple which have the added benefit of being possible to make savoury which, after 18 days of high-sugar diets across multiple stages, can be just what the riders crave.
However, this respite comes before one final smash-fest for the GC riders to close gaps or cement their place in the GC, with Stage 20 featuring six categorised climbs in just 133.5km. It's a short stage, so not as much fuel is needed in total, but equally it's likely that the pace will be very high. This is a day where the riders will be consuming higher carb volumes per hour, as even those not racing for the overall will be racing for the time limit on such a short and potentially fast stage.
Stage 21 with the classic finish into Paris is an opportunity to let off steam when it comes to fuelling. Riders will still be targeting the stage win, but classification winners (aside from perhaps the Green Jersey winner) will enjoy champagne, beers and sometimes even pizza on route. The fully dialled-in sports nutrition and fuelling habits comes to a bit of an end on this day before a well-earned rest.
Ineos' approach to heat-management at the Tour de France
As already touched upon, the potential heat that the riders will experience, as well as higher altitudes, increases the amount of carbs that they will burn. This is on top of the struggle to consume enough fluids as riders may lose between 1 to 2.5 liters of sweat an hour.
Over a 6-hour stage, it is not possible, nor advised that rider's try and drink that amount during the stage. They will consume plenty of fluids as well as salts while riding, but a large part of staying hydrated comes after their rehydration approach once they've finished the stage. This will come in the form of electrolyte drinks and also recovery drinks as riders look to replenish salts, fluids, carbs and protein to ensure optimal recovery for the next stage. Riders have drinks prepared for them to have straight away at the end of stages, also food and snacks to help boost morale.
Another element of heat management will be spending time in warm environments. Teams often train at altitude such as Sierra Nevada in the south of Spain. Given this is both high altitude and also very warm during the pre-Tour de France camps, this gives the riders the perfect opportunity to acclimatise to the heat and also fine-tune their individual hydration and fuelling strategies.
Pre-tour gut training
To fuel this at this intensity for the Tour de France and avoid any gut problems, riders have to spend a significant amount of time conditioning their digestive systems before the tour starts. I asked the team about this and what they have to do. Rowe said that generally training will be split into 'general rides' (more endurance-focussed) and 'effort days'. Whereas previously riders didn't fuel much in training, now they consume what they use in races across many of their training sessions - especially on the effort days. This teaches the body to be able to deal with those carb loads of up to 120g/hour without any unfortunate side effects (think Tom Dumoulin in the 2017 Giro d'Italia).
I also asked if they would be using hydrogels, as there have been suggestions that these are easier on the gut when consuming lots of carbs or in warmer temperatures. Interestingly, SiS has chosen not to pursue this route as they believe the scientific literature around the subject shows no noticeable advantage between hydrogels and its Beta range. Their own independent research however has found the Beta fuel to be very effectively used and oxidised when consumed up to around 120g/hour.
Ineos x SiS product development
Given that each rider needs their nutrition personalised - and that this has to be both effective and palatable - there are many bespoke products for Ineos from SiS. I was told by Driver that Ineos has around 20 products which are bespoke to the team, and that most of SiS's new products in recent years are a direct result of the partnership with the team.
The Beta Chews are a prime example of how SiS worked with Ineos to develop products specifically. The pro riders wanted something that resembled a Haribo - packing a lot of carbs into a small package. Ineos riders relayed this to SiS and the performance nutrition brand worked to create a solution within around 12-15 weeks. Some of these products, like the Beta Chews, go to market in the next 12 months, but others remain bespoke to the team.
Summary
Many of the stages of the 2023 Tour de France have the potential to be very hard from near start right to the finish - and teams will have been working hard to ensure that riders have their individual nutrition strategies optimised for every single stage.
Those who underestimate their fuelling or get it wrong in the early stages of the Tour de France may find it too difficult to make up for that in later stages.
Thank you for reading 20 articles this month* Join now for unlimited access
Enjoy your first month for just £1 / $1 / €1
*Read 5 free articles per month without a subscription
Join now for unlimited access
Try first month for just £1 / $1 / €1