Electric derny bike causes upset at Track World Cup
Silent electric derny bike replaced the traditional petrol-driven pace machine in London Track World Cup. Photos by Andy Jones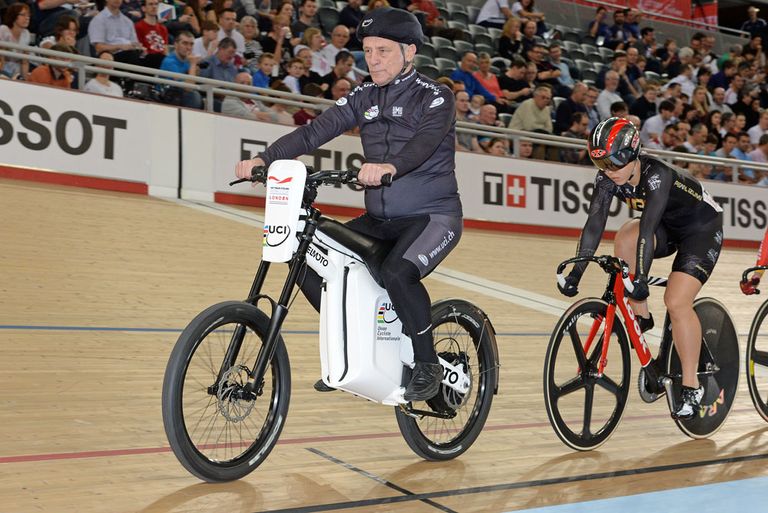 The keirin event was definitely lacking something at the UCI Track World Cup round in London at the weekend: the hum of the derny pace bike's motor and accompanying smell of exhaust fumes.
To the upset of many track purists, the UCI unveiled its new electric derny bike in the Lee Valley velodrome over the weekend. The virtually silent, zero-emissions bike marks a break in a decades-old tradition of petrol-engined pace bikes, and some detractors have said its absence in London changed the atmosphere of the keirin races completely.
Of course, the commonsense of using an ageing, fume-belching bike in an enclosed space doesn't sit well in a more health- and environmentally-conscious era - so in comes the German-made Elmoto HR-2 e-Derny bike.
Thankfully, one thing didn't change - the derny was still piloted by the experienced pacer Peter Deary in his traditional black uniform.
The Elmoto e-Derny is capable of going at 45kmh and has a range of 65km, and costs around £3800
Double shocks on the rear provide suspension over the, er, pan-flat, dead smooth track
Battery compartment is a convenient place for the UCI logos
The motor is encased in the rear hub. Some riders have said they prefer them for training as they can communicate with the pilot more easily without the petrol engine noise
Mountain bike disc brakes
The bike looks half-way between a downhill mountain bike and a motocross bike
Display gives you speed and battery level readouts, speed is adjusted via a motorbike-style twist throttle
The Elmoto HR-2 e-Derny in action in London at the hands of Peter Deary
https://www.youtube.com/watch?v=fgiltH4U_Xs