Entering the record books: Taking on a long-distance solo record
Can a decent club-level rider pedal themselves into the prestigious Road Records Association record books? We sent Richard Abraham to find out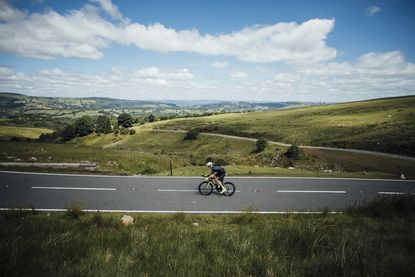 (Image credit: chris catchpole)
Get The Leadout Newsletter
The latest race content, interviews, features, reviews and expert buying guides, direct to your inbox!
Thank you for signing up to The Pick. You will receive a verification email shortly.
There was a problem. Please refresh the page and try again.
This story originally appeared in Cycling Weekly's print edition.
This isn't a story about breaking a record. First of all, we didn't know whether I had managed to do so until a couple of months after the attempt. And, what's more, memory has condensed five hours and three minutes of cycling through beautiful Welsh hills and not-so-beautiful Welsh dual carriageway into nothing more than minuscule photographic snippets.
>>> Between a clock and a far place: The golden era of long-distance record breaking
Instead this is a story about attempts; about hope, uncertainty, expectation, elation, disappointment, and the honest thrill of giving something a go. Although none of these seemed particularly relevant on the small hill on the A40 in the village of Bwlch, one of those few vivid snippets of memory that I hope — when old age and senility comes around — will be one of the first to go.
Bwlch was very near the finish of my Brecon Beacons circuit, a loop established two years ago by the Road Records Association (RRA) like a worm on a hook to lure out riders and reverse a recent decline in record attempts. I was the first to take the bait.
The RRA is a British cycling institution. It is the custodian of Britain's road riding records, the most famous of which is Land's End to John o' Groats. Its record books are packed with other prestigious titles like London to Edinburgh, Pembroke to Great Yarmouth and London to Bath and back, and the names on its roll of honour include Gethin Butler, Eileen Sheridan, John Woodburn, Ralph Dadswell and now Mike Broadwith, who broke the End to End record just a few days before my attempt in Wales.
Broadwith rode for almost two days through thunderstorms and neck pain; my attempt, at 104 miles (more on that missing mile later), was the shortest of the circuits available to choose from. I had to set a standard time of four hours and 55 minutes.
A few weeks before my attempt I had sought the advice of the good doctor of time trialling whose name and photoshopped mugshot will be familiar to readers of the magazine. Dr Hutch's advice was to ride it on 'feel'. Well actually, his advice was to ride it on power but since I had never used a power meter I had better stick to feel, he said.
"Hundred-mile TTs are quite difficult if you're doing them flat out," he added, before wishing me good luck and telling me he was about to go on holiday.
One thing about riding on feel is that you become very attuned to your body's sensations. And I felt awful. For pretty much all of it. Especially in Bwlch. Cyclists are used to dealing with pain from sprinting up a hill, or racing a 10-mile TT. But there's a different type of profound discomfort reserved for those little hills that you have to tackle after five hours of hard riding. It's what pro riders are getting at when they talk about 'going deep': holding your hand in the fire and seeing how long you can keep it there. Your back, arms, shoulders, lungs and entire essence feel like they are slowly being picked apart on a molecular level.
In an interview not so long ago, Gary Kemp — the half of the Spandau Ballet twins who got into cycling not EastEnders — reckoned that there is a certain musicality to cycling. How certain riffs and certain tunes rotate in your grey matter as you ride along. Well it turns out I had an early 90s rave track by The Prodigy on permanent loop for 303 minutes, which I suspect is what secret police use to extract valuable information from captives.
This is de rigueur for a record attempt too: the mental anguish to compound the physical discomfort. That's why I wasn't looking at my average speed, based on another piece of advice from Glenn Longland, a man who has five RRA records to his name and dozens more accolades in the world of time trialling, most notably becoming the first to average over 25mph for 12 hours.
"You've just got to go out and ride it."
The power of flattery
To explain why I found myself going out and riding it in the first place, we have to go back to a phone call from CW's features editor tempting me to give it a go. "It's an average of around 20mph," he said. "That's beyond me but it sounds like something you can do."
It sounded like something I could do: 20mph for 100 miles or so. And flattery will get you everywhere.
The RRA had a recommended start point outside Brecon, a layby alongside a pub car park, which seemed as good as any. From the Old Ford Inn in Llanhamlach we would head west on the A40, turn south over the Black Mountain Pass, return north-east via the Head of the Valleys road, cutting the corner to avoid Abergavenny and heading back to the pub for drinks and pork scratchings. Easy.
The only problem was this: with no previous attempts, the RRA had set a standard time to beat that was low enough to ensure that the first name on the board would be befitting of the RRA, but not too low as to discourage attempts. In reality it meant an average of 21.8mph, not 20mph. And given words like 'mountain pass' and 'valley', it wasn't a surprise to see that there was over 2,100m of ascent to cover too.
Training like a record breaker
I was doing plenty of endurance miles, fasted rides to improve fat adaptation, and regular sessions of pilates and yoga, so I was comfortable doing the distance.
However, this year I chose to forgo time trialling, and so I lacked the intensity and punch that could have helped me go a lot faster.
The key is to up the power at which you can comfortably ride in an aerodynamic position, best developed with sessions designed to increase your threshold. I also found it useful to throw in some intense efforts at the end of a long ride of five hours or more, riding the last 20 minutes to an hour as fast as I could in order to get used to pushing hard when I already felt tired.
Blown by the wind
Snippet number two: the A465 outside Neath, a road which will be familiar to time triallists who head to South Wales to race. Time trialling is perfect for this road: the only kind of ride you want to do on it is one where you are aiming to finish and get off it as quickly as possible.
When conditions are good, this is a record-breaking place. There's a slight descent that sends you down the valley and, in most instances, a roaring westerly off the Bristol Channel to blow you back up again. This is where Marcin Białobłocki clocked 42-58 for 25 miles in May this year, averaging 34.9mph.
However, on my chosen day in mid-June, the unseasonable Welsh sunshine brought with it an unusual northerly wind. It was a crosswind most of the time, turning to a tailwind when a lorry would thunder by, and then a headwind shortly after.
In some respects, a record attempt like this is a very long-distance sporting course time trial. There are hills, twists, turns and potholes to test the full spectrum of a rider's ability. But it is also so much more than that. Rather than turning up and riding an 'off-the-peg' CTT event, in this case you take responsibility for every element of your ride. Choosing a day, plotting your route, and working out pacing, nutrition and equipment is a lot to think about.
There are then the stipulations of the RRA, which are there to guarantee the safety and authenticity of the ride. A following car, with RRA signs and a flashing light, is required.
You must submit an entry form with a route and schedule, which means predicting your average speeds and calculating your approximate arrival times at certain points on the course. Feeds can be from the side of the road and must be static (no handing up of bottles from a moving vehicle) and anyone involved in the attempt, which in our case included a magazine photographer, must have an official observer to ensure that there is no illegal assistance or general skulduggery.
This is where Ian and Bridget Boon, and their friend Brian Griffiths, come in. They are shining examples of the volunteers on which the sport of cycling depends. Ian would be driving the following car (his blue van) and handing up bottles at pre-arranged points. Brian would be up front with him, observing, keeping time and mixing me some energy drinks. Meanwhile Bridget would be riding with Chris, the photographer, to keep time.
While a circuit ride like mine is relatively straightforward to organise in comparison to a longer distance, point-to-point record attempt, it represents a significant investment of time and effort.
My support crew had in fact only just got back from Scotland and Mike Broadwith's End to End, their first experience of volunteering for the RRA and a very special thing to be a part of.
"One van turned around and went straight back to London," Bridget recalled of the end of Broadwith's ride. "The rest of us stopped in Inverness, found a hotel, had breakfast, got a bit of sleep, then went and had a curry."
The RRA's records are Britain's equivalent of Bordeaux-Paris, Paris-Brest-Paris and, ultimately, stuff like Paris-Roubaix. However, our historic point-to-point routes were denied the road racing heritage of those on the continent thanks to the banning of road racing for a large part of the early 20th century. As a result we got our TT culture, and our place-to-place rides remain fairly low-key, solo ventures.
Today 'PBP' and Bordeaux-Paris bask in their glamorous past as modern-day Audax events attracting thousands, yet records like Liverpool to Edinburgh or London to Pembroke are almost forgotten. Record-breaking End to Ends are achieved by maths teachers and culminate in a curry in Inverness.
This is not to be snide. Quite the opposite: this is their charm. Flasks of tea, stories shared, friends made. But it means that, with a little bit of effort, distinctly average cyclists like me have the chance to be part of it and inscribe their name alongside some of the biggest and greatest names in British cycle sport.
Excuses, excuses
Until you get to those very good cyclists — who are so good at cycling that they don't have to make any excuses and are therefore not very good at it — cyclists like you and me are pretty good at making excuses.
Those wheels? Could have saved 30 seconds. New skinsuit? A minute. Basically, we're all WorldTour pros who are just hamstrung by our equipment, busy schedules and Sunday lunches.
When you actually have a record to reach, those excuses just multiply. How long was I stopped at those temporary traffic lights? How much was I held up by that Kia Picanto? What about when I slowed down to avoid riding into a sheep with enough kinetic energy to turn us into a pulverised cloud of wool and carbon-fibre.
For my ride, the ultimate excuse came in the form of the roadworks on the A465 between Brynmawr and Abergavenny, an enormous gorge-widening scheme that has temporarily banned cyclists from the very road I had been obligated to ride. What's more, it was a fast A-road of about five miles, all of which were downhill.
Research beforehand had alerted me to the roadworks and I had plotted a diversion and OK'd it with the RRA; a drive around the course the previous day informed me that the cyclist ban extended further than I thought and it meant an additional, impromptu diversion through a town centre, some more traffic lights, and up some more steep hills.
So, the record? The RRA convened, discussed the relative merits of my ride, and decided that the time lost to those late diversions and an additional mile of riding on slower roads meant my time (though over eight minutes longer than the standard) qualified for the record.
We broke it. Five hours, three minutes and 47 seconds. The pork scratchings had to wait — I passed out for a few minutes after crossing the line and the pub was closed, though we did eventually find somewhere for a cup of tea.
Stats
Time: 5-03.47
Distance: 168km
Average speed 33.9kph
Average heart rate 166bpm
Maxium gradient 12.7%
But it's not about that. It's about putting yourself out there, the challenge of stepping up, having a go. The RRA is doing just that with its own attempt to reinvigorate a British cycling institution. Its records are still worth attempting and they are still worth breaking. As Broadwith proved earlier this year, every one of them is unbreakable until someone breaks it. So have a go. What's your excuse not to?
Record attempt kit
What I'd keep
■ Time trial bike: despite the weight penalty, it was invaluable to be able to change gear in the aero bars.
■ Road skinsuit: perfect for this kind of event. Speed, with pockets!
■ Aero road helmet: worth sacrificing the aero gains of a TT lid in order to move my head around more easily.
■ Position: I adjusted the TT bike to mirror my road bike, sacrificing aerodynamics for a position my body was more used to.
■ Overshoes: the best bang for your buck, in aero terms.
What I'd change
■ Deeper wheels: I preferred the shallower wheels to save weight and in case of blustery Welsh weather, but a rear disc would arguably have been faster.
■ Bigger chainset: a 54 or 56-tooth big ring was required for the fast, A-road descents.
■ Power meter: training with power and sticking to numbers would have taken out the guesswork, and is highly advisable for a serious record attempt.
■ Emergency energy gel: I forgot I even had it in my pocket.
Do it yourself
- Pick a record (www.rra.org.uk) — we did one of the five circuit records laid out in 2016, many of which have not been set yet.
- Pick an approximate date (you might want to wait for the weather, so factor in some flexibility and a period during which you can be ready to go).
- Read the RRA rules — familiarise yourself with the rules of feeding, passing, and observers.
- Find a timekeeper — join the RRA and have a ring around.
- Draw up a notice and schedule, and submit it, and figure out just how fast you have to ride.
- Work out your hydration and nutrition strategy — how does this fit in with the timekeepers and observers?
- Logistics — how are you, and your timekeepers and observers, going to get there and back while staying fed, watered and ready to ride?
Thank you for reading 20 articles this month* Join now for unlimited access
Enjoy your first month for just £1 / $1 / €1
*Read 5 free articles per month without a subscription
Join now for unlimited access
Try first month for just £1 / $1 / €1
Get The Leadout Newsletter
The latest race content, interviews, features, reviews and expert buying guides, direct to your inbox!
Richard Abraham is an award-winning writer, based in New Zealand. He has reported from major sporting events including the Tour de France and Olympic Games, and is also a part-time travel guide who has delivered luxury cycle tours and events across Europe. In 2019 he was awarded Writer of the Year at the PPA Awards.