Eureka cyclists' cafe: Happy 80th birthday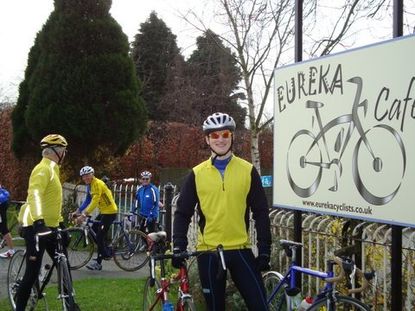 Words by Ian Parr
It's not often I get to write about somewhere that means so much to me. Marking the 80th birthday of the wonderful institution that is The Eureka Cyclists' Café has afforded me a great pleasure. Located on the Wirral Peninsula close to Cheshire and North Wales, it's a place I've been refuelling in since the age of eleven.
The Longman family opened the doors of their house to hungry and thirsty cyclists in 1929. After the war a separate building was erected next to the house, using materials from a nearby barracks, and this was the embryo from which the café as we know it today was born.
In the 50s the army hut was replaced by a seaside chalet and further alterations and improvements were made in the 60s, 70s and early 80s, by which time the café - still in the same family but now, through marriage, run by the Yarringtons - continued to flourish.
Enormous credit has to be paid to the family, not just for founding the establishment but for insisting, when the time did come to leave, on selling it to someone who was going to continue the tradition and not taking the easy, and possibly more lucrative option, of selling to a developer.
From the mid-80s the new owners, the Chapmans, continued to make improvements. Neil and Anne Chapman were real cycling people and, along with Anne's sister Tricia, continued the tradition as cycling grew in popularity as a result of the DHSS Performance Plan that was in operation at the time. Unemployment is certainly no fun, but at that time it did massively increase the number of cyclists - and not in the way Mr Tebbit had in mind.
In the Eureka there's always someone to talk to, get advice from, have a laugh with and simply enjoy the cycling camaraderie. There are so many tales and everyone who's ever been will have one to tell.
I remember one wonderful moment on a wet Wednesday sometime in the mid 90s. I was with my friend Sergei, an ex member of the Russian swimming squad who had moved from Moscow to Liverpool and started cycling. I was introducing him to our compulsory refreshment stop. The place was a packed steaming hive of activity as tired riders were trying to get dry and feed themselves at the same time.
There were signs not to put wet clothes on the heaters - sort of sensible if a sauna is to be avoided - but Sergei, who was only just acclimatising to his new life and our ways in the UK, thought there must be a way to get dry. He took his tops off, revealing one of those muscular triangular torsos most of us can only dream about and went up to the counter to ask, in broken but clearly seductive English, where he could dry them.
Video: 'Beans and a Spare', a short film about the Eureka café by Jon Derricott
Tricia and Anne - normally very chatty middle aged women (I'm sure they won't mind that description) - fell silent, took the clothes from Sergei, left the café and entered the house. They had gone and put them in their tumble dryer for him. Regulars with decades of attendance and equally soaking clothes were a little more than speechless for a few moments until the wonderful moment when Anne and Tricia seemed to realise that what they'd done may have been a little unusual in everyone's eyes. Beans on toast, mugs of tea and slices of cake resumed rolling from the production line with Sergei wondering what all the laughter had been about.
The Mills, as it is more commonly known due to its location at a major junction called Two Mills, has been the centre of the cycling community on Merseyside and I'm guessing that at one time or other almost every cyclist in the region has visited it.
It's been featured on various television programmes over the years and was a stop on The Milk Race many moons ago. Certainly it must have had more professional and ex-professional cyclists in it than any other building in the UK. Great characters from the past like the cyclist's tailor, Ossie Dover, big names from the past pro ranks - a certain Mr Boardman, Joey McLoughlin, Steve Joachin, Tony, Mike and Mark (R.I.P.) Bell, Doug Dailey, Paul and Dave Grindley, Simon Lillistone, Mark Westwood, Trevor Horton, Callum Gough, Paul Manning, Les Fleetwood and George O'Brien, who rode with Tommy Simpson on The Tour, to name but a few.
Current stars are regulars too - Matt Brammier, Steve Cummings, Nikki Harris, Jonny McEvoy, Mark McNally and Matt Stephens to name even fewer, but only because time and space don't allow.
Seven years ago the Chapmans decided to move on, but repeated the principle of selling to another cycle-mad buyer who was prepared to continue the tradition. A wonderful arrangement followed that no estate agent could have possibly engineered. The Chapmans did a house swap with the Peeks from Hawarden in North Wales. Hawarden is where the Chapmans wanted to go and Keith Peek, mad keen triathlete, was looking for a new venture with his wife Anne - at that time not a 'cycle head' - a tad nearer their Wirral roots. The collective sigh of relief from the cycling community caused a bit of an El Niño effect with the Mersey and Dee swelling several nanometers.
A series of life events like changing continents, careers and a redundancy have allowed the Peeks to take on a big challenge and turn the Eureka not only into its best incarnation to date, but expand into cycle retail too. This is a couple who are so refreshingly committed to encouraging cycling and providing a great service to those who enjoy our sport. The café has been almost completely rebuilt and now has a coffee machine that would make messers Colnago, Bianchi and De Rosa feel at home.
Various spares were always available in the café, but Keith and Anne decided to widen the range and two years ago they were able to open Eureka Cycle Sports on the nearby Deeside Industrial Estate as a logical and very welcome progression with plenty of mid to top of the range gear available.
There is still that great family atmosphere on every visit to the café as mums, dads and daughter of Keith and Anne are always in there with a helping hand and a cheery welcome. They're always on hand with advice on routes - never a problem given that the location is perfect for Cheshire, North Wales or The Wirral. Many clubs use the café as a base or stop-off and there are links to a dozen or so on the informative - soon to be updated when they get a moment - café website.
The Eureka is an invaluable grass roots resource. Yes, there are the pros and the eyeballs-out club riders, but what Keith and Anne have done is to broaden the appeal of the café. I remember there was an almost intimidating air about the place when I first went there as a youngster. I wasn't a member of this 'club' and it was easy for strangers to be put off by the close-knit racing scene.
The café is still a place for serious cyclists and readers of this very magazine, but it is also a welcoming environment for the casual rider, kids and even non-riders. The Eureka has traditionally been open on Wednesdays, Saturdays and Sundays, but there are plans to open on more days in the summer months. Information will be posted on the café website. I understand there's even a couple of Facebook sites about The Eureka - if you're young enough to bother with such things!
The 80th Birthday will be marked by a very challenging 80 mile ride and an easier 80 km version on September 6.
EXTERNAL LINKS
Thank you for reading 20 articles this month* Join now for unlimited access
Enjoy your first month for just £1 / $1 / €1
*Read 5 free articles per month without a subscription
Join now for unlimited access
Try first month for just £1 / $1 / €1