Eyebrow shaving, beer and helium enemas: A selection of your marginal gains
We asked Cycling Weekly readers what marginal gains they would introduce as a team manager... quite a lot of them would not be approved by the UCI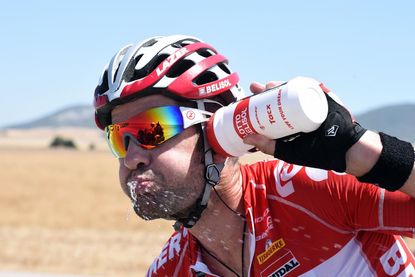 (Image credit: Graham Watson)
Shaving off riders' eyebrows, drinking copious amounts of beer and introducing helium enemas to reduce weight were just some of the remarkably innovative suggestions for 'marginal gains' made by Cycling Weekly readers.
For those not familiar with the term, Team Sky introduced the concept of marginal gains into the cycling world - a quantity of very small changes can have a collectively significant overall effect on a rider's performance.
We recently asked readers what measures they would introduce to increase the performance of their team if they were a manager, and here are a selection of some of the answers. We're fairly certain that 99 per cent of them would not pass scrutiny by the Union Cycliste Internationale.
Nevertheless, we'll be keeping a close eye on next year's WorldTour teams to see which of these frankly stunning ideas are put into action.
Do you have any great suggestions? Let us know in the comment box below.
Race numbers printed on jerseys and skinsuits. Given the budgets available I am surprised this is not already done.
Marc Barfoot
Feed bags that clip to the handlebars. Easier to see and select your grub, less time lost in the feed zone, less chance of crashing in the feed zone. (Brailsford is probably working on drones to deliver in the feed zone on silver platters.)
Phil Northcott
Shave riders' eyebrows.
Tony West
At top of hill climbs I would hand out water bottles made of lead. These could be thrown away at bottom of hill. Maybe some already do that.
Ian Tomkins
Cycling jerseys with flaps that attach to the sleeves so you can use them like sails when you have a tailwind.
Neil Jackman
Team riders have a 'power cut' for the day. The only people that see their data are their coaches. Riders go on 'feel', it'd be an interesting comparison in these days of analysing everything. I bet there'd be a few surprises too.
Will Matthews
Domestiques to give the team leader a backie if he's feeling a bit tired.
Liam Domhnaill
I would send copious amounts of beer and pizza to the other teams when they order room service. I would then sneak around their bikes and swap one crank arm for one that is 10mm shorter. That should work fine.
Mark Larigo
Helium enema prior to riding to reduce weight.
Geoff Bennett
I'd ask my riders to watch videos of Froomey and to take note of how he sits and looks on a bike. I'd point out to them that this is how you do not want to look whilst riding a bike. Imagine how fast he would be if he had a position like Quintana.
Kurt Green
I would provide every rider with an allen key so if they were forced to take a team-mate's bike in an emergency they could at least do a quick adjustment of saddle height if necessary!
Patricia Davies
Watch: Six ways to sleep better and ride faster
Time trial hill training. It helps riders build more power, perfect form, and give them the little power boosts they need to push bigger gears. Literally the best way to get faster on the road.
Sam Sacalis
Give the riders sudoku puzzles and mental exercises at training camps in between sessions to teach them to think better while they're at their limit.
Fionn O'Dwyer
Maybe go back before marginal gains where racing was about guts and determination rather than following numbers on a power meter. Allow them all to dope and it would be amazing.
Joshua Stewart
All of them. That's how marginal gains work right?
Scott Church
Thank you for reading 20 articles this month* Join now for unlimited access
Enjoy your first month for just £1 / $1 / €1
*Read 5 free articles per month without a subscription
Join now for unlimited access
Try first month for just £1 / $1 / €1