Fancy a 25-hour road race? The Red Bull Timelaps might be for you
October event pitches teams of four riders against each other, seeing who can complete the most laps of a circuit in Windsor Great Park over 25 hours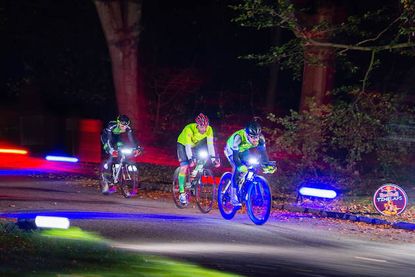 (Image credit: Patrik Lundin/Red Bull)
For the second year in a row teams of four riders will take part in a 25-hour road race in Windsor Great Park over the weekend of Saturday, October 27, and Sunday, October 28.
The Red Bull Timelaps takes advantage of the clocks going back an hour that weekend to create a unique 25-hour race – which is claiming to be the longest one-day race in the world.
Teams must complete as many laps of a traffic-free 6.6-kilometre circuit around the park as possible within the time limit. Only one team member is allowed on the course at any one time before handing over the riding to another team-mate.
>>> Post-training meals: Chicken and chickpea Moroccan-style tagine (video)
To mark the event taking in the extra hour as British time switches from summer time to daylight saving, the event has a 'power hour' from 2am where riders tackle a shorter course and each lap counts as double.
Last year's even saw the winning team of Wellingborough Cycles complete an incredible 138 laps, meaning they covered more than 900km at an average speed of more than 36kmh.
Unsurprisingly the team will be back to defend its title in 2018, with team leader Jack Patmore saying: "We were ecstatic. We ended up entering the 2017 race as a bit of fun at the end of our season, so it's really great that we ended up winning the whole event.
"We didn't really have a game plan apart from just letting one of the guys hit it really hard! We are looking forward to coming back this year to defend our title".
Online entry will open at 10am on May 22, with 800 places on offer (200 teams of four). Entry per team of four costs £250, or £200 if all members are under 25 years of age.
Thank you for reading 20 articles this month* Join now for unlimited access
Enjoy your first month for just £1 / $1 / €1
*Read 5 free articles per month without a subscription
Join now for unlimited access
Try first month for just £1 / $1 / €1