Post-training meals: Chicken and chickpea Moroccan-style tagine (video)
The ultimate slow cooked, low calorie meal that have your taste buds tingling the moment you step back through the door.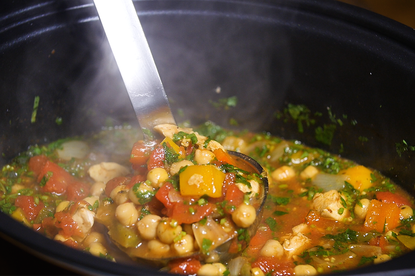 We all love the feeling of coming home from a long ride to the smell of a freshly cooked meal. But combining delicious tastes alongside healthy and nutritious food can sometimes be a case of cooking two separate meals altogether.
However Performance Chef Alan Murchison has put together a low-calorie recipe that hits the mark nutritionally from both a macro and micronutrient point of view as well as being extremely tasty.
"This dish provides a great way of refuelling without too many calories, so it's a great one if you're looking to get a little leaner and lose a bit of weight," Murchison says.
"It's also packed with protein so great for muscle repair for cyclists. It contains two forms of protein: chickpeas and chicken — though you could use red meat, if you prefer or need an iron boost."
>>> Post-Training Meals: Thai Style Coconut Broth With Shrimps & Salmon (video)
It is not just a case of this meal hitting the spot in terms of nutrition. Despite seeming complicated at first glance, it is easy to follow and ideal for a post-weekend ride.
"The ingredients for this dish are dead simple to use: Moroccan spices, onions, peppers, chickpeas are all household basics and adding the fresh herbs to the mix at the last minute gives a great, aromatic flavour. This dish is easy to prepare in advance, ahead of a long ride; it can be cooked in a slow cooker for around three hours while you're out — when get back, you can refuel immediately."
If you are looking for a vegetarian alternative, you can simply cook the dish without the chicken, or replace the meat with Quorn.
Ingredients
Serves 4-6
■ 600g diced chicken breast (lamb, turkey or beef work equally well)
■ 3 tbsp Schwartz Moroccan spice
■ 3 mixed peppers, diced
■ 1 large onion, diced
■ 2 tins of chickpeas
■ 2 cartons of passata
■ 400ml chicken stock
■ Bunch of fresh mint, parsley and coriander (to garnish)
Method
1. Sauté the chicken breast in the olive oil for three to four minutes.
2. Add the spices, then the peppers and onions. Cook over a medium heat for a further two minutes.
3. Add the chickpeas, passata and chicken stock (one stock cube diluted in the chickpea tin).
4. Transfer to the slow cooker and cook on high heat for 2.5 to three hours or medium heat for four hours. (If you don't have a slow cooker, simmer for 45 minutes on the stovetop.)
5. Season with the fresh herbs, finely chopped.
6. Serve with boiled rice or couscous.
Thank you for reading 20 articles this month* Join now for unlimited access
Enjoy your first month for just £1 / $1 / €1
*Read 5 free articles per month without a subscription
Join now for unlimited access
Try first month for just £1 / $1 / €1