Former England rugby star's tweet about close passes sparks frenzied response on social media
Some people aren't happy about Austin Healey wanting to be given enough space on the road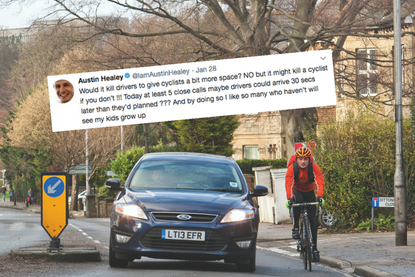 A tweet by a former England rugby player has sparked a frenzied debate on social media about close passes on cyclists.
Austin Healey, who earned 51 caps for England between 1997 and 2003 and is a keen cyclist, tweeted on Sunday about suffering a number of close passes over the course of a ride.
>>> 'Why do cyclists ride in the middle of the road?' - you asked Google, and we've got the answer
"Would it kill drivers to give cyclists a bit more space? NO but it might kill a cyclist if you don't !!!" Healey tweeted. "Today at least 5 close calls maybe drivers could arrive 30 secs later than they'd planned ??? And by doing so I like so many who haven't will see my kids grow up."
Healey's tweet received more than 2,000 likes and 800 retweets, presumably mostly from supportive cyclists, while the replies were divided, with Healey responding to a number of the negative responses.
After his original tweet received such a huge response, Healey then tweeted that he'd like to see all the drivers who had taken issue with his assertion that cyclists should be given more space go out on a roads on a bike to experience what it's like to be a cyclist.
According to the Highway Code, motorists should "give vulnerable road users [such as cyclists] at least as much space as you would a car" when overtaking.
A number of the responses to Healey's tweet also complained about riders cycling two abreast, with Melanie Jones complaining that it had taken her "35 mins to do a 10 min journey" due to cyclists riding two abreast, while others complained about cyclists not using cycle lanes.
Riding two abreast is perfectly legal under UK law (although the Highway Code suggests that cyclists ride in single file on busy and narrow roads), with groups of cyclists often choosing to ride two abreast both to improve their own safety and to make it easier for motorists to overtake.
There is also no imperative for cyclists to use cycle lanes, with the Highway Code saying that "use of cycle lanes is not compulsory and will depend on your experience and skills" and many cyclists choosing not to use them if they are in poor condition, inconvenient, or may compromise their safety.
Thank you for reading 20 articles this month* Join now for unlimited access
Enjoy your first month for just £1 / $1 / €1
*Read 5 free articles per month without a subscription
Join now for unlimited access
Try first month for just £1 / $1 / €1