'In the future we won't see road bikes without disc brakes - they will all have them'
Specialized CEO Mike Sinyard says that the writing's on the wall for rim brakes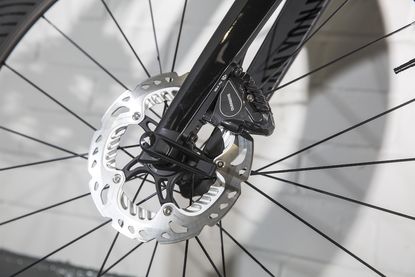 Rim brakes will be obsolete and disc brakes used on all road bikes in the future, according to the head of one of the world's biggest bike brands.
Mike Sinyard, the CEO of Specialized, dismissed concerns about the safety of disc brakes, and said that he expected all road bikes to be sold with disc in future.
"In the future we won't see road bikes without disc brakes, they will all have disc brakes," Sinyard told La Gazetta dello Sport.
"My personal feeling is that disc brakes are bringing more safety because you have more control. You can go down mountains and just use the brakes when you need them, rather than dragging the brakes all the way down."
>>> Specialized reveals why Tom Boonen wasn't using disc brakes at the Tour of Flanders
Sinyard, whose company last year released the Specialized Roubaix which was originally announced as only being available with disc brakes (although it now appears that a rim brake version is on the way) said that he was always concerned with improving safety, but explained why covering disc brakes may not be the answer.
"We always need to look at aspects of safety. We've taken the disc brakes and made the edges very smooth which makes a big difference. If you cover them then they will just get hotter.
Watch: Tom Boonen's Specialized S-Works Venge ViAS Disc
"We have no evidence of disc brakes causing cuts in crashes, and I think the improved safety of disc brakes outweighs any other issues. The crankset is the most critical part that can cut riders.
"Now you see a lot of riders using them, and I believe fully that in two years from now everyone will be using disc brakes."
>>> Peter Sagan: 'The entire peloton needs to use discs, not just one person'
A handful of professional teams have started to use disc brakes in the first part of the season, with teams riding Specialized bikes seemingly being among the most willing to embrace the new technology.
In January Tom Boonen became the first rider to win a professional race while using disc brakes in stage two of the Vuelta a San Juan, with team-mate Marcel Kittel also using the technology.
Thank you for reading 20 articles this month* Join now for unlimited access
Enjoy your first month for just £1 / $1 / €1
*Read 5 free articles per month without a subscription
Join now for unlimited access
Try first month for just £1 / $1 / €1