GIBB WINS EDDIE SOENS SPRINT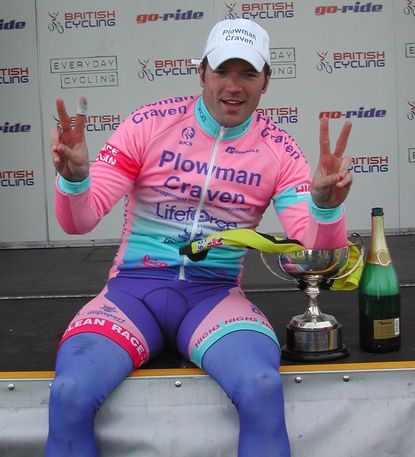 Tony Gibb and his Plowman Craven team mates responded to Rapha-Condor-Recycling.co.uk?s dominance in last week?s Clayton Velo race by dominating the sprint at the 49th edition of the Eddie Soens Memorial race at Aintree on Saturday.
Gibb?s fourth win meant he has now equalled local legend Doug Dailey who won the traditional early season race four times.
As expected, the Plowman Craven and Rapha-Condor-Recycling.co.uk teams controlled the action during the windswept 30 laps of the Aintree motor racing course. The early handicap groups were quickly caught as the headwind slowed the weak riders on the back straight, then despite some strong attacks and a dangerous move that included Dean Downing, Plowman Craven came out on top by keeping the bunch under control as the laps counted down.
Downing tried to go early in the sprint but Gibb had the inside line and opened up his powerful surge coming out of the last corner to comfortably beat Dean Downing (Rapha-Condor-Recycling.co.uk) and Jon Mozley (Pearl Izumi).
Team mate James McCallum was left with nasty road rash but he joined in the Plowman Craven celebrations after the finish as the Rapha-Condor-Recycling.co.uk looked on in disappointment after losing sprinter Graham Brigg with a puncture on the final lap.
Gibb cheekily hinted he might never be back in Liverpool after equalling Dailey?s record but admitted he probably would after picking up the hundred pound winner?s cheque and the Scally trophy as winner. Gibb will be action again on Sunday in the Wally Gimber road race in Kent after a dash down the M6, while Plowman Craven and Rapha-Condor-Recycling.co.uk will clash again in the next weekend?s Bikeline two-day in North Wales.
The early season score is now 1-1 between the two British super teams with the Pinarello RT team of Malcolm Elliot and Russell Downing set to join the fray in the opening round of the Premier Calendar.
There will be a full report and photographs from the Eddie Soens Memorial in Thursday?s Cycling Weekly.
Tony Gibb took the sprint to win the Eddie Soens 2008
Horses for courses: Aintree hosts the Soens race
Tom Southam back in action on British soil. Photos: Andy Jones
RELATED LINKS
Thank you for reading 20 articles this month* Join now for unlimited access
Enjoy your first month for just £1 / $1 / €1
*Read 5 free articles per month without a subscription
Join now for unlimited access
Try first month for just £1 / $1 / €1