Luke Evans is motorbike driver for top cycling photographer Graham Watson at the Giro d'Italia. Aside from piloting motorbikes, Luke is an author, freelance journalist and former editor of Cycle Sport magazine. Graham's Giro photos can be seen in our gallery section.

June 1, Stage 21, Cesano Maderno – Milan TT 28.5km

"Basta". Enough. Finished. The Giro is over and guess what, Fantozzi, our bad weather mascot crept away on the final day and as I write this in the spectacularly ornate Palazzo Serbollini in the centre of Milan, it's steamy hot.

We had a look at Wiggins who went off early and alongside at 30mph, boy he looks good. On a TT bike, an all black Giant (really?? I wonder) Brad is perfection, like he is pedalling in oil. From the side he is tall but head on he is like a knife cleaving the air. On the road bike this week we have seen him suffering quite a lot, those long socks and thin, grime streaked legs, making another almighty effort to stay with the peloton on the climbs.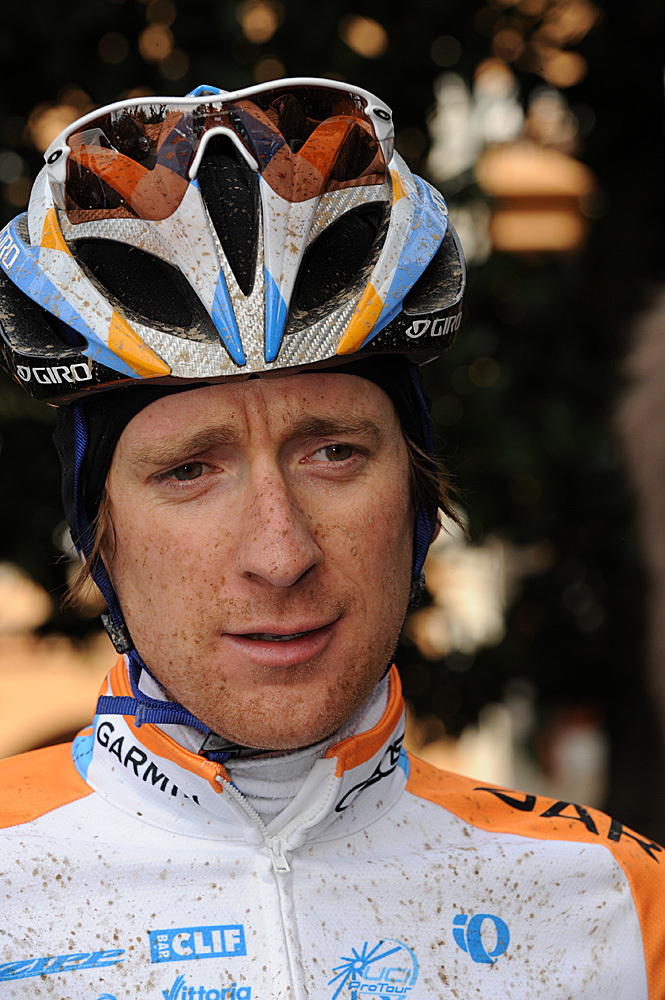 Bradley Wiggins in action during stage 21 of the Giro. Photo by Graham Watson

To see him go through a race like this 91st Giro, the worst in weather terms for more than 20 years, makes you understand why he is the most feared pursuiter of his generation. It was great to see the other Brits up there too, on a classic flat course that should have had an RTTC course code.

We had an intense last ten minutes, passing Contador twice to get ahead for corner shots, and it was nice to put it about a bit one last time with the other motos before saying goodbye to the moto pilote clan as they went their separate ways to parts of Italy, Belgium and France.

I have only done two weeks of the Giro but I'm knackered. It's been a great learning experience for me. I'm pretty happy with the job but I have also realised how serious it can be – it's obvious why – and that has been waking me up with a start on some days. We have been a good team, our bagagiste, GW and I.

Graham is still the best after over 20 years in the biz and I am very lucky to work with him.

Ciao!

Luke

PREVIOUS GIRO BLOGS
May 31: Stage 20, Rouetta-Tirano
May 30: Stage 19, Legnano-Presola Monte Pora
May 29: Stage 18, Mendrisio-Varese
May 28: Stage 17, Sondrio-Locarno
May 27: Rest day
May 26: Stage 16, San Vigilio-Plan de Corones TT
May 25: Stage 15, Arabba-Passo Fedaia
May 24: Stage 14, Verona-Alpe di Pampeago
May 23: Stage 13, Modena-Cittadella
May 22: Stage 12, Forlin-Carpi
May 21: Stage 11, Urbino-Cesena
May 20: Stage 10, Pesaro-Urbino