England finish second in men's team pursuit qualifying
Track cycling gets underway in the Chris Hoy velodrome in Glasgow - Australia fastest in team pursuit qualifying, England second - Australia and New Zealand dominate sprint qualifying - Scotland's first medal looks set to come from women's tandem sprint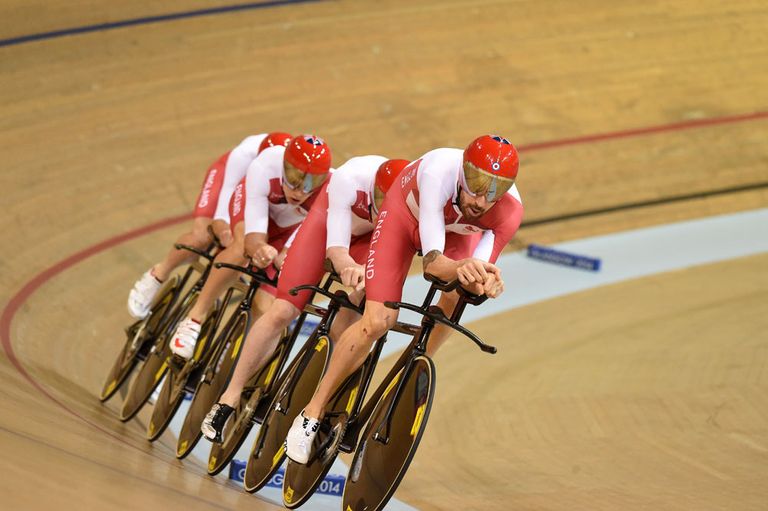 (Image credit: Andy Jones)
Bradley Wiggins's quest to win a first Commonwealth Games gold medal remains on course after England qualified second in the men's team pursuit on day one of Glasgow 2014.
Wiggins, his Olympic-winning team-mate in Beijing Ed Clancy, Steven Burke and Andy Tennant posted a 3-59.249 inside the Sir Chris Hoy Velodrome, two seconds slower than Australia.
However, Wiggins looked strong during the ride, which included a two-and-a-half lap turn on the front.
The gold medal final is tonight; New Zealand and Canada will battle it out for bronze.
The Oceanic countries dominated the men's sprint qualifying. Australians Matthew Glaetzter and Peter Lewis, and Kiwi's Sam Webster and Ed Dawkins all broke the previous Commonwealth Games record in qualifying, with Glaetzer's 9.779 effort the fastest.
Defending Olympic champion Jason Kenny (England) finished 11th, and had to qualify for the quarter finals through the repechage. Team-mate Matt Crampton also made it through, as he beat Njisane Phillip (Trinidad & Tobago) and compatriot Philip Hindes in the other repechage to progress.
History was made when Welsh duo Rhiannon Henry and Rachel James rode in the women's Para-Sport Sprint Tandem qualifier, the first event for such riders ever to be staged in the Games.
They did not make it through the qualifying round; fastest qualifiers Sophie Thornhill and Helen Scott (England) will face home pair Aileen McGlynn and Louise Haston in tonight's final.
Results
Commonwealth Games 2014, Glasgow: day one, morning session
Men's sprint qualifying
1. Matthew Glaetzer (Aus) 9.779 GR
2. Ed Dawkins (Nzl) 9.818
3. Sam Webster (Nzl) 9.937
4. Peter Lewis (Aus) 9.975
5. Matthew Archibald (Nzl) 10.055
Men's sprint first round
Matthew Glaetzer (Aus) beat Matthew Crampton (Eng)
Ed Dawkins (Nzl) beat Jason Kenny (Eng)
Sam Webster (Nzl) beat Callum Skinner (Sco)
Peter Lewis (Aus) beat Nijsane Phillip (Tto)
Matthew Archibald (Nzl) beat Lewis Oliva (Wal)
Azizulhasni Awang (Mal) beat Philip Hindes (Eng)
Repechage winners: Jason Kenny (Eng), Matt Crampton (Eng)
Women's para-sport tandem qualifying
1. Sophie Thornhill w/Helen Scott (Eng) 11.277 GR
2. Aileen McGlynn w/Louise Haston (Sco) 11.419
3. Brandie O'Connor w/Breanna Hargrave (Aus) 11.623
4. Felicity Johnson w/Holly Takos (Aus) 11.695
5. Rhiannon Henry w/Rachel James (Wal) 11.917
Women's para-sport tandem semi-finals
Sophie Thornhill w/Helen Scott (Eng) beat Felicity Johnson w/Holly Takos (Aus) 2-0
Aileen McGlynn w/Louise Haston (Sco) beat Brandie O'Connor w/Breanna Hargrave (Aus) 2-0
Men's team pursuit qualifying
1. Australia (Jack Bobridge, Luke Davison, Alex Edmondson, Glenn O'Shea) 3-57.939
2. England (Steven Burke, Ed Clancy, Andy Tennant, Bradley Wiggins) 3-59.249
3. New Zealand (Shane Archbold, Pieter Bulling, Dylan Kennett, Marc Ryan) 4-00.501
4. Canada (Zach Bell, Aidan Caves, Remi Pelletier, Ed Veal) 4-14.481
5. South Africa (Evan Carstens, Kellan Gouveris, Nolan Hoffman, Theuns Van Der Bank) 4-18.194