GOLD FOR HOY AND PENDLETON, SILVER FOR KENNY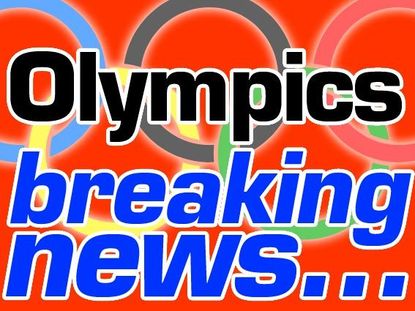 LIVE: TUESDAY?S ACTION
Press refresh button on your browser for latest updates
All times BST
We have full details of today?s programme and start lists here.
Arise Sir Chris.
Chris Hoy clinched his third gold medal of this Olympic Games ? and his fourth in total ? when he beat his team-mate Jason Kenny 2-0 in the final of the sprint.
The 32-year-old Scot won the kilometre in Athens four years ago but that event was taken out of the track cycling programme to make way for BMX.
So Hoy shifted his focus to the Keirin and the sprint. And he won gold in both here.
But the revelation of the Games has to be Jason Kenny. He will still only be 24 in London in 2012 and you can't bet against him adding to the silver he won here in the all-British sprint final.
Hoy and Kenny were the third British one-two after Romero-Houvenaghel in the individual pursuit and Hoy-Edgar in the Keirin.
Victoria Pendleton, who also lost an event when they took the 500m time trial off the Olympic programme, made no mistake and won her Olympic title at the expense of Anna Meares, who is Australia's only medallist in the velodrome this time. How the mighty have fallen.
There is no mistaking the number one nation now. Great Britain have an almighty medal haul here.
Eight golds. Nicole Cooke in the road race, the team sprint trio, the team pursuit quartet, Bradley Wiggins and Rebecca Romero in the individual pursuit, Chris Hoy in the Keirin and sprint and Victoria Pendleton in the sprint.
Four silvers: Emma Pooley in the time trial, Ross Edgar in the Keirin, Wendy Houvenaghel in the individual pursuit and Jason Kenny in the sprint.
And two bronze: Chris Newton in the points race and Steven Burke in the pursuit.
There should be another medal, possibly, probably gold, with Shanaze Reade in the BMX.
That, surely, is beyond the wildest of expectations.
If the euphoria was tempered with any disappointment it was in the Madison, where a weary Bradley Wiggins and a buzzing Mark Cavendish failed to get something going. They were marked out of it by the rival teams and simply couldn't move. Argentina took gold there.
But Wiggins has had a sensational Games, even if he missed out on a third gold. He won the individual pursuit and is a world record breaker in the team pursuit. His Olympic medal haul now is enough to warrant a knighthood too. Pendleton should be a Dame.
Cavendish's time will come. In London in four years' time he will go for gold on the road.
And so, when Chris Hoy takes his place on the podium in the Laoshan velodrome, the British national anthem will ring out for the eighth time for a cyclist since the Games began 11 days ago.
It's a remarkable culmination of a decade of progress. Although in isolation only a couple of the medal-winning performances were a real surprise, the cumulative effect is truly stunning. The rest of the world must be wondering what they must do to catch Britain.
And Britain must work out how to top that in London.
So, until then...
GOLD MEDAL FINAL
Chris Hoy (Great Britain)
BEATS
Jason Kenny (Great Britain) 2-0
BRONZE MEDAL RACE
Mickael Bourgain (France)
BEATS
Maximilian Levy (Germany) 2-1
PODIUM
1. Chris Hoy (Great Britain)
2. Jason Kenny (Great Britain)
3. Mickael Bourgain (France)
12.18pm Hoy wins Olympic title
Shoulder to shoulder coming off the banking but Hoy had the experience and power. But will it be a different story in London when Hoy will be 36 and Kenny will be 24.
12.16pm
So that is seven, yes SEVEN, cycling gold medals. And the eighth, yes EIGHTH, is in the bag. But will it go to Hoy or Kenny?
As Pendleton won her gold medal, the BBC's commentator, Hugh Porter, said: "Victoria makes a mean sponge cake and she's promised she'll make me one." Yes, that's right Hugh. And perhaps after she's done the baking, she's making you a cup of tea and do a bit of dusting.
12.14pm
The German Levy keeps alive his hopes of a bronze by beating Bourgain.
GOLD MEDAL FINAL
Victoria Pendleton (Great Britain)
BEATS
Anna Meares (Australia) 2-0
BRONZE MEDAL FINAL
Shuang Guo (China)
BEATS
Willy Kanis (Netherlands) 2-0
PODIUM
1. Victoria Pendleton (Great Britain)
2. Anna Meares (Australia)
3. Shuang Guo (China)
12.05pm PENDLETON IS THE OLYMPIC CHAMPION
Meares leads out, watching Pendleton all the way. Pendleton high on the banking, out of the saddle. Through 200m to go she jumps and opens the gap. It's easy. She strolls to gold. Fantastic. She has been utterly untouchable in this entire competition.
Applause from Tony Blair in the seats.
12.02pm
Guo uses her power to win the bronze medal and give the Chinese fans in the crowd something to cheer.
11.59am
Back to the women's sprint then. It's Guo against Kanis. Guo won the first race. Win here and bronze is hers.
11.56am
While the various races for the minor placings are completed, it's worth reflecting on what Chris Hoy said to CW's Ian Cleverly shortly before leaving for Beijing.
"I think the biggest chance of a surprise will come Jason Kenny. His form is exceptional, he is under no pressure and he has a great chance of a medal in the team sprint on the first day to boost his confidence.
"He has got a good head on his shoulders, he?s a nice lad and he can deal with pressure.
"So I think you are going to have the Frenchmen, Theo Bos, Ryan Bayley, maybe Chiappa, maybe the Germans, but I think Jason could be in there.
"Put it this way, if I came up against him in a heat, I would be taking it seriously."
GOLD MEDAL FINAL
Chris Hoy (Great Britain)
LEADS
Jason Kenny (Great Britain) 1-0
BRONZE MEDAL RACE
Mickael Bourgain (France)
LEADS
Maximilian Levy (Germany) 1-0
11.48am HOY WINS
Hoy forces Kenny to lead out. Kenny dives down the bank and starts a long one. Hoy closes down and gets past him on the line.
11.47am
Hoy, the reigning Olympic kilometre champion, has already won gold in the team sprint and the Keirin this time. Kenny lined up with Hoy in the team sprint.
11.46am
So, it was expected that Hoy would get to the sprint final. But Kenny's progress through to the final makes him the revelation of the Games. They pair raced against each other in the 2007 National Track Championships. Hoy won that clash but Kenny did win race one.
11.45am
Bourgain's experience tells. 1-0 to France.
11.41am
The women's and men's sprints will now alternate until the end of the session and therefore the end of the Olympic track programme. Every British fan must be eagerly anticipating the Hoy v Kenny final, but first, it's Germany v France.
GOLD MEDAL FINAL
Victoria Pendleton (Great Britain)
LEADS
Anna Meares (Australia) 1-0
BRONZE MEDAL FINAL
Shuang Guo (China)
LEADS
Willy Kanis (Netherlands) 1-0
11.39am Pendleton 1-0 up and on fire
Victoria leads out, the gap opens. Meares tries to close the gap back up to her opponent's rear wheel. Meares couldn't get on terms, let alone draw level or get past. There's daylight between the pair as Pendleton crosses the line. One down, one to go.
11.36am Pendleton v Meares
Pendleton goes up against her former nemesis Meares, who seemed to have a hold on the British rider. Meares will definitely get the first Australian medal on the track. A very poor Games from the nation that were dominant four years ago.
So, here we go, Pendleton's moment of destiny... her final starts now.
11.33am women's sprint finals
When the decision to relegated Guo in the decider against Meares was made, it was only announced in English. Many of the Chinese fans did not realise until after the Madison when the bronze medal race got underway. There was a chorus of boos when they caught on.
Race one for the bronze medal. Guo v Kanis... goes to China.
START LIST
Mark Cavendish & Bradley Wiggins (Great Britain)
Roger Kluge & Olaf Pollack (Germany)
Michael Moerkoev & Alex Nicki Rasmussen (Denmark)
Iljo Keisse & Kenny de Ketele (Belgium)
Franco Marvulli & Bruno Risi (Switzerland)
Joan Llaneras & Antonio Tauler (Spain)
Matthieu Ladagnous & Jerome Neuville (France)
Juan Esteban Curuchet & Walter Fernando Perez (Argentina)
Greg Henderson & Hayden Roulston (New Zealand)
Jens Mouris & Peter Schep (Netherlands)
Angelo Ciccone & Fabio Masotti (Italy)
Michael Friedman & Bobby Lea (USA)
Milan Kadlec & Alois Kankovsky (Czech Republic)
Lyubomyr Polatayko & Volodymyr Rybin (Ukraine)
Mikhail Ignatiev & Alexei Markov (Russia)
Zachary Bell & Martin Gilbert (Canada)
11.25am ARGENTINA WIN GOLD
The 43-year-old Curuchet and 33-year-old Perez have won the Madison. Llaneras was third in the final sprint to give Spain the silver medal. The Russians get the bronze.
Great Britain were equal eighth. Wiggins, weary after a long campaign, and Cavendish were simply not allowed to move during the race. It almost looked a case of 'Anybody but Britain' at times.
Final sprint
1. France 5pts
2. Denmark 3pts
3. Spain 2pts
Final overall
1. Argentina 8pts
2. Spain 7pts
3. Russia 5pts
One lap down
4. Belgium 17pts
5. Germany 15pts
11.23am
Belgium are still pressing on with Germany but they are not going to gain a lap.
Six laps to go.
11.21am
With just over 10 laps to go, Argentina lead on 8pts, Russia are on 6, Spain on 5.
One lap back are Belgium, on 17pts. But they are trying to gain a lap now with the Germans.
11.20am BELGIUM ON THE ATTACK
18 laps to go and Keisse and De Ketele are on the attack for Belgium. This could be a very smart move.
11.19am Sprint 9
1. Belgium 5pts
2. Denmark 3pts
3. Great Britain 2pts
4. France 1pt
11.18am
Hugh Porter is speculating that Wiggins is feeling tired. Hardly surprising considering the programme he has had in the pursuit competitions. Cavendish is looking good but they couldn't persist with that attack as the race enters its final phase.
11.17am BRITISH ATTACK
As the Danes go for it, Cavendish attacks and that has split the race to bits. A great looking attack. Britain and Denmark are working well together. The Germans and Canadians try to chase.
11.15am
Now the computer is showing that Spain are a lap up, so perhaps they didn't lose that lap. It certainly didn't seem obvious.
The Argentinian team are riding a very clever race here. Curuchet is 43 years old and his partner is 33, so they have a combined age of 76.
Overall standings
1. Argentina 8pts
2. Russia 6pts
3. Spain 5pts
One lap back
4. Germany 15pts
5. Belgium 12pts
11.14am Sprint 8, 40 laps to go
1. Belgium 5pts
2. Netherlands 3pts
3. Argentina 2pt
4. Russia 1pt
11.13am
GB are being marked out of it at the moment. No one will work with them either. It's going to be very, very tough in the last 40 laps.
11.10am
Germany have the best points total in the race but are a lap down. So they are trying to get away because if they gained a lap they would be in the lead.
11.09am Sprint 7, 60 laps to go
1. New Zealand 5pts
2. Denmark 3pts
3. Germany 2pts
4. Argentina 1pt
That puts Argentina clear in first place on 6pts. Russia have 5. Germany are third, a lap back, on 15pts. Spain have lost that lap again.
11.08am Spain gain a lap
Spain, Russia and Argentina are all one lap up now. They are all tied on five points. Germany are fourth, one lap back, with 13 points. GB still keeping their powder dry. Remember, though, that they were in a similar position in the Worlds and only made their move in the last 30 laps.
11.07am
The Spaniards are still going for it, but behind they are being chased by Switzerland and Denmark. It's extremely hectic now.
11.04am
Spain and Czech Republic are trying to get away now. Argentina and Russia are the only teams that have gained a lap. The Spanish press on, the Czech Republic do not.
11.04am Sprint 6, 80 laps to go
1. Spain 5pts
2. Czech Republic 3pts
3. Germany 2pts
4. Switzerland 1pt
11.02am
So, it's back to Argentina and Russia ahead of the field, one lap up. The points race winner, Joan Llaneras of Spain has attacked, he hands over to Toni Tauler. And they are going well the Spaniards.
11.01am
Big attack by three countries ? Spain, Switzerland and Belgium ? that Great Britain reacted to promptly. That sparked everyone to race onto the back of the GB wheel. Canada have lost the lap they gained.
11.00am
Canada did get across the gap to join Argentina and Russia one lap ahead. Germany are fourth, one lap back on ten points. GB are also one lap back on four points.
10.58am GB score again in sprint 5
100 laps to go
1. Germany 5pts
2. GB 3pts
3. Switzerland 2pts
4. France 1pt
10.57am Russia gain a lap
The Russians have made heavy weather of this but they have got across to gain a lap. The Canadians are in no man's land, the are struggling. Sprint 5 is two coming up now...
10.56am
Canada are trying to gain a lap. The Czech Republic have sat up. Russia are still with Canada, trying to get across to the back of the bunch.
10.54am 116 laps to go
1. Argentina 5pts
At one lap
2. Belgium 7pts
3. Germany 5pts
Denmark 5
France 5
Russia 5
Canada 5
10.53am Sprint 4
1. Canada 5pts
2. Czech Republic 3pts
3. Russia 2pts
3. Belgium 1pt
10.52am
It looks like Italy have now lost the lap they gained. All that hard work has turned to nothing. So, Argentina are the only team to have gained a lap and kept it. At the moment Canada, Russia and the Czech Republic are on the attack, working well together, trying to gain the lap.
10.49 Sprint 3
1. Argentina 5pts
2. France 3pts
3. Germany 2pts
Argentina lead the race.
Overall:
1. Argentina 5pts
2. Italy 0pts
3. Belgium at 1 lap 6pts
10.48am Argentina gain a lap
So that's two teams a lap up. Italy and Argentina. The Argentines were clever there. They held off the back to get the sprint points at sprint three before making contact with the back of the bunch.
10.47am Italy gain a lap
Italy into the lead after a long chase to gain the lap. Behind them the Argentina squad are trying to do the same thing and they are close to making it.
10.44am Italy on the attack
As Italy go for a lap, the current overall standings have Belgium in the lead on 6pts with Denmark on 5.
10.43am GB off the mark in sprint 2
1. Belgium 5pts
2. Russia 3pts
3. USA 2pts
4. Great Britain 1pt
Bradley Wiggins gets across the line in fourth place.
10.39am
Four years ago Stuart O'Grady and Graeme Brown won the Madison for Australia, but the Aussies have not qualified a place this time. In Athens, Wiggins and Hayles took bronze in the Madison.
10.38am Result of sprint 1
1. Denmark 5pt
2. Germany 3pt
3. France 2pt
4. Belgium 1pt
10.36am
Wiggins shuts down a move by the Argentines and the Belgians. The Danish take the first sprint. It's all a bit disjointed at the moment. Great Britain are extremely vigilant at the moment though.
10.33am Madison rules in brief
Teams of two compete over 200 laps. Sprints are every 20 laps, with 5, 3, 2 and 1 point on offer over the line. Only one rider from each team is 'in the race' at any one time. They ride below the blue line, with the team-mate 'resting' above the blue line. The riders take turns in the race, slinging each other into the action by hand. The idea is to gain a lap and score points. Points don't mean anything if you lose a lap.
10.31am
The Madison is going to be a severe test of your text commentator's touch-typing skills, learned all those years ago at journalism training college. Other skills learned back then included shorthand, court reporting, drinking at lunchtime and filing expense claim forms. (They don't actually teach the last two, for many they are instinctive).
10.28am Madison almost upon up
The riders roll round the track with the Madison just a few minutes away. Can Brad and Cav repeat their monumental Worlds victory here?
10.27am
So, after that controversy in the Meares v Guo race, the Chinese are denied a chance to see their rider in the final. Instead it'll be Meares v Pendleton for gold. With Hoy and Kenny battling for gold in the men's sprint final.
SEMI-FINALS: LATEST SCORES
Victoria Pendleton (Great Britain)
BEATS
Willy Kanis (Netherlands) 2-0
Anna Meares (Australia)
BEATS
Shuang Guo (China) 2-1
Guo relegated in race three
10.26am Guo relegated. Boos from the crowd
The race jury relegates Guo for that move when she impeded Meares. The result is reversed and Meares is through.
10.24am Very close and a possible protest?
Guo and Meares came elbow to elbow with one lap to go. Guo got the head of the race. Meares fought back. The photo finish was remarkably close. The stadium announcer gives it to Guo. But will there be a protest from Meares?
10.22am The decider part II: Guo v Meares
Guo comes to the line for the re-run with a big scuff on the right thigh of her skinsuit.
10.20am The decider: Guo v Meares
A crash. Guo goes down. Looks like she slipped her front wheel and she fell. Nerves are getting to the Chinese girl perhaps.
SEMI-FINALS: RESULTS
Chris Hoy (Great Britain)
BEATS
Mickael Bourgain (France) 2-0
Jason Kenny (Great Britain)
BEATS
Maximilian Levy (Germany) 2-0
10.10am ALL-BRITISH FINAL IN THE SPRINT
Jason Kenny romps past Levy to make the final, where he will face Chris Hoy. This is going to be a fantastic final. Any thoughts that Kenny will lie down and let Hoy get his third gold of the Games must be put to one side.
10.07am Musical chairs
General hilarity among my colleagues in Beijing. They have one eye on the track, one eye on the VIP area - it turns out Bernie Ecclestone was asked by stewards to move because he was in Pat McQuaid's seat.
Imagine the conversation. Pat to Bernie: "My sport, my rules."
10.06am Hoy into the final
Comfortable for the Real McHoy. He is through to the gold medal race. Will Kenny join him?
10.04am
Back to the men's semi-finals. Hoy and Kenny lead 1-0.
SEMI-FINALS: LATEST SCORES
Victoria Pendleton (Great Britain)
BEATS
Willy Kanis (Netherlands) 2-0
Shuang Guo (China)
TIED WITH
Anna Meares (Australia) 1-1
10.01am Meares levels with Guo
Australian Anna Meares caught Guo on the hop after a tactical battle. It was tight on the line but the Aussie got it and they will have to race again to decide who goes into the final to face Pendleton. This is good news for Pendleton's bid for gold ? she is already through without the need for a third race.
9.56am Star spotting continues
Motor racing supremo Bernie Ecclestone has been asked by the stewards to move seats. And Tony Blair gave Victoria Pendleton a big clap before her race against Kanis.
9.55am Pendleton into the final
Pendleton forced to come a long way round, up high on the bank. The closest race so far but Pendleton gets it. Gold or silver guaranteed for Vicky P. Queen Victoria will meet Queen Elizabeth later this year.
9.54am Pendleton v Kanis round two
Pendleton leads out, Kanis on her wheel.
9.50am
In case you haven't checked out the schedule of today's action. We currently have the men's sprint final for 9th to 12th places, which will be followed by race two of the men's and women's sprint semi-finals and race three if they are needed.
At 10.30am we'll have the Madison.
9.48am Scottish fans in the velodrome
Good to see that wherever a Scottish sportsperson is competing, someone will turn up with one of those bright orange wigs with a tartan hat attached to it. Plenty of Union Flags in the bleachers too.
SEMI-FINALS: LATEST SCORES
Chris Hoy (Great Britain)
LEADS
Mickael Bourgain (France) 1-0
Jason Kenny (Great Britain)
LEADS
Maximilian Levy (Germany) 1-0
9.46am Kenny goes one up
Levy leads out, Kenny gets high on the bank, then comes past round the bend. Levy puts up a fight in the home straight but knows when he is beaten. Sensational stuff. The all-British final is still on.
9.44am Tony Blair at the Laoshan velodrome
Our reporter says that former prime minister Tony Blair is also at the velodrome. First Ecclestone, now Blair. Who on earth next? Peaches Geldof? Amy Winehouse? Cycling really is the hot ticket in Beijing.
9.43am Bernie Ecclestone's in the house
Our man in Beijing reports that motor racing supremo Bernie Ecclestone has just walked into the velodrome. With a well-tanned woman half his age.
9.42am Hoy makes it look easy
Bourgain and Hoy are pretty well matched. Bourgain, remember, knocked Jason Kenny out of the World Championships in March. Kenny has stepped forward significantly since then.
Bourgain leads out. Hoy powers past on the bend and streaks over the line. 10.260 for the final 200m. 70kph. Respect. 1-0 to Hoy.
9.39am Will it be an all-British final?
Hoy is up against the experienced Frenchman Bourgain in the first race of the semi-final.
SEMI-FINALS: LATEST SCORES
Victoria Pendleton (Great Britain)
LEADS
Willy Kanis (Netherlands) 1-0
Shuang Guo (China)
LEADS
Anna Meares (Australia) 1-0
9.36am Guo has one foot in the final
The home favourite, who has the crowd on her side, Guo held the track stand for just under 30 seconds before moving on. It is very bizarre to see the official wander onto the track and look at his watch in the manner of a man who is bemused to find his train is running late.
The crowd chant Guo's name. Eventually she goes to the front and leads out. Meares goes high up the banking. Guo opens a gap. Meares leaves too much to do. Guo 1-0. A much more interesting contest there than the Pendleton match, simply because Kanis had no answer to the speed of Pendleton. These two were engaged in a more tactical battle.
9.32am Pendleton goes 1-0 up against Kanis
Kanis really rode Pendleton well there, holding her up against the fence to start with, but with a lap to go she made her move and got over the line first. Pretty easy. 1-0
9.31am
Hugh Porter has come in for a fair bit of criticism but he does his research. He's just explained that Willy Kanis's family back in Holland are dairy farmers and that her father was delighted to see the schedule for the sprint and that it would not clash with the morning milking.
9.29am
First up this morning is the semi-finals of the women's sprint. Pendleton is in match one against Willy Kanis of the Netherlands. They are coming to the line now. Our man in Beijing reports that there is a real sense of anticipation around the British team today. Can it be a perfect finish?
9.27am
It's very surreal back here in Britain as the mass media comes over all cycling crazy.
Last night Dame Kelly Holmes was waxing lyrical about the cyclists and suggested that the way to improve the lot of British athletics is to have a similar set-up to Manchester, where the entire national squad is based and trains.
Today, GMTV - yes, dreadful, reactionary, scaredy-cat morning show for Daily Mail readers, GMTV - had a man at the Manchester velodrome riding a track bike. And they were taking it seriously!
Wonders will never cease.
9.06am
Welcome to our blow-by-blow coverage of the final day of action at the Laoshan velodrome.
Great Britain could win three medals ? or even three gold medals ? today, to round off the greatest Olympic Games ever for the cyclists.
Victoria Pendleton, Chris Hoy and Jason Kenny are in the semi-finals of their respective sprint competitions.
Then Bradley Wiggins goes for his third gold of the Games with Mark Cavendish in the Madison.
So, if you can?t see it on TV today, stick with us and we?ll keep you in the picture ? yes, we?ll even try to keep up with what?s going on in the Madison.
We have full details of today?s programme and start lists here.
OLYMPIC GAMES 2008: TRACK
Preview: Day five at the Laoshan
Brad on Cav: He's like a schoolkid he's so up for it
Day four as it happened: Team pursuit gold and another world record
Day three summary: Gold for Romero. Pendleton, Hoy in charge in sprints. Kenny the revelation
From rower to cyclist: Romero takes an emotional gold
Brits smash world team pursuit record in round one
Tough day for the Dutch
Preview: Monday at the Laoshan
Day two in pictures
Sunday's action as it happened
Preview: Sunday at the Laoshan
Day two at the track: Summary of the action
Hoy and Edgar clean up in the Keirin
Wiggins gets pursuit gold, Burke wins bronze
Newton storms to bronze in points race
Saturday's action as it happened: Two gold, a silver and two bronze for Britain
Blog: Life in Laoshan
Day one in pictures
Brits blast to team sprint gold
Day one at the track: Summary of the action
Friday's action as it happened: Gold for team sprint trio; Wiggins, Houvenaghel and Romero well in control
Burke blasts to new individual pursuit PB
British track stars raring to go
What makes the Laoshan such a challenge
Picture special: CW takes you inside the Laoshan velodrome
Saturday's preview
Friday's preview
Can these legs make an Olympic champion?
Cavendish unlikely to ride individual pursuit
How many medals will Britain's riders win?
Positive test for cyclist at Olympic Games
Bettini chasing second Olympic gold
Romero poses nude for ad
British quartet eyeing new world record
As Olympics approach two new drugs emerge
Beijing Blog
Beijing Blog 2
Beijing Blog 3
Picture special: Women's time trial
Cancellara wins men's time trial gold
Men's time trial reaction: Steve Cummings on his ride
Women's time trial reaction: I feel fantastic, says Pooley
Pooley wins silver in women's time trial
Cooke's secret was the skinsuit
What the papers say... about Nicole Cooke
Analysis: women's road race
Gold for Nicole Cooke in Women?s road race
Reaction: It?s a dream to win Gold, says Cooke
Women's Olympic road race picture special
Sanchez gives Spain gold in thrilling men?s road race
Who is Samuel Sanchez?
Tactical analysis: Reading the men?s Olympic road race
British riders suffer in hot and humid Olympic road race
Rebellin misses out on golden birthday
Brailsford confident ahead of women?s road race
OLYMPIC GAMES 2008: GUIDE
Olympics cycling results>>
Cycling event schedule>>
Great Britain rider profiles>>
Cycling event guide>>
Photo gallery>>
Every British cycling medal ever won at the Olympic Games
From paupers to kings: The lottery funded revolution>>
Track results at the Worlds and Olympics 2004-2008
Thank you for reading 5 articles this month* Join now for unlimited access
Enjoy your first month for just £1 / $1 / €1
*Read 5 free articles per month without a subscription
Join now for unlimited access
Try first month for just £1 / $1 / €1