Campaigners hail "victory" in fight for funding, but say more is needed
The Government's £214m investment in cycling is described as an 'interim victory' by cycling charity CTC, but they will still push for further investment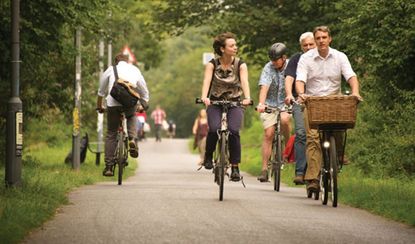 Cycling campaigners have hailed the Government's £214m investment in cycling as a victory, but insist there is still a fight to secure further funding.
Deputy Prime Minister Nick Clegg announced the investment at a speech in Bristol, stating the improvements made could save the NHS billions of pounds as well as reducing pollution.
Paul Tuohy, CTC chief executive, says the announcement is a victory for cycling campaigners but the target investment of £10 per person is still the goal.
"This new funding certainly moves the Prime Minister's 'cycling revolution' up a gear, and the three years of committed funding will be very much welcomed in the eight cities due to receive it," he said.
"This has been a hard fought interim victory, not just for the cycling campaign community but also for the Department of Transport staff and MPs who've worked hard with us to Get Britain Cycling.
"We now need to keep pushing leading politicians in all parties to raise the annual funding for cycling up to the level of at least £10 per person, increasing progressively to £20 as cycle use rises – not just for 8 cities but for the whole of Britain."
Sustrans, a transport charity based in Bristol where Mr Clegg's speech was made, echoed Tuohy's words, stating this investment must result in action from local decision makers.
Chief executive Malcolm Shepherd said in a statement: "This is an invaluable commitment from government to cycling at a time of local spending cuts that spans this and the next Parliament.
"This must be a call to action for local decision makers at a time when the government is committed to spending £24 billion on roads and wider investment priorities are being set.
"Longer term, dedicated funding of at least £10 per head is the key to transforming Britain into a cycling and walking nation."
Other organisations pointed out that that infrastructure improvement was only one element in improving cycling provision in the UK.
Liz Clarke, MD of cycle training firm BikeRight, said: "I will be asking about the government's commitment for future funding for Bikeability. It is essential that today's children receive on-road cycle training to help them become the next generation of cyclists.
"We'd also like to see some of this extra cash spent on driver education in the cities listed, something along the lines of TfL's initiative in London."
Nick Clegg spoke in Bristol today to announce the single biggest investment in cycling
Chris Boardman was speaking at a cycling summit in Bristol where Nick Clegg announced the Government's £214m investment in cycling
Thank you for reading 20 articles this month* Join now for unlimited access
Enjoy your first month for just £1 / $1 / €1
*Read 5 free articles per month without a subscription
Join now for unlimited access
Try first month for just £1 / $1 / €1