Chris Boardman: We have a once in a lifetime opportunity to transform cycling
Chris Boardman was speaking at a cycling summit in Bristol where Nick Clegg announced the Government's £214m investment in cycling across Britain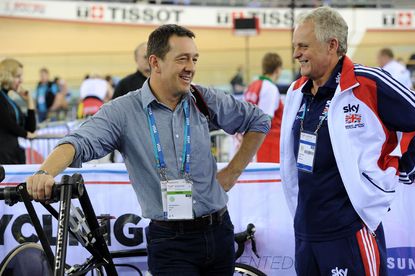 Chris Boardman says there is a 'once in a lifetime' opportunity to transform cycling following a survey of British Cycling members that shows nine in 10 riders do not feel safe on the roads.
Boardman, BC's policy adviser, spoke at a cycling summit in Bristol today where Deputy Prime Minister Nick Clegg announced the government's new £214m investment in cycling.
"Obesity is not only killing 37,000 people in the UK every year, when all the effects are factored in, it's costing us almost one billion pounds every week," Boardman will say. "A large part of the solution to this problem – not to mention pollution, congestion and social issues – is glaringly, frighteningly simple.
"For these problems to be solved, the solution needs to be invisible, built into our everyday lives, unnoticed. The solution is in how we move. British Cycling's member survey highlights that, in this present moment, even regular cyclists are concerned for their safety on our roads. We have a long way to go.
"Last week the government's own studies confirmed that investing in cycling gives a 5:1 return. I'm not exaggerating when I say that now is a once in a lifetime opportunity to change this country for the better for us and our children."
The survey of BC's 100,000 members showed that 93% of responders are concerned for their own safety while on the road, with the main reason being that drivers are not careful enough.
The survey also showed that members think unsafe road surfaces and vehicles overtaking too closely are the top hazards members encounter on the roads.
The Government's £214m investment will go towards making British roads safer for cyclists, with Clegg saying that the country needs to learn from examples in Denmark and the Netherlands.
Campaigners called Clegg's announcement an "interim victory", but say more investment is still needed.
Nick Clegg spoke in Bristol today to announce the single biggest investment in cycling
The Government's £214m investment in cycling is described as an 'interim victory' by cycling charity CTC, but they will still
Helmets "not in the top 10 issues affecting cyclists", says BC policy advisor
British Cycling policy adviser Chris Boardman highlights issues of road safety relating to lack of cycling infrastructure
A motorist in Aberdeen claims he is a policeman when a cyclist confronts him about his dangerous overtaking move.
Thank you for reading 20 articles this month* Join now for unlimited access
Enjoy your first month for just £1 / $1 / €1
*Read 5 free articles per month without a subscription
Join now for unlimited access
Try first month for just £1 / $1 / €1