British Cycling membership hits 100,000
Membership of British Cycling has now exceeded 100,000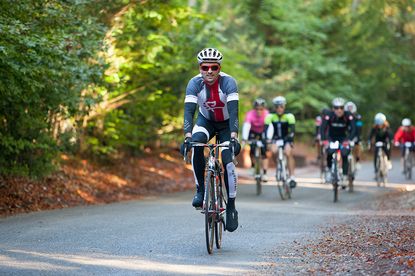 (Image credit: Daniel Gould)
The number of members of British Cycling - the sport's governing body in Britain - has doubled since the London 2012 Olympic Games, passing the 100,000 mark for the first time.
Membership of the organisation has grown steadily since 2005, when it stood at 15,000 members - including many well-known cycling figures who are still members today.
"I have been a member of British Cycling since I was a teenager," said Olympic and world time trial champion Sir Bradley Wiggins, who in 2012 became the first British Cycling member to win the Tour de France.
"It is incredible how cycling has evolved as a sport in the years since I saw Chris Boardman win gold in Barcelona in 1992. Back in those days it felt as if I was the only person on a bike. Today cycling is mainstream and it's great to see."
Part of the growth in members can be attributed to the success that Britain's cyclists have enjoyed on the world stage in recent years, including two Tour de France victories and numerous Olympic and world titles. The figure has also been immeasurably helped by the continued work put in by cycling clubs and event organisers to encourage more people to get into cycling.
"Our volunteers, clubs, and organisers at all levels have done an amazing job in supporting the growth of our sport to ensure that the inspiration created by our athletes has translated into record numbers of members and participation at all levels," said British Cycling president Bob Howden.
"With help from our principal partner Sky and UK Sport and Sport England, we have had two successive Tour de France winners in the last two years plus an array of Olympic and Paralympic medals and massive growth in participation at all levels.
"In reaching 100,000 members, we have once again highlighted our ability to achieve ambitious targets. With our members' backing, we will continue to strive for further elite success, more people cycling more often and greater diversity across the sport as we continue to make cycling appealing to all people."
Thank you for reading 5 articles this month* Join now for unlimited access
Enjoy your first month for just £1 / $1 / €1
*Read 5 free articles per month without a subscription
Join now for unlimited access
Try first month for just £1 / $1 / €1