London goes Dutch: Boris Johnson announces 'cycling showcase' boroughs
Chris Boardman says cycling improvements in capital could change the entire country for the better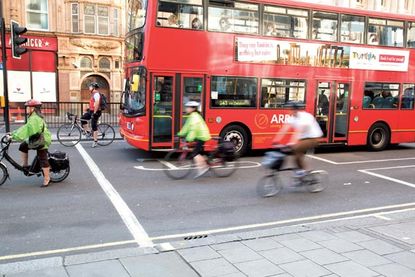 Mayor of London Boris Johnson announced this morning which outer London boroughs will become 'Mini-Hollands', or cycling showcase schemes, with three boroughs getting the lion's share of the money.
Meanwhile at a launch at City Hall this morning, Chris Boardman said cycling improvements in London could 'change the entire country' for the better.
Mini-Hollands Kingston, Waltham Forest and Enfield will receive up to £30 million each for their winning bids, while Transport for London (TfL) will work with Bexley, Ealing, Merton and Richmond on 'substantial parts of their bids'.
Johnson said: "I said a year ago that cycling is now embedded in TfL, it's part of the DNA of the organisation. We are absolutely committed to making cycling not a marginal or niche activity, or something eccentric, but what it increasingly is: an integral part of the transport network."
"In outer London the flagship programme of our borough cycling project is our Mini-Hollands, a massive funding boost to three selected outer London boroughs for commensurately dramatic and transformational change."
He added the competition was stiff, quipping: 'we may not have as many canals, tulips or aromatically scented cafes as Holland but we are determined to go Dutch'.
The mayor also announced two new Cycle Superhighway routes, from Waterloo to Greenwich, and from Bloomsbury to Walthamstow.
Chris Boardman, who was at the launch, said: "This city could change the entire country by setting an example. You've got the first politician to say 'I'm going to commit to this, I'm going to find a billion pounds and make it happen'.
"Before Christmas we had those deaths, [Johnson] came under a lot of fire, and instead of just saying 'I'm sorry I can 't do this', he actually went the next step and said 'let's get police on the streets, let's re-look at everything we're doing', with a genuine commitment to this. There's no reason, there's no more excuses why the rest of the country can't do it."
Boardman said to councillors representing London's 32 boroughs: "Take the bold decisions, make those bold choices, make cycling the easiest option for the man on the street and you will look back and be proud of the decisions you made."
London's Cycling Commissioner, Andrew Gilligan, said he will ensure plans aren't watered down by releasing funding in instalments on the condition schemes adhere to the new London Cycle Design Standards, due for publication 'in the next month or so'.
He said: "These things have to be done to a high standards. We need to design cycle infrastructure with the assumption that it's a mass mode of transport used by large numbers of people. At the moment infrastructure is designed with the assumption that nobody cycles."
Councils are responsible for 95% of London's roads, and schemes will now need to be worked out in more detail. Kingston proposed a floating cycleway, its Boardway, along with a Thames Railside Bridge attached to an existing rail bridge, while Edmonton will introduce a Dutch-style roundabout, as well as removing through traffic on its high street. As well as the new Cycle Superhighway Walthamstow will have 'Dutch-style' home zones, with removed rat running to help create quieter, safer streets.
At the launch representatives from the Royal Borough of Kingston upon Thames saying they were jumping up and down with excitement at the announcement.
The Mini-Hollands, which are part of Boris Johnson's cycling vision launched last year, will be funded by the £100 million Mini-Hollands budget and other parts of London's cycling budget. According to City Hall, funding allocations for the other boroughs will follow shortly.
Visionary architect talks London's difficult street network
Capital's road junctions that pose a threat to cyclists will be completely overhauled to make them safer in a £300m
Transport for London estimates that up to 70% of the capital's citizens aged 15-69 could meet physical activity needs by
Any vehicle weighing over 3.5 tonnes must be fitted with equipment designed to ensure safety of cyclists on London's roads
Thank you for reading 20 articles this month* Join now for unlimited access
Enjoy your first month for just £1 / $1 / €1
*Read 5 free articles per month without a subscription
Join now for unlimited access
Try first month for just £1 / $1 / €1