Great Britain fourth in men's team pursuit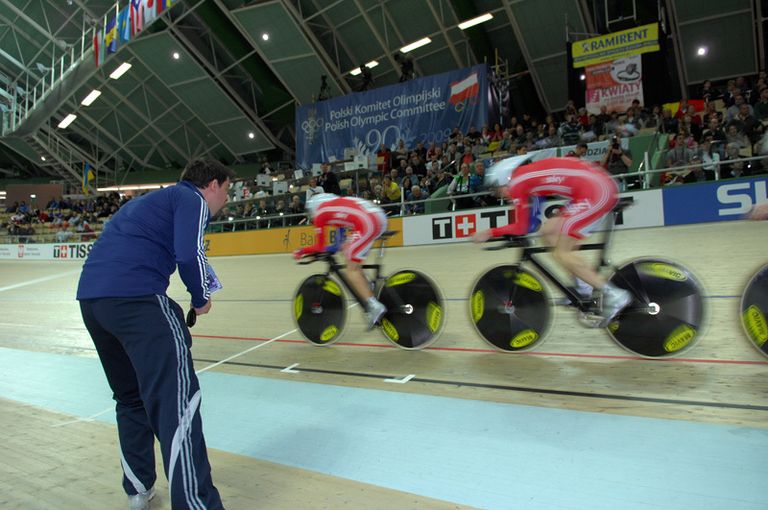 The Hub - The home for all CW's track worlds coverage
Friday's live coverage>>>
Great Britain?s talented young team pursuit squad were forced to admit defeat to a highly experienced New Zealand team in their battle for the bronze medal in Pruszkow.
In a tough finale, the British were always behind the Kiwis, but only lost ground painfully slowly, finally finishing just over 1.5 seconds behind.
The final was won by Denmark, GB?s most persistent rival since Manchester in a tightly fought duel against the Australians.
Only slowest in the first 1000 metres, Denmark then fought back well to take a title denied them by Great Britain both in last year?s World Championships and again in the Olympics.
For a British squad with an average age of 21 and just one rider from the Olympics taking part - Ed Clancy, fourth represents a strong result. And as Men?s endurance coach Matt Parker pointed out afterwards, the team pursuit times are already the equivalent of where the Olympic team was two years ago.
On top of that, the New Zealanders came detemined to make the most of Great Britain?s restructuring of their team pursuit squad. And as Parker conceded, in the short-term, that determimation paid off.
?it was probably exactly as we expected,? he told Cycling Weekly, ?and we got two good rides there out of a very young team.?
?We didn?t absolutely nail it, and we had some issues coming into the event today, but there?s no excuses, we didn?t win and that?s it.?
?There have been some real positive things we can take away from this, I?m not going to single anybody out except for Ed [Clancy], who?s shown he?s one of the best team pursuiters in the world.?
Results: Men's team pursuit
1. Denmark 3-58.246
2. Australia 3-58.863
3. New Zealand 4-00.248
4. Great Britain 4-01.838
Qualifying round
1. Denmark 3-59.892
2. Australia 4-00.581
3. Great Britain (Bellis, Burke, Clancy, Kennaugh) 4-00.818
4. New Zealand 4-01.186
5. Spain 4-04.485
6. Germany 4-07.262
7. Netherlands 4-08.667
8. Ukraine 4-08.736
9. Belgium 4-08.825
10. Colombia 4-10.111
11. China 4-10.886
12. France 4-11.544
13. Poland 4-13.454
14. Russia DNS