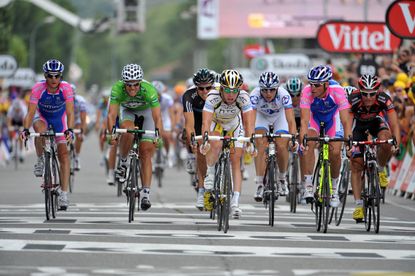 Cycling Weekly August 26 issue featured a special Zero In On Sprinting article, looking at how to get the maximum speed out of your legs.
To accompany this we've trawled our memory and the YouTube archives to bring you some of the best sprint finishes from the last 15 years.
Cavendish, Cipollini, McEwen, Zabel and Abdoujaparov are all here.
Mario Cipollini wins the 2002 world championships in Zolder Belgium
A fantastic piece of team work by the Italian team lead to Victory for Mario Cipollini who had gone in to the race as a favourite. A crash in the closing kilometres kept the size of the lead group down but the pace was kept so high that the number of riders behind is relatively irrelevant.
One by one the Italian riders do their job, keeping the pace high at the front, before Cipollini opens his sprint. Take a look at Robbie McEwen and Erik Zabel fighting for Cipollini's wheel. There's plenty of leaning and barging going, all of which is part and parcel of the game in pro riding.
Mark Cavendish wins the 2009 Milan-San Remo

Cavendish's perfect preperation for Milan-San Remo was almost wrecked when Heinrich Haussler took a flyer from what was left of the peloton in the final kilometre. Just when it looked like his race was over, Cavendish used a crucuial sprinting trait, instinct.
The Manxman jumped away from the rest of the hesitant group and used his sprint to reel in Haussler, just pipping him on the line. At this point he had no lead-out men left. George Hincapie had done his work earlier, getting Cavendish to the front of the lead group, but in those crucial last metres, Cav had to do it all himself.
Robbie McEwen wins stage one of the 2007 Tour de France
A selection of sprints featuring Djamolodine Abdoujaparov
The Tashkent Terror featured in many memorable sprints, using his bike and his body not only to reach top speed but to intimidate his rivals. With the controlled lead outs of today, we no longer see many sprinters like this in the biggest races.
Thank you for reading 20 articles this month* Join now for unlimited access
Enjoy your first month for just £1 / $1 / €1
*Read 5 free articles per month without a subscription
Join now for unlimited access
Try first month for just £1 / $1 / €1