Halfords to open Cycle Republic bike shops in London
Halfords' growth in cycling market continues with resurrection of Cycle Republic branded stores in London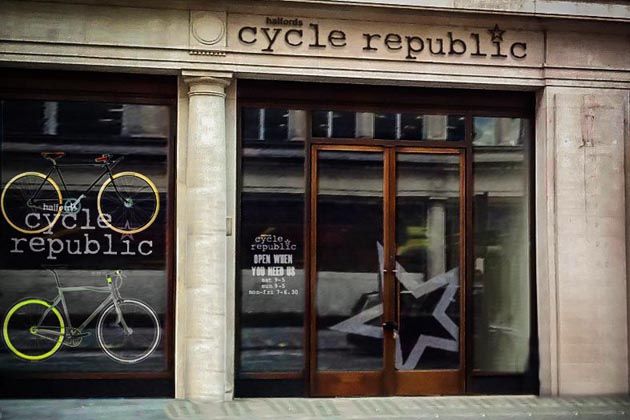 National motoring and cycle retailer Halfords has announced plans to open a chain of bike-only shops in London under the Cycle Republic brand.
The first shop will be located in the heart of the city at Euston Tower, and is set to open in the autumn. This will be followed by further outlets in the spring of 2015.
The move come on the back of Halfords' increasing sales of bikes, part and accessories. It reports that premium bike sales increased by 35.1 per cent in the first quarter of 2014, with overall sales increasing 21 per cent.
Cycle Republic will carry a range of 'premium' bikes, including the Boardman Performance range, and feature workshop facilities.
"We have the opportunity to bring something different to the marketplace in central London – new and unique ranges for the urban cyclist and an expert team offering servicing and repairs," said Cycle Republic director, Peter Kimberley.
"Our new stores will offer range, expertise and convenience, helping to make cycling more accessible for Londoners and supporting more people getting on their bikes."
Halfords' cycle sales fortunes have changed considerably since the last time the Cycle Republic brand was used by the company in 2009. Then, its stand-alone Cycle Republic and Bike Hut stores were closed, or rebranded as Halfords stores, due to disappointing financial returns.
Earlier this month, Halfords announced that it would carry a new line of exclusive cycles from 13 Bikes. Halfords also acquired Boardman Bikes in June.
More on Halfords
New range of road, mountain, hybrid and cyclo-cross bikes available exclusively through Halfords
Chris Boardman says "we've got what we wished for" in the sale of Boardman Bikes to Halfords