Chris Boardman on Halfords deal
Chris Boardman says "we've got what we wished for" in the sale of Boardman Bikes to Halfords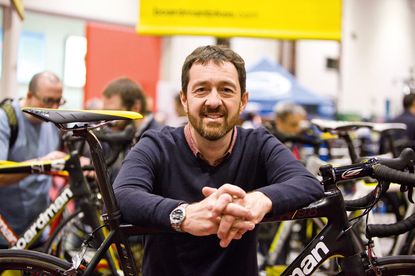 Boardman Bikes has been sold to Halfords for an undisclosed sum, although speculation has suggested anything from £10 million to £20 million.
However, company executive chairman Chris Boardman will remain in charge and says the deal offers the brand a valuable chance to push forward with some "high-risk" projects.
"I think there's an assumption that I'm off to retire," Boardman told CW. "But I would say my involvement will go up threefold, and it's already quite intense.
"In fact I've been strategically scaling back some of my other projects so that I have time for this. I'll remain as executive chairman, so I'm involved in the running of the business at the highest level, and I'm still the head of design.
"It's actually quite daunting because we've got what we wished for, which is a situation where we can go and do what we want. That's a big responsibility but it means all the clever stuff — and some of these projects are quite high-risk because the things I want to do haven't been done before — we'll get to do it now.
"Actually, I'm trying to avoid using the word risk, I don't see it as risk," Boardman said. "I suppose you'd say we're stepping into the unknown a bit. We've got probably 14 research and development projects, some of them enormous, that we've been sitting on and want to do, and we'll shortly be having strategy meetings about which one of those we're going to do first."
Boardman wouldn't reveal what those projects are. The commitment to new projects is also good news for the Boardman Elite range of bikes.
While Halfords has been the sole retailer for the Boardman Performance line of products, the Elite range is sold by independent bike dealers — indeed when we spoke with Boardman he was at the opening of Chevin Cycles' new shop in Harrogate.
"We told Halfords we wanted to keep our Elite range only going to independent bike dealers," Boardman said. "Matt Davies [Halfords CEO] said that's fine —and he's been true to his word.
I think the beauty for independent dealers is that for the first time ever, the person that they considered their biggest threat or competitor now has a vested interest in their business doing well. All our dealers have been absolutely brilliant and realise that rather than Halfords trying to take business off them, Halfords wants them to do well.
"So while the message we've been putting out is 'it's business as usual', it's not actually. The format stays the same — we'll continue to operate as a standalone business with IBDs selling the Elite product, and the Performance range staying with Halfords — but Halfords now has even more of a reason to let us do more."
And how much did Halfords pay? "I'm not allowed to say the figures involved," Boardman said. "But I've enjoyed watching all the speculation around it."
Why sell now?
Although there was a common misconception that Halfords already owned the brand, Boardman Bikes stood as an independent company owned by Chris Boardman, Alan Ingarfield and Sarah Mooney.
"We've been working on it for two months, so right now we're mostly just tired and relieved. I'm pretty excited about it — and I don't really do excited," Boardman said.
"We were having issues with — it's not an exaggeration to say — explosive growth.
That brings its own challenges because it needs huge resources and investment all the time.
"It got to the point where, totally fairly, the people who started it off said this is getting huge, it's too big for us, and we're actually getting in the way now because you don't need a tiny bit of cash, you need millions and millions to go to the next step.
They're lovely people as well — Alan Ingarfield and Sarah Mooney — they said Boardman Bikes need a new owner. So it was perfect timing."
Chris Boardman says "we've got what we wished for" in the sale of Boardman Bikes to Halfords
Liverpool's City Bikes will be available to hire from April 23 at 10 rail stations, growing to 1,000 bikes at
Thank you for reading 20 articles this month* Join now for unlimited access
Enjoy your first month for just £1 / $1 / €1
*Read 5 free articles per month without a subscription
Join now for unlimited access
Try first month for just £1 / $1 / €1