Chris Boardman unveils Liverpool hire bike
Liverpool's City Bikes will be available to hire from April 23 at 10 rail stations, growing to 1,000 bikes at 100 stations by 2015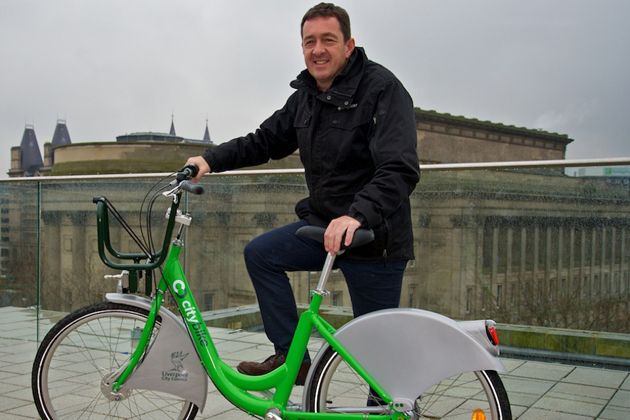 Words by Paul Cooper
Chris Boardman gave business leaders in Liverpool a first glimpse of the city's new bike hire scheme yesterday. High above Liverpool's city centre, in a special rooftop briefing, the cycling champion unveiled the scheme's new, bright green, three-geared, 'City Bike' - given this name by popular vote in Liverpool.
Encouraging their support, Merseysider, Boardman, who has championed the project from its early planning stages also explained how the scheme will work. He said: "I'm keen that we get businesses on-board from the start. Their support in championing cycle hire - and helping us promote cycling as a cheap, healthy and environmentally friendly way of moving around the city – will be key to the success of the scheme."
The scheme, operated by experienced UK supplier, HourBike Ltd, will roll out on April 23, with an initial 100 bikes at 10 stations. It will boast 500 bikes at 50 stations by July, and, second only to London in scale, 1,000 bikes, at more than 100 stations in 2015.
Displaying his characteristic enthusiasm for Britain's cycling revolution, Boardman said: "I'll be sharing my passion for the scheme at every opportunity, to help encourage as many people as possible to get on their bikes."