Halfords unveils new 13 Bikes range
New range of road, mountain, hybrid and cyclo-cross bikes available exclusively through Halfords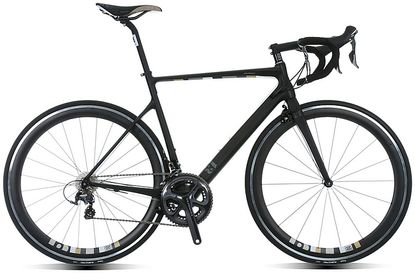 13 Bikes is a new brand available exclusively through national retailer Halfords, and comprises road, mountain, cyclo-cross and hybrid models.
The range has been put together by former Whyte, Raleigh, Saracen and Dawes bike designer Justin Stevenson, who has two decades' experience in the industry.
At launch, the road range consists of five models: the Intrinsic line uses an aluminium frameset with prices starting at £499.99, and the Intuition range uses carbon-fibre, with the base model dropping at £999.99. The road ranges tops out with the Shimano Ultegra-equipped Intuition Gamma for £1799.99.
The aluminium-framed Innate Alpha cyclo-cross bike is priced at £499.99 and features Tektro mechanical disc brakes.
Though the pricing and spec on paper appear very similar to Halfords' existing - and very popular - offerings from Boardman, the design of the bikes are quite different with the 13 models featuring heavily tapered tubing and seat stays that intersect the seat tube well below the seatpost clamp.
Contact: 13 Bikes website
Chris Boardman says "we've got what we wished for" in the sale of Boardman Bikes to Halfords
Thank you for reading 20 articles this month* Join now for unlimited access
Enjoy your first month for just £1 / $1 / €1
*Read 5 free articles per month without a subscription
Join now for unlimited access
Try first month for just £1 / $1 / €1