Hayles admits his Madison days are behind him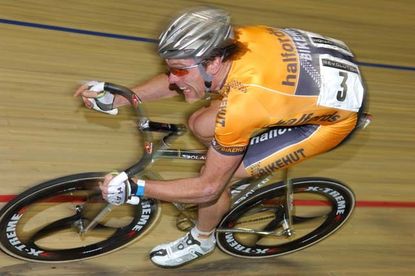 Rob Hayles accepts his Madison days are probably over after being told he was not part of Great Britain?s plans for next month?s World Championships in Poland.
The 36-year-old former world Madison champion teamed up with 19-year-old Peter Kennaugh to win a silver medal in the event at the Beijing World Cup in January.
Although they didn?t get a medal in the most recent World Cup in Copenhagen, Hayles believed he was in the frame for the World Championships.
Then, before Saturday?s National Madison Championship, Hayles was told he would not be figuring in the Madison plans. He had been scheduled to ride the National Championship race with Kennaugh, but pulled out, leaving Mark Christian to step in.
Kennaugh and Christian eventually won the title, while Hayles, who won the 2005 world title in Los Angeles with Mark Cavendish, sat it out.
Hayles and Kennaugh had also been scheduled to travel to Melbourne for the Australian Madison Championship on Saturday, but have cancelled that trip too.
?After hearing I wasn?t part of the Worlds, I decided not to race the Madison with Pete,? said Hayles. ?I felt bad for Pete, because it?s not his problem, but I just couldn?t race a 50k chase a couple of hours before a night of Revolution. If I?d had a bit more time to think about it and hadn?t had a night of racing ahead of me, I?d perhaps have done it. But you don?t ride any Madison lightly and I just wasn?t in the frame of mind to do it.?
Hayles admitted he was extremely disappointed by British Cycling?s decision but didn?t want to point the finger.
?At the end of the day, they?re paid to make decisions based on their set of criteria. They have to do what they think is best. Shane [Sutton] pulled me in and said I wouldn?t be doing the Madison in Poland. I asked to see all the coaches on Saturday and I said my piece, so I?d like to leave it there really.
?Of course, I am aware of my age and that I?m probably not going to be around when it comes to London [2012], but if it?s about this World Championships, then I obviously feel I?ve done enough.
?Pete and I have done well. Pete says he?s learned a lot this winter and the Beijing result showed we could get a result. They told me it wasn?t a knee-jerk thing and that it?s been coming all season, so what was I doing in Beijing and Copenhagen?
?The coaches wouldn?t agree but I do feel that if a young lad does something wrong they look to take the positive, whereas if Chris Newton or I do, they only see the negative.
?It nothing else, the winter has set me up well for the road, so I?ll try to take the positives from a disappointing situation, like I always do.?
Hayles will race for Halfords Bikehut again this season and says he hasn?t give up his chances of gaining selection for the track Worlds as part of the team pursuit squad.
RELATED LINKS
Chaos in the Chase: National Madison Championship explained
Kennaugh and Christian crowned national Madison champions
Hayles and Kennaugh win silver at Beijing World Cup
Thank you for reading 20 articles this month* Join now for unlimited access
Enjoy your first month for just £1 / $1 / €1
*Read 5 free articles per month without a subscription
Join now for unlimited access
Try first month for just £1 / $1 / €1