HET VOLK AS IT HAPPENED: GILBERT SHINES THROUGH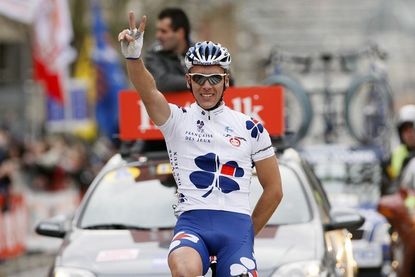 (Image credit: LUC CLAESSEN)
Get The Leadout Newsletter
The latest race content, interviews, features, reviews and expert buying guides, direct to your inbox!
Thank you for signing up to The Pick. You will receive a verification email shortly.
There was a problem. Please refresh the page and try again.
Het Volk, as it happened. All you need to know about the opening race of the Classics season.
Swipe to scroll horizontally
Barely had the race left Ghent and news filtered through that Robbie McEwen had abandoned. The Silence-Lotto rider quit after just 25 kilometres because, according to Belgian TV, he was feeling ill.
The big break of the day went clear pretty early, inside the first 25 kilometres. It contained six men. Aleksandr Kuschynski of Liquigas, David Boucher of Landbouwkrediet, Sebastien Minard of Cofidis, Yuriy Krivtsov of Ag2r, Arnaud Gerard of Francaise des Jeux and Michael Friedman of Slipstream.
The lead quickly grew from three minutes to five, to almost eight.
As the hills came, the six men in front had their advantage cut to around five-and-a-half minutes, which was obviously not what Quick Step wanted. On the narrow roads they massed at the front with Gert Steegmans, Stijn Devolder, Tom Boonen and Paolo Bettini all in the first two rows, and the lead went back up to six minutes.
Swipe to scroll horizontally
On the Pottelberg, the sixth climb of 11, an Astana rider tried to increase the pace but the bunch reacted.
And who was that, sitting at the back of the bunch, in green and white Credit Agricole colours, number 85? Yes, Jeremy Hunt, who earlier regaled the crowd in Ghent with a rendition of Baa Baa Black Sheep. Sounds bizarre? It was a little. Hunt can often be found right at the back, and it is no indicator of his form, but considering his comments in the morning about how important positioning is, it seemed a strange strategy.
Whenever the race hit the wider roads, with their raised kerbs, traffic islands, pavements and bike lanes, some riders tapped into their creative instincts to move up the bunch. There were bunny-hops galore and some pretty dangerous moves too.
Two Gerolsteiner riders crashed on just such a stretch of road. One of them, Thomas Fothen, had a home-made race number. The '101' had been written in Biro.
Swipe to scroll horizontally
With around 65 kilometres left, a level crossing came down in front of the bunch, forcing them to stop. No one was tempted to duck under it, remembering what happened in Paris-Roubaix a couple of years ago when one of the riders disqualified for crossing under a closing level crossing was none other than Het Volk course director, Peter Van Petegem.
On climb number seven (of 11), the cobbled Kruisberg, the world champion Paolo Bettini was caused to fall off by one of his Quick Step team-mates, who tried to jump up onto the pavement, misjudged it and fell into the hedge.
With the leaders still ahead, the bunch lurched from chaos to disaster. Quick Step put the pressure on up front but the peloton split and there were a bunch of crashes in quick succession. By now the six leaders - Kuschynski of Liquigas, Boucher of Landbouwkrediet, Minard of Cofidis, Krivtsov of Ag2r, Gerard of Francaise des Jeux and Friedman of Slipstream - had had their lead cut to 3-40.
Swipe to scroll horizontally
On the Taaienberg the Belgian champion Stijn Devolder of Quick Step attacked the bunch but was marked by a Silence-Lotto rider and, ominously, Fabian Cancellara of CSC.
Behind them, the peloton was split into pieces. When leaders reached the Eikenberg with 50 kilometres to go, it was Kuchynski of Liquigas who was strongest.
When the bunch got to the Eikenberg, a 1,200metre long climb that is cobbled but offers smooth pavement some of the way up, Philippe Gilbert of Francaise des Jeux put in a very strong attack. Gilbert took the opportunity to ride on the pavement when he could.
The Eikenberg is where Gert Steegmans lost contact with the front of the race and looked rather ponderous. When he's pedalling like that, his size looks a handicap on the hills. It was a stark contrast to Gilbert. Who was flying, cutting into the 2-53 advantage held by the front men.
Swipe to scroll horizontally
On the Wolvenberg, the penultimate climb, Gilbert looked smooth but his advantage was not big. An Agritubel rider Kevin Ista hovvered between Gilbert and what remained of the peloton, perhaps 30 riders.
Up front the leaders began to look disjointed and had lost a man - Boucher of Landbouwkrediet - as the gap fell below two-and-a-half minutes. At this stage there were less than 40 riders still in genuine contention.
Allan Johansen of CSC tried to go across to Gilbert, perhaps to strengthen Cancellara's hand.
Swipe to scroll horizontally
The final climb, the Molenberg cracked the lead group. Minard of Cofidis, Gerard of FDJ and Kuschynski of Liquigas, looked okay but Friedman of Slipstream fell back.
At the right-turn at the foot of the Molenberg, Gilbert caught Boucher, one of the original group of six. The gap between the front five and Gilbert was now just 1-33.
Boucher's team-mate Jan Kuyckx and CSC's decoy man Johansen were next to reach the Molenberg. The Belgian rode strongly, the Dane looked sluggish.
Swipe to scroll horizontally
With the climbing behind them and the flat, but by no means straightforward, run-in to Ghent to come, it had shaped up to be one of the most aggressive, exciting and difficult to control editions of Het Volk for years.
Tellingly, Quick Step's might and muscle was not translated into dominance on the road. Thinking back to the way the blue and white jerseys fanned across the road on the early climbs it was hard to believe they had no cards to play at this stage.
By now, all eyes were on a small group that was being driven by Cancellara. He had his CSC team-mate Johansen for company, but the Dane could do little to contribute, such was Cancellara's strength.
Over Paddestraat, 2,300 metres of punishing cobbles, Krivtsov again lost contact with the other riders who'd made that early break. Cofidis' Minard looked strong. Kuschynski of Liquigas appeared to be over his earlier difficulties but Gerard and Friedman were clinging on.
On the same stretch of cobbles, less than a minute back, Gilbert looked peerless. Having been by himself for almost 20 kilometres, he showed no signs of slowing.
Swipe to scroll horizontally
Into the final 30 kilometres, then, and the race had evolved into a fascinating game of chase.
The tiring leaders were hanging on. Minard of Cofidis and Kuschynski of Liquigas went clear of the other leaders on Lippenhovestraat, another tough stretch of cobbles. Gilbert's chase was still furious and behind them, a group of eight containing Nick Nuyens of Cofidis, Cancellara and his team-mate Johansen, Thor Hushovd of Credit Agricole and Leif Hoste of Silence-Lotto.
At one stage the leading break, Gilbert and the Nuyens group were all on the Lippenhovestraat cobbles, just a minute covering them all.
Gilbert flew past poor Krivtsov as if he was standing still but when he reached the back wheel of his Francaise de Jeux team-mate, Arnaud Gerard, with 27 kilometres to go, the Frenchman dug deep to give his leader one last effort to get him a big closer to the front.
Swipe to scroll horizontally
There was no doubting Gilbert had put it all on the line. With Kuschynski of Liquigas and Minard of Cofidis up front, the four-man group of Gilbert and his FDJ helper Gerard, who was still stoically, heroically, doing all the work, was down to around 30 seconds. Friedman and Krivtsov sat on, appreciating the ride back up to the front two, who appeared to slow and wait for the bridge to be made.
With 22 kilometres left, they hit the penultimate stretch of cobbles, the 2,500 metre Lange Munte. There, the front group became six again, but the gap to the group of Cancellara, Hoste, Nuyens and Hushovd was not big. For all the work the Francaise des Jeux riders had put in, they had not decided the race. They led by just 29 seconds.
That was where Gilbert decided to play his next card, attacking and splitting the six-man group to pieces. After more than 30 kilometres of hard riding, with just the brief respite as his team-mate Gerard dragged him up to the leaders, Gilbert finally found himself in the lead. But what it enough? With Cancellara, Hushovd, Hoste and Nuyens behind, he couldn't be sure.
Swipe to scroll horizontally
Everyone was making their own pilgrimage to Ghent. Gilbert ploughed on alone, opening a gap of more than 40 seconds over Kuschynski and Minard, with the powerful a little over a minute back.
With no more hills or cobbles to come, the odds looked every so slightly in Gilbert's favour. It would need a concerted chase and, with half of the big group either refugees from earlier escapes, there were not many bodies to contribute to the chase.
It meant the pressure had to fall on the big names - Hushovd, Hoste, Nuyens and Cancellara took turns on the front but there was lurking danger that they would ride into a trap and be caught by surprise.
Swipe to scroll horizontally
It boiled down, quite simply, to a pursuit. Gilbert led by just over a minute from 12 men.
One, Arnaud Gerard, was an FDJ team-mate, who would not co-operate with the chase. Others, Kuschynski, Friedman, Minard, Krivtsov, had been in the day-long escape and were sure to be tired and therefore unable to co-operate. The obvious threat came from the big names: Nuyens, Hushovd, Hoste, Cancellara. But then there was Agritubel's Nicolas Jalabert or Landbouwkrediet's Jan Kuyckx, who could afford to sit in, profit from the work and hope an opportunity to cause an upset came their way.
The elephant in the room was Quick Step. Their all-powerful team of eight had failed to make an impression on the race. They were noticeable by their absence and you got the sense that the inquest had already begun.
Swipe to scroll horizontally
It was an extremely impressive piece of riding by Gilbert. Not only did he hold the gap, he actually stretched another few seconds out of the chasers. Both Cofidis and CSC had two riders, it was a fractious effort and, with about six kilometres to go, they split into two evenly-sized groups.
Hushovd, Hoste and Nuyens each put in considerable turns at the front of the now streamlined chase group. Friedman of Slipstream was one of the ones burned off when the pace went up.
Swipe to scroll horizontally
Although Gilbert's lead slipped below a minute as he entered the centre of Ghent, victory was his, with three kilometres to go.
The chase had not been hot enough. Gilbert won Het Volk two years ago but this was a victory of much greater strength, confidence and maturity. The Belgian made it happen and every move in the final 50 kilometres was measured, well-calculated and clinically executed. He rested when he could, used his team-mate Gerard, squeezing the last strength out of his legs in order to close down the leaders.
Marc Madiot, the FDJ boss, urged him on in his usual excitable way.
Those back-streets of Ghent must have seemed endless as he made his way into the final kilometre. The slope on Charles de Kerchovelaan must have really stung too.
It was a dominant ride, one that earned the applause of race director Peter Van Petegem, enjoying his first experience in the lead car.
In the final couple of kilometres, Nick Nuyens, another former Het Volk winner, broke clear to take second place. Hushovd beat the tireless Yuriy Krivtsov for third place.
RELATED LINKS
Gilbert's Great: Het Volk report and results
Thank you for reading 20 articles this month* Join now for unlimited access
Enjoy your first month for just £1 / $1 / €1
*Read 5 free articles per month without a subscription
Join now for unlimited access
Try first month for just £1 / $1 / €1
Get The Leadout Newsletter
The latest race content, interviews, features, reviews and expert buying guides, direct to your inbox!
Sports journalist Lionel Birnie has written professionally for Sunday Times, Procycling and of course Cycling Weekly. He is also an author, publisher, and co-founder of The Cycling Podcast. His first experience covering the Tour de France came in 1999, and he has presented The Cycling Podcast with Richard Moore and Daniel Friebe since 2013. He founded Peloton Publishing in 2010 and has ghostwritten and published the autobiography of Sean Kelly, as well as a number of other sports icons.