Icons of cycling: Oakley M Frame sunglasses
Take a backward look at the eyewear that defined an era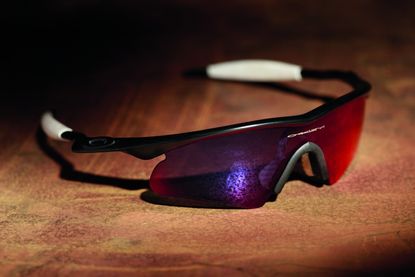 (Image credit: mike prior)
The M Frame was when Oakley got serious. Five years earlier its groundbreaking cycling eyewear, the Factory Pilot Eyeshades, had looked cool, crazy, kooky, geeky even.
It had taken a maverick like Greg LeMond to bring them to the conservative pro peloton of 1985. Oakley was a small, Californian startup at the time. The following year virtually every rider in the peloton was begging Oakley founder Jim Jannard for a pair. So when Oakley introduced the M Frame in 1990 it meant business.
It could be because the M Frame is inextricably linked with Lance Armstrong, or because Oakley's European rivals went for a completely different style of glasses, but from 1990 until 2006 — the year after Armstrong retired (the first time) — the M Frame was the inscrutable, menacing face of cycling.
Perhaps the best-loved illustration of the Oakley M Frame's putative power over its bug-eyed Euro competitors was when Armstrong issued 'the Look' from behind his blue iridium lenses directly into the white Rudy Project Tayos of Jan Ullrich at the foot of Alpe d'Huez in 2001.
>>> Icons of cycling: Look's revolutionary clipless pedals
It didn't matter that we couldn't see the eyes of the two riders — the expressions their respective eyewear lent them told the whole story. The robot had mercilessly crushed the irritating bug and was now on the rampage, destroying everything in its path.
Magic and mystery
The M Frame was originally called 'Mumbo' in 1989 but all but the first letter of the name was deleted after clothing company Mambo objected. Simply being known as 'M' was far more effective as it turned out.
Consumers wondered whether 'M' referred to the shape of the frame, whether it had something to do with the fictional head of MI6 in the Bond films or simply accepted it as the call sign of the most desirable glasses in cycling.
>>> Icons of cycling: Sean Kelly's cobble-busting Vitus 979
Oakley had hit upon a winning and timeless formula: a minimal but tough and flexible strip that sat at eyebrow level so as not to obscure vision, into which snapped an equally tough polycarbonate lens with high optical quality that could be swapped in a matter of seconds.
Oakley's rubbery Unobtainium material was used for the 'earsocks' and nose bridge. The M Frame was flawless.
>>> Icons of cycling: the first Shimano STI gear shift system
In 2007 Oakley finally unveiled the successor to the M Frame: the Radar. For many its over-engineered appearance was a backward step. However, Oakley had a large enough following that the Radar was accepted.
What's for certain is that a look from behind a pair of Radars, or even the latest retro-looking Jawbreakers, will never equal a look from M Frames.
Thank you for reading 10 articles this month* Join now for unlimited access
Enjoy your first month for just £1 / $1 / €1
*Read 5 free articles per month without a subscription
Join now for unlimited access
Try first month for just £1 / $1 / €1
Simon Smythe is a hugely experienced cycling tech writer, who has been writing for Cycling Weekly since 2003. Until recently he was our senior tech writer. In his cycling career Simon has mostly focused on time trialling with a national medal, a few open wins and his club's 30-mile record in his palmares. These days he spends most of his time testing road bikes, or on a tandem doing the school run with his younger son.