'It's ludicrous that there isn't equal prize money for women in road cycling'
With particular reference to the Tour of Flanders, Helen Wyman spoke out about the continuing disparity in prize money between men's and women's races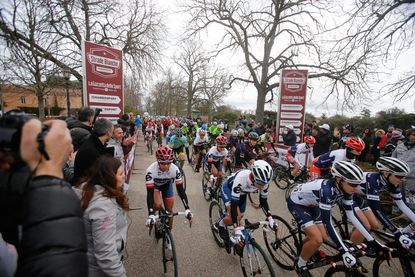 (Image credit: Angelo Carconi)
British cyclocross star Helen Wyman has been on the UCI panel for cyclocross for three seasons now, with two more left on her term.
In that time she has successfully campaigned to get more live television coverage of women's 'cross racing and has worked to try and bring parity between men's and women's prize funds.
But the gap between win bonuses in road racing continues, and Wyman maintains a strong opinion on the issue, particularly when reminded about the prize money gap at last year's Tour of Flanders, where Elisa Longo Borghini took home €1,213 to Alexander Kristoff's €20,000.
"That to me, doesn't make sense for an event which already has a very successful model," she said.
"I live in Oudenaarde at the minute and so when you go out on Tour of Flanders day there are so many VIP tents that they page huge amounts of money; the buses, the coaches that transport the VIPs between different places. There's so many of them it's just ridiculous and all of those people are paying huge amounts of money.
"I'd imagine that one bus load would be able to equalise the prize money for the women to the men so... I don't understand why the UCI can't put that in place."
In contrast Wiggle-High5's Swedish champion Emma Johansson, told Cycling Weekly she's "scared that [minimum prize money] will make [women's] races disappear because they are struggling."
She continued: "I'm just scared that races are going to disappear and we don't need that. But of course I would like it to grow just like the men's has done."
That growth is something that Wyman says she has a solution for, and is a method that has been successfully implemented in cyclocross.
Race organisers Galazo and Belgian broadcaster Sporza reached an agreement to show every women's cyclocross race live. Although, as Wyman puts it, "it didn't quite work out but they did show probably seven-and-a-half of them, and they also went on to show 24 races in total across the entire season, live."
For these races the broadcasters had an average of 530,000 viewers in Flanders, an area with a population of 6.4 million people. That's a similar number to those watching the Women's Tour in the UK, a country with a population nearer 65 million.
"Galazo have sold all titles to their women's series and they've also increased the prize money," added Wyman, "so now it's €10,000 for the overall winner and it goes down to 15 places, which is €20,000 more in total in the prize fund than we had before."
It's this system that the 35-year-old believes could help wipe out the gender pay gap in road cycling.
"When you get the television coverage in you're able to sell the women's race in a separate way.
"You know in 'cross, and in men's cycling a lot as well, you've actually got a very saturated market and the sponsorship has come in and there's not many more places to get sponsorship from.
"But as soon as you open up a new market by having this extra hour of television coverage that we have in 24 races this season, suddenly you've got another market."
Riders to watch this season
The lack of coverage of women's cycling was particularly apparent at the recent Omloop Het Nieuwsblad. Lizzie Armitstead was storming to victory in the stripes of world champion - and being filmed doing so as highlights were later released - while viewers were left to watch the sedate progress of the men's peloton.
With more coverage aimed at helping grow the women's side of the sport, Wyman questioned why races such as the Women's Omloop Het Nieuwsblad weren't given live air time.
"I don't understand why there isn't any further television coverage," she said, "there are points in the men's race which are really quite dull.
"You know, there's nothing happening: the break's already gone, there's people in the break, there's people in the peloton, it's not got to the point where they start to bring it back, there's not huge cross winds or something which is affecting the race to make it really interesting, it's just that lull, that 120 kilometres of nothingness where it would be perfect to put half an hour of the women's race in.
"You can do highlights in such short time, that you know you could put in 10 minutes of highlights and then the last 20 minutes of the race."
Usually, when an event has both a men's and women's race, the cameras and television equipment will be up well in advance of either race.
"A race which has already got TV cameras in place, where the finish line is exactly the same as the men's, where everything's there, they should be able to use it and that's what we've done in 'cross: we've taken all the structure from men's television.
"TV cameras are exactly where they are, the people [production and camera crews] who are paid for the day are paid for the day, so why not use them... They're there, the TVs are on, the cameras are on, just use them."
Thank you for reading 20 articles this month* Join now for unlimited access
Enjoy your first month for just £1 / $1 / €1
*Read 5 free articles per month without a subscription
Join now for unlimited access
Try first month for just £1 / $1 / €1