Jack Bauer: The Big Interview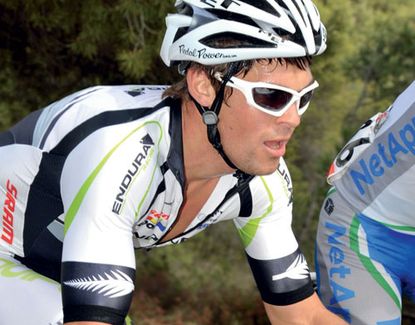 Get The Leadout Newsletter
The latest race content, interviews, features, reviews and expert buying guides, direct to your inbox!
Thank you for signing up to The Pick. You will receive a verification email shortly.
There was a problem. Please refresh the page and try again.
Jack Bauer wasted no time getting familiar with the Belgian kermesse scene last year, winning from the word go. Now British team Endura has secured the multi-talented Kiwi's services.
The 24-year-old put his new-found pursuiting skills to good use in the Tour of Murcia, finishing just 20 seconds adrift of Lance Armstrong in the time trial stage for 12th position.
CW: We are told you are pretty new to road racing. What were you doing before that?
JB: I started out as a mountain biker at a young age - I think I was 12 - and I did that for 10 years. I only raced on the road as training for the 1996 mtb World Championships in New Zealand. My coach at the time thought it would be good for me to train on the road for the year leading up the Worlds.
I raced the Tour of Southland in New Zealand as a mountain biker coming into a six-day stage race and it didn't go well at all. I cooked myself pretty badly. So that was it for road cycling for the next couple of years. I really only picked it up in 2007 when I moved cities and was out of university and working for the first time.
Did you enjoy the road as much as mountain biking once you got the hang of it?
JB: It's very different. I still saw the road as training for mountain biking, but gradually I started to enjoy it more and see more future in it. The Worlds in 2006 brought it home how small the mountain bike scene is. A lot of it is self-funded back home, so there wasn't much future in it.
So you turned up in Belgium last year and bagged eight wins?
JB: Nine in the end. It was great. I went over there pretty determined and driven because I had always seen myself as a pro bike rider one day, but the time was passing and I hadn't laid much down in terms of preparation for that apart from training hard in New Zealand. You can be good back home but you never know how that translates in Europe. I decided it was time to give it a stab and popped over to Belgium for five months and had a great time.
How did you end up signing for Endura?
JB: It came through Brian Smith. The guy managing the Belgian team I was with, Staff Boone at Kingsnorth International, had a lot to do with Allan Peiper at High Road. I tested for Columbia and, through that, got some exposure and people heard my name. Brian was one of those. I hadn't really thought about riding for a UK-based team, but the more I looked into it, the more it made sense. So here I am.
Things didn't work out with Columbia then?
JB: I didn't expect it to. It was great to get the exposure. The fact that a team like that is looking at you is always going to make other people pay attention.
But they must have kicked themselves when you went on to win the New Zealand road championships?
JB: I went over to Belgium aged 24 - it's not a young age to be an unexposed amateur. I lit it up over there, and I knew I had to. I would have to win a lot to turn some heads. But it is unlikely that a massive team will want to sign someone of my age having only seen what they can do in an amateur Belgian kermesse scene.
They wanted to know that I could ride a stage race, go for 200 kilometres and climb a hill. I proved that I could back home with the National Championships and the Tour of Southland, but it was too late.
Coming to the line at the National Championships with Julian Dean and Hayden Roulston - household names - did you feel you had the measure of them?
JB: In a sense, yes. I didn't slow down at all after coming home in October. I knew if I could keep my form into January my chances were good. On the day I felt good and saw that I was able to put a bit of pain into them. It was a matter of holding on and having a kick at the line. It was fantastic.
Wearing the national champion's jersey must be a buzz?
JB: Of course! That is something I didn't think would come my way for years. Getting my first pro contract and the jersey in the same year: it couldn't be better.
There's another Kiwi with Endura this year, Jason Christie. He looks talented.
JB: In a big way. I only met him over the summer back home, but he has been going well over there. I have been involved with the New Zealand track team and met him through that.
We knew Jason was a trackie, but that's a new direction for you, isn't it?
JB: The New Zealand federation wanted to see what I could do as a pursuiter. I have been a bit of a guinea pig for them to see what they can do with me. It has been hard, but I did a 4-29 at the National Championships before I came over to Europe, so they were pretty happy.
How did you find the pursuit? Painful, isn't it?
JB: On the road, I tend to stomp out a big gear: powerful and strong but no finesse. Coming onto the track and having to tap out a high cadence in a pursuit position, with the head tucked away and the ass sticking up in the air, trying to ride in a straight line, was something else. But then you only have to put up with the pain for four and a half minutes!
Your very first day of racing for Endura at Haut Var was, quite literally, a day to forget.
JB: Yeah. Everything went against me that day and I wound up in the ditch with a very sore head. I was struggling with the bike - a new set-up, new position - and I was tired and jet lagged as well, trying to just hold on to the back of a pro-level race, and I took a corner far too fast and far too wide. To cut a long story short, I was in the ditch, just like in my mountain biking days, and my head went into the bank. It turned my lights out for a bit. Not a good start.
How much do you know about the UK racing scene?
JB: I know nothing from experience but I have heard a lot about the Tour Series and the Nocturne crits, and I'm looking forward to it. With Rob Hayles leading the crew and passing on his knowledge, we are going to be a force this year.
Many of the team's riders are Scottish. Who is the hardest to understand?
JB: Good question! Probably Evan Oliphant, or James McCallum, maybe. I really have to think about what they have said and try to slow it down.
Related links
Endura Racing: Team Profile
Thank you for reading 20 articles this month* Join now for unlimited access
Enjoy your first month for just £1 / $1 / €1
*Read 5 free articles per month without a subscription
Join now for unlimited access
Try first month for just £1 / $1 / €1