Jasmijn Muller abandons LEJOG record attempt ride
Muller covered 370 miles before she was forced to abandon the attempt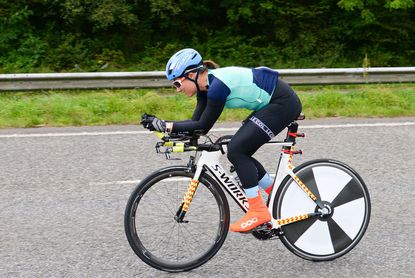 (Image credit: Picasa)
Endurance cyclist Jasmijn Muller has been forced to abandon her attempt to become the fastest woman to ride from Lands End to John O'Groats.
After covering 370 miles in just under 24 hours, Muller took a rest near Chorley, North of Manchester. Having felt unwell during the night, it was decided that she was unable to continue.
Muller's support crew made the announcement on twitter this morning, adding further detail in a short press release.
"We're very sorry to announce that Jasmijn has had to abandon her attempt on the LEJOG record. She was feeling increasingly unwell during the night and, after conferring with her crew, decided to stop at Chorley."
"She is being well looked after (by husband Chris and on-board paramedic Erica), and expects to make a swift recovery, though sadly not swift enough to get her to John O'Groats within the time limit," they added.
The 38 year old management consultant was aiming to cover 841-miles and reach John O'Groats by 9:45am on Friday morning, thus beating the existing record of 52 hours and 45 minutes, set by Lynne Biddulph (nee Taylor) in 2002.
If successful, she intended to continue to the 1000-mile mark to challenge Biddulph's time of 64 hours and 38 minutes.
Muller began her attempt at 7:00am on Wednesday morning, and started at a blistering pace, completing 100km before 10:00am.
Heavy traffic in the afternoon, particularly around Bristol, appeared to be quite a hindrance but Muller safely negotiated the queues to emerge back onto quieter roads - following the route set out by the Road Records Association (RRA).
At the 12-hour mark, she'd covered 235 miles at an average speed over 18 miles per hour - supporters were able to follow her progress via a tracker that showed distance, speed and weather conditions.
The attempt inspired cyclists all over the country to head out on the road to cheer Muller on.
However, overnight things took a turn for the worse, resulting in her eventual abandon.
"Jasmijn and the team are very grateful for the huge amount of support this LEJOG record attempt has received from people up and down the country, both online and at the side of the road," the support team told us.
Muller was raising money for Cancer Research UK throughout her attempt and will update on her future plans when recovered.
Thank you for reading 20 articles this month* Join now for unlimited access
Enjoy your first month for just £1 / $1 / €1
*Read 5 free articles per month without a subscription
Join now for unlimited access
Try first month for just £1 / $1 / €1