Jasmijn Muller embarks upon 1000-mile record ride
Muller needs to get to John O'Groats by Friday morning to smash the 15 year old record for fastest solo woman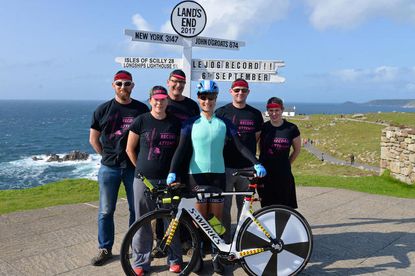 (Image credit: Picasa)
Endurance cyclist Jasmijn Muller has set off on a ride which she hopes will see her become the fastest woman to ride from Lands End to John O'Groats.
Muller left Lands End at 7:00am on Wednesday morning and is aiming to complete the 841-mile ride in under 52 hours and 45 minutes; you can track her progress online here.
The original start date was Wednesday September 5, but adverse weather conditions forced a delay.
Muller is riding a route set out by the Road Records Association (RRA), which includes 35,227 feet (10,737 metres) of climbing, and will be observed by officials from the RRA throughout.
To achieve the goal and break the record set by Lynne Biddulph (nee Taylor) in 2002, Muller will need to arrive in Scotland by 9:45am on Friday morning.
She also hopes to continue to the 1,000 mile mark, to challenge the existing record of 64 hours and 38 minutes also set by Biddulph.
Muller was inspired to take on the challenge by Eileen Sheridan, who held the record from 1954, with 59 hours and 7 minutes.
"I first heard about the record at a local event, where Eileen Sheridan was the main speaker. The enthusiasm and passion with which she spoke about her point-to-point record setting days, and the LEJOG record in particular, is what got me tempted to have a go at it," the 38-year-old management consultant recalls.
Supporters can be seen wearing Muller's 'Be the Egg' supporter caps, which refer to her own motivational mantra: "the same boiling water that softens the potato hardens the egg. It's about what you're made of, not the circumstances".
Having ridden as a child in the Netherlands as a form of transport, Muller rekindled her relationship with the bike at the age of 31, riding a 100-mile charity event to raise money for Cancer Research in 2010. Along with aiming to smash the 15 year old record, she is raising money for the same charity partner now, donations can be made on her website.
Muller is being supported on the road by a team including mechanics, a paramedic and experienced cyclists. They'll be tweeting from Muller's account at @jasminmuller1, and will pass on comments from well-wishers as she rides.
Muller has been preparing for the record for over a year – milestones included setting a new Zwift record by riding over 1,000 indoor miles in just over two days in February and winning the National 24-hour time trial.
At the National event, she was third overall, being beaten by only the best two men and she was the fastest female to complete the 890 mile London-Edinburgh-London audax.
Thank you for reading 20 articles this month* Join now for unlimited access
Enjoy your first month for just £1 / $1 / €1
*Read 5 free articles per month without a subscription
Join now for unlimited access
Try first month for just £1 / $1 / €1