Jasmijn Muller to attempt to break LEJOG and 1000 mile records
Muller will set off on September 5 and aims to arrive in John o'Groats in under 52 and 45 minutes later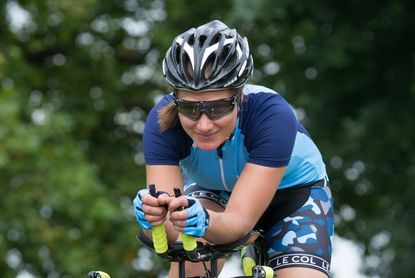 Doing the Land's End to John o'Groats (LEJOG) ride is no easy feat but to do it with an aim at breaking a 15 year old record is something else entirely. That's exactly what Jasmijn Muller is hoping to do.
A management consultant by day, the 38-year-old is aiming to ride the 841 mile trip (1353km) in under 52 hours and 45 minutes which you'll be able to follow here. That time was set by Lynne Biddulph (nee Taylor) back in 2002 with an average speed just under 15.94mph.
Should everything go as planned, Muller plans to arrive at the end of her LEJOG attempt on September 7 at 11:45am after starting on September 5 at 7:00am . However, that won't be the end of her ride with a further 159 miles to go to see if she can then break the second record of the trip.
The 1000 mile female record is also held by Lynee Biddulph who managed the feat in 64 hours and 38 minutes averaging 15.47mph.
However, the record isn't the be all and end all for the Londoner.
"For me, LEJOG isn't just about breaking a record" says Muller.
"Everyone who has ever attempted the ride knows that it's a test of who you are as much as of what you can do; I hope that I've got the same inner strength as the remarkable men and women who have taken on this challenge over the years."
Muller won't be averse to the lengthy challenge having prepared intensely with several ultra-endurance events this year alone. Taking part in the National 24 Hour Time Trial Championships, Muller was the first female across the line with only two male riders bettering her.
She also registered as the fastest woman at this year's London-Edinburgh-London ride, beating the field over 890 miles, more than 49 miles longer than LEJOG.
While attempting to smash two 15 year old records, Muller will be raising money for Cancer Research UK after being introduced to cycling by the CRUK 100 sportive ride that the charity hosts.
Thank you for reading 20 articles this month* Join now for unlimited access
Enjoy your first month for just £1 / $1 / €1
*Read 5 free articles per month without a subscription
Join now for unlimited access
Try first month for just £1 / $1 / €1