Lance Armstrong's Tour de France charity ride draws criticism from team managers
Several professional cycling team managers are not happy that Lance Armstrong is 'making a statement' by riding some of the 2015 Tour de France route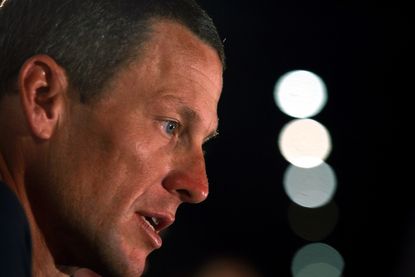 (Image credit: Yuzuru SUNADA)
When Lance Armstrong takes part in a charity ride this summer, cycling part of the Tour de France route, he will be 'making a statement' and his presence near the race is not universally welcomed.
That's the opinion expressed by several cycling team managers that spoke to Cycling Weekly during the Tirreno-Adriatico stage race on Monday. It's a way for the Texan to stay in the limelight given that he is serving a lifetime doping ban, they said.
Armstrong is scheduled to ride a couple of stages of the Tour route alongside British former professional footballer Geoff Thomas, who persuaded the American to join him in raising funds for Cure Leukaemia. Thomas is riding the entire route a day ahead of the peloton.
"It's a bit crazy for him to try to take some marketing for himself," MTN-Qhubeka's principal, Doug Ryder told Cycling Weekly of Armstrong's involvement. "Every time the Tour de France comes around it seems that people come from the dark ages back into the light to try to get some PR for themselves.
"It's good that he does what he does for cancer, but why use the Tour de France as a way? There's so much else he can do. Let's let other people shine and have their day in the sun around the Tour. He's had his day in the Tour, he's had his time, he did what he did, made the choices he made. Let's move on."
"He's free to do what he wants, which appears to be gaining attention from the media again," Giant-Alpecin race coach, Marc Reef added.
"When nobody gives him any attention, he lives his life normally. We don't want to focus on Lance Armstrong, we want to help cycling in a good way. Focusing on him doesn't take the sport any further."
Sports Directors Valerio Piva of BMC Racing and Steven de Jongh of Tinkoff-Saxo were more accepting of Armstrong's right to ride stages of the Tour de France.
"Each one of us is free to do what he wants," explained Piva. "In my opinion, the more attention you give this news, the more he wants to do it. He's paid, he's paying, but we can't keep him locked up at home like he's in a prison cell. Maybe [Thomas] would have been better off not doing so."
"He's doing it for charity, from his heart. I have no problem with him doing that," de Jongh added. "The charity work he did, he did so well.
"It's a problem that we give it attention. If I'm in the Tour de France, I don't look what's going around me, I don't care. If he's doing it for charity, getting attention, then it's good for that charity and cancer. What else can he do in his life?"
Sky's principal, David Brailsford was not nearly as accepting. He told The Times, "He's done enough damage already."
Thomas plans to ride every day of the 2015 Tour de France, from Utrecht to Paris, one day prior to raise £1m for Cure Leukaemia. Armstrong agreed to ride a "couple of stages" with the former Crystal Palace footballer, but has not said which ones.
Thank you for reading 20 articles this month* Join now for unlimited access
Enjoy your first month for just £1 / $1 / €1
*Read 5 free articles per month without a subscription
Join now for unlimited access
Try first month for just £1 / $1 / €1