Local paper's poll shows local support for banning cyclists from Hull dual carriageway
Hull Daily Mail poll shows local support for ban, but cycling campaigners deliver thousands of letters of objection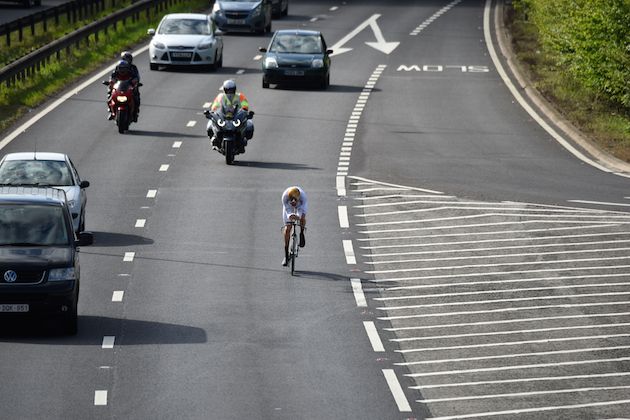 (Image credit: Andy Jones)
Highways England's plan to ban cyclists from a stretch of the A63 dual carriageway near Hull may have received more than 9,500 letters of objection, but that doesn't mean that it lacks support among local residents.
An online poll on the Hull Daily Mail website shows that, at the time of writing, nearly three in four readers think that cyclists should be banned from the A63, with 72 per cent in favour of the ban and 28 per cent against the ban.
>>> Why banning cyclists from the A63 road would be a terrible move
Highways England had proposed to ban cyclists from using the A63 dual carriageway between the North Cave interchange and the Daltry Street interchange – a 15-mile stretch. The road is part of the V718 time trial course and it is currently legal for cyclists to use it.
However the proposed ban has been criticised by cycling campaigners, who have pointed out that Highways England is proposing the ban on the basis that cyclists cannot keep up with traffic, but are not proposing to ban slow-moving vehicles. IT has cited a fatal crash involving a cycling in 2013 as evidence for the need for a ban, but this crash involved a cyclist riding into the back of a broken down caravan so the speed of the traffic on the road was not a factor.
Watch: Project 49 - how to achieve a time trial PB
"One of Highways England's arguments for banning cyclists is that they cannot keep up with traffic, but they're not banning slow-moving vehicles like tractors, farm vehicles or horse and carts," said Duncan Dollimore, Cycling UK's head of campaigns.
"If they ban cyclists because they cannot keep up with the traffic, then they're going to be banned from every A-road in the country and large sections of B-roads.
"It's a nonsensical piece of logic and if Highways England wants to come up with reasons why cyclists shouldn't be riding on this road, they need to come up with some evidence based reasons."
British Cycling and Welcome to Yorkshire have also objected to the ban, saying that "if speed and density of traffic was accepted as a reason to ban cycling, cyclists would be banned from the vast majority of our roads. If approved, this approach will set an extremely dangerous precedent."