Boris Johnson: 'Let's make Britain a great cycling country'
Mayor of London Boris Johnson suggests a cycle track to run alongside the new HS2 rail link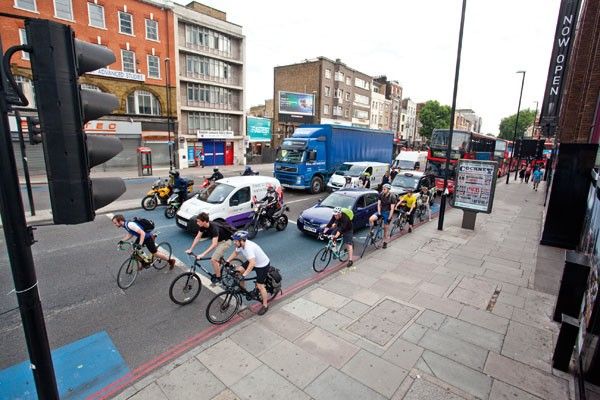 Boris Johnson says we should make Britain a great cycling country with a national network of major cycling routes, including one alongside the HS2 rail link.
At the announcement of which London boroughs will become 'Mini-Hollands', the capital's Mayor also said he wants to stop people 'pointlessly getting into their cars for short journeys' in outer London boroughs.
Johnson also said he was inspired by Chris Boardman's speech, during which the Olympic champion said cycling improvements in London could 'change the entire country' for the better.
Mayor Johnson told CW: " I think Chris Boardman's speech was totally inspiring. We should turn Britain into a great, great cycling country. Is there a cycle track up the side of HS2 and if not why not? If we're doing this thing [HS2] then let's have a beautiful new cycle superhighway all the way up from London to Birmingham."
Johnson was enthusiastic not only about his plans for cycling in London but about what could be achieved across the UK, saying he believes a cycle network would be good for the country's economy, as well as its health and environment.
"I think there should be a network of major cycle routes. At the moment if I want to cycle to Oxford, which is a lovely route through the Chilterns, there's no clear route. There should be a beautiful cycle motorway, and the same to Brighton, to everywhere. There should be clear route, and you'd generate employment, you'd generate thousands of jobs building these things, you'd save on road congestion, people would love it," he said.
At City Hall Chris Boardman said to councillors representing London's 32 boroughs: "This city could change the entire country by setting an example."
"Take the bold decisions, make those bold choices, make cycling the easiest option for the man on the street and you will look back and be proud of the decisions you made."
Mini-Hollands Kingston, Waltham Forest and Enfield will receive up to £30 million each for their winning bids to introduce Dutch-style cycling infrastructure, while Transport for London (TfL) will work with Bexley, Ealing, Merton and Richmond on 'substantial parts of their bids'.
Kingston proposed the Boardway, a floating cycleway on the Thames, along with a Thames Railside Bridge attached to an existing rail bridge, while Edmonton will introduce a Dutch-style roundabout, as well as removing through traffic on its high street. As well as the new Cycle Superhighway Walthamstow will have 'Dutch-style' home zones, with removed rat running to help create quieter, safer streets.
London's outer boroughs, which lack the tube network of inner London, are arguably comparable to other UK towns and cities, which similarly have much lower cycling levels than inner London.
Johnson said: "Outer London is where the real growth potential is; in outer London you've got all these people pointlessly getting into their cars for very short journeys when they would enjoy their lives more, they would be happier, they would be full of endorphins, they would be in a good mood, full of good ideas if they got on a bike."
Although not all of the schemes other London boroughs bid for will be realised, Johnson said his 'ambition is to do all of them as and when we can'.
London's Mayor also told Cycling Weekly he won't be riding this year's Ride London 100. Last year he finished the 100 mile course in just over eight hours. He said: "I'm bowing out this year, I'm reserving strength for next year. I enjoyed it [last year], though."