MacLean's bobsleigh experience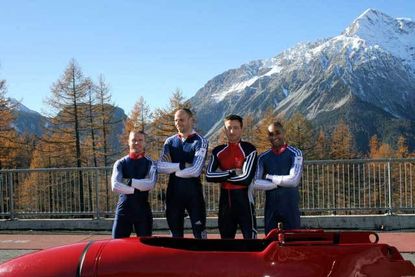 Craig MacLean has declared himself happy to stick with the relatively genteel discipline of track sprinting after trying the bobsleigh recently in Italy for a BBC film to be broadcast this month.
MacLean joined ex-England rugby winger Dan Luger and top athletes Dean Macey and Jason Gardner for two weeks training at the Cesana Pariol track before competing in the British championships.
The British Bobsleigh Association trained the quartet as part of a recruitment drive to convert athletes from other fields. ?It is one of those sports that people don?t really know how to get into,? said MacLean. ?Most of them come from the forces. They wanted athletes from other sports to train and see how feasible it is.?
There is more to driving the 80mph torpedo than meets the eye, as MacLean confirmed. ?There is a fair bit of skill involved: we crashed five times,? said the battered Scot. ?The first time, I was driving, so I could see it coming, but when you have crashed once you realise that you don?t get too badly hurt.?
The steel and fibreglass hull may protect the occupants from the worst of the impact, but is there any likelihood of losing contact with the bob?
?You do fall out. If you are driving, you can normally tuck down under the cowling at the front, but if you are man two ? the guy at the back ? then there is every chance you are going to get pulled out. If your shoulder is in contact with the ice then you get burns.?
Maclean is not about to swap his track bike for a sled on a permanent basis. The 37-year-old will be stepping out from international cycling competition for two years to comply with UCI regulations before taking up a new role as tandem pilot with the Paralympic squad.
With one eye on the daytime job, MacLean conceded defeat after his first run of the bobsleigh championships with partner Dan Luger.
?We didn?t crash, but we hit one wall and smashed against another so hard that I got shunted sideways and thought I had broken my pelvis. My nose was bleeding as well.
?I thought if British Cycling see this on telly and I get back and am injured, I could say goodbye to my funding. The rational part of my brain was saying ?I am not getting back in that thing?.?
The long-serving sprinter, with 12 World championship and Olympic medals to his credit over the last ten years, will gradually return to training over the coming months. ?I will still be able to ride Revolutions and six days races ? anything other than UCI events I can do,? he said.
Photos: copyright www.veloresults.co.uk
Thank you for reading 20 articles this month* Join now for unlimited access
Enjoy your first month for just £1 / $1 / €1
*Read 5 free articles per month without a subscription
Join now for unlimited access
Try first month for just £1 / $1 / €1