MANCHESTER WORLD CUP: OPEN FOR BUSINESS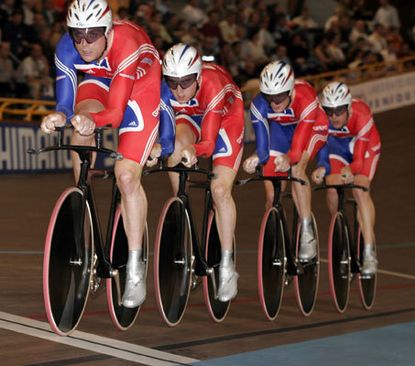 Spectators attending the Manchester round of the UCI's track World Cup are likely to see one of the best world class quality fields ever assembled on British soil in three days of competitive action.
The UCI World Cup competition in Manchester from Friday 23 to Sunday 25 February is the finale to the four event series that will have travelled around the world from Sydney in November to Moscow in December and Los Angeles in January. The sport?s elite riders from the top 30 ranked countries will gather for the final showdown that decides the overall series winners in each cycling discipline and the award for the top nation.
The Manchester event will have an extra edge being the last major competition before the UCI track world championships in Palma de Mallorca in March. Each nation is expected to field their best medal prospects in preparation for their world title bids. The teams will be announced by their national federations around a month before the event but all the big names are expected to be there.
Britain has high hopes for medals in both the men?s and women?s events. Former world champions Chris Newton and Rob Hayles are likely to head up the strong British Men?s pursuit team renewing old rivalries with their Australian counterparts. Chris Hoy will be a likely contender for the kilo crown, proudly wearing the world champion?s rainbow jersey that he won this year in Bordeaux for the specialised discipline.
Britain?s Victoria Pendleton has become a force to be reckoned within world class women?s sprinting and will certainly be looking for revenge over Natallia Tsylinskaya from Belarus after she took her world championship sprint crown this year in France.
Manchester velodrome is easily found in Manchester at Sportscity, next to the Manchester City football stadium.
Day ticket prices start at only £12 for adults and £6 for under 16 (service and postage charges will apply to all prices shown here from Ticketmaster). There are also discounted day family ticket options available - 2 adults and 1 U16 for £27 or 2 adults and 2 U16 for only £30.
If you?re an early bird booking your day tickets you can get best seats in the home or back straight for only £15 adults and £7.50 under 16.
And if you want to see the thrilling action over all three days there?s an excellent value special season ticket at for £30 adults (£15 U16) in standard seats and £40 adults (£20 U16) in premium seats.
It?s simple to book your tickets on line at www.ticketmaster.co.uk or you can call the dedicated ticket hotline on 0871 2302621.
More detailed information about the event can be found on www.worldtrackcycling.com.
Thank you for reading 20 articles this month* Join now for unlimited access
Enjoy your first month for just £1 / $1 / €1
*Read 5 free articles per month without a subscription
Join now for unlimited access
Try first month for just £1 / $1 / €1