Mark Beaumont sets new Africa cycling world record
Scottish adventurer Mark Beaumont cycles from Cairo to Cape Town in a staggering 42 days, beating the previous record by 17 days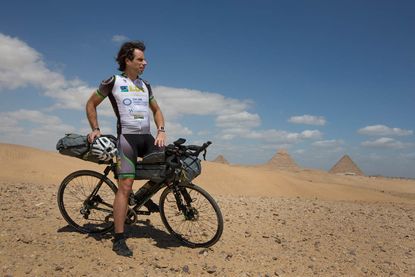 (Image credit: Jeremy Sutton-Hibbert)
Mark Beaumont has claimed a new world record for cycling from the top to the foot of Africa, beating the existing time by 17 days.
Dubbed Africa Solo, the Scottish adventurer completed his epic challenge on Thursday (May 21) that saw him cycle from Cairo, Egypt, to Cape Town, in South Africa, in 42 days – surpassing his own target of 50 days.
The 32-year-old, according to his Strava, cycled a mind-boggling 6,762.3 miles over the six weeks, spending almost 439 hours in the saddle.
Undulating and mountainous terrain meant that the former world record holder for cycling around the world ascended 190,355 feet during his journey.
The physical toll was explained in a Facebook video upon completion. "It's been the toughest ride of my life by far," he said.
Exclaiming "I made it!", he went on to explain how he "was never really racing anyone out there, just racing myself and pushing myself as hard as possible.
"There's been so incredibly hard hours and days. It's hard to describe the amount of pain you go through on a trip like that but it's just incredible.
"I've thought about getting to this point (Cape Town) hundreds and hundreds of times. It's just great to be here."
Beaumont, who also finished a mammoth 13,000 mile ride across North America and South America in February 2010, was unsupported throughout his journey across Africa and thanked his mother, family and social media supporters saying "it's kept me going".
Thank you for reading 20 articles this month* Join now for unlimited access
Enjoy your first month for just £1 / $1 / €1
*Read 5 free articles per month without a subscription
Join now for unlimited access
Try first month for just £1 / $1 / €1