What is the Marymoor Crawl?
Ahead of its debut at this weekend's Revolution meeting in London, CW explores the history of this unique track race.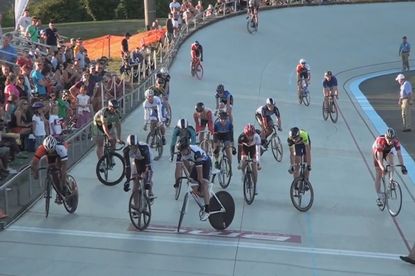 Round one of this season's Revolution Series, which takes place in London this weekend (October 24-25) will include the first-ever Marymoor Crawl race held in Britain.
Much was made of its inclusion in the meeting's programme; dubbed "The Longest Lap" by Revolution organisers, it will be staged tomorrow afternoon, and it requires skill and speed. But very little is known about it.
So CW asked Amara Edwards, the programme director for the Marymoor Velodrome in Washington, USA from where the event originates, to talk us through the unique event.
Origins and rules
"It was first held in 2005 during the inaugural Marymoor GP, which was called the FSA Grand Prix back then)," said Edwards.
Riders set off from turn four, and have to trackstand to ensure they do not cross the start/finish line until the bell rings. "Marymoor is a 400 metre-long track, so it makes it a little easier to trackstand on the home straight," added Edwards.
"It has a couple different formats. [The trackstanding] can last a set time of either three or four minutes, or we can have a bell ring at an unknown time between three and four minutes.
Edwards added: "We have used the second of those more, because riders were having coaches time the bell and get a jump."
Riders get eliminated if they put a foot down, grab the rail, ride off the track surface, fall or touch another rider or ride backwards during the trackstanding period.
At the end of this time, the ringing of a bell signifies the start of a sprint to crown the race winner. The Marymoor original comprises of a one-lap sprint on a 400-metre track. The Revolution equivalent will take place over two laps (500 metres).
"This is a race where we do a crowdfunded prize list and we easily get over $200 for it. No other tracks that I know of have attempted this."
Saturday's race will include the likes of Ben Swift, Ian Stannard, Alex Dowsett, Adam Blythe and Ed Clancy. "I thought replicating the Marymoor Crawl would bring a bit of fun back to the Revolution programme and balance the serious racing," said James Pope, MD of organiser FACE Partnership.
Among the other highlights of this weekend's meeting will be the National Madison Championships, while double Olympic Champion Laura Trott will come up against the likes of Marianne Vos in the women's endurance events.
Tickets for this weekend's meeting are still available at www.cyclingrevolution.com. Tonight's session begins at 7pm.
Thank you for reading 20 articles this month* Join now for unlimited access
Enjoy your first month for just £1 / $1 / €1
*Read 5 free articles per month without a subscription
Join now for unlimited access
Try first month for just £1 / $1 / €1