Matt White talks about Aussie track sensation Cameron Meyer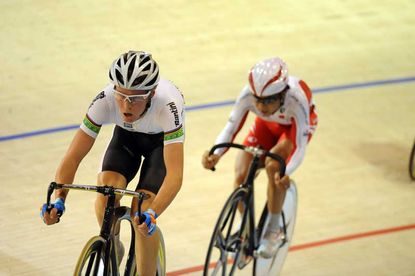 Cameron Meyer's ride in the points race at the World Championships in Copenhagen has captured the imagination and prompted the question: How good is the 22-year-old Australian going to be?
Team Sky's multiple Olympic champion Bradley Wiggins believes Meyer could win the Tour de France one day, if his reaction on Twitter is anything to go by. "Big congratulations to Cam Meyer, very classy. This guy will be Australia's TDF winner some day," he said.
Wiggins and Meyer were together on the Garmin squad last year and the American team has specifically recruited some of the best talent from Australia, with Meyer and his brother Travis, as well as the pursuiting sensation Jack Bobridge joining them.
That policy is down to the team's Australian directeur sportif, Matt White, who feels it is possible to nurture world class talent in a top road team while still allowing them to pursue track objectives.
Cycling Weekly spoke to White to get his reaction to Meyer's majestic rainbow jersey-winning ride in the points race - or the points score, as the Aussies call it.
CW: It's a long time since we've seen such a dominant performance in the points race.
Matt White: It was a domination, wasn't it. He usually doesn't race that aggressively from the start but he rode the race from start to finish. He doesn't win it from the sprints, he does it by taking laps but last night he did a bit of both. His training for the points score has been a bit different this season - in that he hasn't trained for it at all. That's because he's in the team pursuit squad and the big thing at the moment is the big rivalry between the UK [Great Britain] and Australia. He's a lot punchier than he's ever been because they've been doing the bigger gear training for the team pursuit.
How long have you known Cameron?
Cam, like many of our juniors, was a junior world champion. He won multiple titles as a junior and he definitely stood out. I've worked with him since his first year on the road as an amateur and we took him to Garmin, so I've known him a long time. His talent was always obvious.
Now the points race has been taken out of the Olympic programme, how does Meyer's world title fit in with his future goals? It's tempting to ask what is the point of focusing on an event that's not going to be included at London 2012.
For me, I think the track is going to struggle to survive if they take all the endurance events out. Well, for the endurance riders anyway. They're turning it into just the sprints. It's hard enough to keep the kids on the track with the carrot of an Olympic gold dangling in front of them. But now, if you are a talent on the track, why stick around for a four-year Olympic cycle when there's only the team pursuit to go for. The omnium? No one's going to dedicate four years to that.
So the omnium isn't part of Meyer's plans?
I don't think so. For the next year or so he'll keep doing what he's doing. He's a big part of the team pursuit and the points races fit in great with that. But the hard part will be keeping him motivated for the track. Of course he'd love to win gold in August 2012 in London as part of the team pursuit but when you are 22 and you're as talented as he is, as talented as Bobridge is, the lure of making some money on the road gets serious. When you've got that big P for potential over your head on the road there are some big opportunities if you're Meyer, Bobridge or Taylor Phinney.
What sort of person is Cameron and what kind of road rider do you see him becoming?
He's a definite GC rider. I won't say Tour de France right now but he's a definite GC rider. He did well at the Tour of Oman [where he was third overall], he's very consistent and he has great recovery. If you want to be a GC rider on the bike, you have to be like it off the bike. He's built like a GC rider. When I say that, he lives like a GC rider too. He conserves energy, he's a very mature 22, very grounded, consistent with his work and with his training, he can climb and time trial. He's got everything you need and he handles pressure.
People forget that his first ever professional race in Europe was the team time trial at the Giro d'Italia last year. That was his first race. He did the track worlds, won the points race, and we had no plans to put him in the Giro but we had a few injuries and I saw the way he handled pressure so I thought 'Let's put him in', so we told him he'd be doing two weeks. This year he'll do the Giro again and we want him to finish it.
Bobridge is different. He's only been on the road properly one year but I think he'll be a one-day rider. He can go very, very deep and leave it all out there on the road. He can really hurt himself and he thinks he's invincible.
Who do you think will win the team pursuit at the Worlds this week?
I think the Australians will win it. What Great Britain are doing with Jason Queally is very interesting. Will it work, or not? I think they'll be very quick, around 3-56 or 57. But I think the Australian team are really in form. It'll be GB or Australia with New Zealand and Denmark just under four minutes.
Geraint Thomas is the best team pursuiter in the world but he's concentrating on the road at the moment, and when he's not in the team, they're still a great force, but they're beatable.
2010 Track World Champs: Reports/results
Day two: Thursday, March 25
Day two LIVE text coverage
Day one: Wednesday, March 24
Day one: Meyer and Meares put Aussies on top of the world
2010 Track World Championships: Results
Day one as it happened (Text coverage): Wednesday, March 24
Houvenaghel qualifies second fastest in pursuit
2010 Track World Champs: Photos
Day one gallery by Andy Jones
Thank you for reading 10 articles this month* Join now for unlimited access
Enjoy your first month for just £1 / $1 / €1
*Read 5 free articles per month without a subscription
Join now for unlimited access
Try first month for just £1 / $1 / €1
Sports journalist Lionel Birnie has written professionally for Sunday Times, Procycling and of course Cycling Weekly. He is also an author, publisher, and co-founder of The Cycling Podcast. His first experience covering the Tour de France came in 1999, and he has presented The Cycling Podcast with Richard Moore and Daniel Friebe since 2013. He founded Peloton Publishing in 2010 and has ghostwritten and published the autobiography of Sean Kelly, as well as a number of other sports icons.