McQuaid quiet on Contador case, but says Spain can do more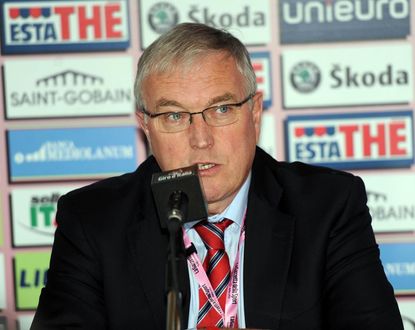 Cycling's president, Pat McQuaid today promised a swift and confidential investigation into the positive doping test of Tour de France winner Alberto Contador, but said that Spain can do more in its anti-doping fight.
"It is in the interest of everyone that a conclusion is made as soon as possible," said International Cycling Union (UCI) President McQuaid at a press conference during the World Championships.
"The results process has to be confidential, it is not about speculation, but about the research of the scientific aspects. Leaks are not fair to the system and speculation does not help."
Contador announced through his press officer on Thursday that he tested positive for Clenbuterol on July 21 at the Tour de France. The unexpected announcement is thought to be the result of pressure from the German media based on leaked information it had.
Contador said that the UCI first communicated the result to him on August 24, one month after the Tour de France ended in Paris. The UCI announced the result and Contador's provisional suspension on Thursday, only hours after Contador's press release.
"It can be compared to the work of an investigative magistrate," added McQuaid, "which is also confidential."
Clenbuterol helps people with breathing disorders, such as asthma. However, athlete could use the drug to help increase oxygen transportation and so the World Anti-Doping Agency (WADA) as a banned substance.
The UCI said that Contador's urine sample had a Clenbuterol concentration of less than 50 picograms per millilitre (or 0.000,000,000,05g per ml).
McQuaid refused to go into specifics on the investigation today, but said that the Spanish government could be doing more to help its nation's anti-doping fight. Also on Thursday, Spanish cyclists Ezequiel Mosquera and David Garcia Da Peña tested positive for Hydroxyethyl Starch (HES) and today, the UCI announced Spaniard Margarita Fullana tested positive for EPO.
"Cycling has taking a big hit considering the last days in Spain," said McQuaid. "Over the last month, we have sanctioned four big Spanish riders. [Oscar] Sevilla, Mosquera, Garcia and, today, Fullana. I don't want to stigmatise Spain, I think they have some of the strongest anti-doping laws, but they aren't being implemented."
McQuaid clarified that he did not consider Alberto Contador in the group of doped Spanish riders. However, even with all McQuaid's tasks and responsibilities, including ensuring the success of this week's World Championships, Contador must be his number one priority.
How long will it take to clear up Contador's case?
"I don't know how long it is going to take," McQuaid said. "I agree, though, it is in our interest and the sport's interest, that this thing comes to a conclusion as quickly as possible."
Thank you for reading 20 articles this month* Join now for unlimited access
Enjoy your first month for just £1 / $1 / €1
*Read 5 free articles per month without a subscription
Join now for unlimited access
Try first month for just £1 / $1 / €1