Milan-San Remo has 'rediscovered perfect recipe' says former winner
1981 Milan-San Remo winner Fons De Wolf heralds the return of the 'classic' race route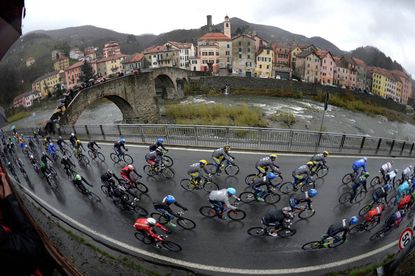 (Image credit: Watson)
Milan-San Remo has rediscovered its perfect recipe for 2015 with the Cipressa, the Poggio and the Via Roma, says 1981 winner Fons De Wolf.
"The return to Via Roma, the classics parcours, is good," De Wolf told Cycling Weekly.
"Eddy Merckx won there seven times. I won there. It's special. Milan-San Remo is known as the Via Roma, that uncertainty, whether it will be a sprint or not."
The one-day monument, this year on March 22, has only had two classic finishes in its time: on Corso Cavallotti and Via Roma.
From its start in 1907, through the wars, it finished on Corso Cavallotti further out of town, before the Sanremo fountain. It went straight to the heart of the seaside town in 1949 when Italian great Fausto Coppi won, celebrated Merckx's record seven wins and ones like Belgian De Wolf's. It returned for a brief period, from 1986 to 1993, to Corso Cavallotti.
>>> Mark Cavendish on form and aiming for Milan-San Remo
Only in 2008, due to roadworks, did it detour closer to the seaside on Italo Calvino instead of high street in San Remo. For 2015, after seven editions including the one Mark Cavendish won in 2009, it will return to Via Roma.
"RCS never wanted to leave Via Roma. We were forced to move to the seaside," RCS Sport Cycling Director, Mauro Vegni said.
"Now they are doing other road work, where we normally pass through the S-bend at 400 to 500 metres to go, so it's no longer possible to finish on the seaside. The city proposed that we return to the city centre on Via Roma, and I'm more than happy to do so. We will stay there for the years to come."
Vegni wanted to add in the five-kilometre Pompeiana climb between the Cipressa and Poggio climbs, but could not due to road problems. The race will cover the Turchino Pass, run along the coast with the Tre Capi – Mele, Cervo and Berta – the Cipressa and the Poggio climbs.
>>> Milan-San Remo to restore classic Via Roma finish
"When I won, I had four seconds at the top of the Poggio and I won with 10 or 12 seconds," De Wolf said.
"I wasn't convinced I could do it. When I came off the Poggio, I looked back twice to see, but afterwards no. When I arrived to the San Remo fountain, then I knew I'd win. The others were looking at each other to work, and no one would."
The year after De Wolf won, the organiser added the Cipressa climb. That was the last major change and according to De Wolf and many other followers, created the right balance and classic Milan-San Remo parcours.
"Milano-San Remo has to stay as it is, there are already hard races. Even in my time, Flèche Wallonne finished on the flat. The Amstel Gold Race, too. Now they are all uphill finishes," De Wolf added.
"If you are good, in Lombardia you have a good chance to win, in Liège-Bastogne-Liège, if you are one of the best, you have a big chance, but in Milan-San Remo, you are not sure you can win. There are between 10 and 20 possible winners. That makes the race beautiful. You are never sure, even when you are the best. You are not sure you will win."
Thank you for reading 20 articles this month* Join now for unlimited access
Enjoy your first month for just £1 / $1 / €1
*Read 5 free articles per month without a subscription
Join now for unlimited access
Try first month for just £1 / $1 / €1