Millar's Commonwealth Games ban lifted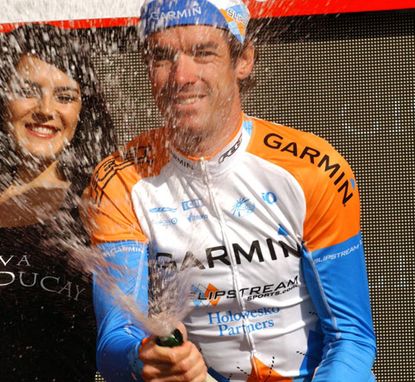 The board of Commonwealth Games Scotland (CGS) has today lifted David Millar's ban on competing for Scotland at the Delhi games in 2010.
Millar had been banned for riding for Scotland since admitting to French police that he had taken the banned blood-boosting drug EPO in 2004, for which he was suspended from all cycling competition for two years.
Since returning to competition in 2006, Millar has turned into one of the sport's leading anti-doping activists and helped create the vehemently anti-doping Garmin-Slipsream team for which he has ridden since 2008.
Millar has also assisted UK Sport, the Union Cycliste Internationale and Word Anti-Doping Agency in the realm of anti-doping.
"The CGS Board felt that since his return to cycling David has become an active campaigner and educator about doping in sport and has gone to great lengths to rehabilitate himself and share his experiences with others in an attempt to promote the anti-doping message," said Jon Doig, CGS Chief Executive
"David has now been cleared to compete for Scotland in Delhi subject to achieving the necessary performance selection standards."
Millar is scheduled to hold an anti-doping seminar for young athletes in Scotland as part of his conditions of clearance. He also must pass performance selection criteria to be able to ride - something which he should achieve with ease.
"I am absolutely delighted with the decision," Millar said. "It would be an honour to race for Scotland at the Commonwealth Games in Delhi and to give something back to the country that has given me so much. I am proud to be a Scot and feel that I have been supported incredibly through the bad times as well as the good by Scotland.
"I made mistakes as a younger athlete in a dirty sport, and I will have to live with those mistakes for the rest of my life, but I have changed and I know I bring something beneficial to not only cycling but also sport as a whole.
"I have been so pro-active in my fight against doping because I believe I can make a difference, and I also believe that the mistakes I made as an athlete were fully preventable. If the example I now give and education I provide can prevent a younger version of me from making the same mistakes I made than I could not ask for more."
In 2009, Millar won the final individual time trial stage of the Vuelta a Espana and represented Great Britain at the World Championship road race in Switzerland.
Millar is still banned from representing Great Britain at the Olympic Games because of a British Olympic Association by-law.
The 2010 Commonwealth Games take place from October 3-14, 2010, in Delhi, India.
Related links
David Millar: Rider Profile
Millar wins Vuelta time trial
Millar ready to take command of Worlds team
Thank you for reading 20 articles this month* Join now for unlimited access
Enjoy your first month for just £1 / $1 / €1
*Read 5 free articles per month without a subscription
Join now for unlimited access
Try first month for just £1 / $1 / €1